Despite government talk about "travel bubbles," "green lanes" and the like, the Asia-Pacific's biggest international air travel markets remain a long way from anything approaching normalcy.
While domestic travel is picking up strongly in markets such as China and Vietnam, international travel still remains largely grounded. Three major country pairings – Australia/New Zealand, Singapore/Indonesia, and Vietnam/South Korea highlight the challenges airlines face as governments grope to find a new normal amid the coronavirus pandemic.
TRANS-TASMAN BLUES
On 2 October Australia unilaterally announced a travel zone with New Zealand. This came some months after early discussions of a "travel bubble" between the two countries fell through owing to a new coronavirus outbreak in the Australian state of Victoria.
At stake is the crucial trans-Tasman route. Cirium schedules data shows that airlines provided capacity of 812,000 seats between the two countries in the pre-covid-19 world of September 2019.
Australia to/from key international markets
September 2020 compared with September 2019
Seat Decline
ASK Decline
New Zealand
-95.5%
-95.7%
Singapore
-94.2%
-94.9%
Indonesia
-95.3%
-95.9%
United States
-91.8%
-91.5%
Mainland China
-93.7%
-93.9%
UAE
-84.6%
-84.7%
Source: Cirium schedules Data
Despite the massive stakes for airlines such as Air New Zealand and Qantas Airways, not to mention the broader travel and tourism business, Wellington is somewhat less enthusiastic. On 8 October New Zealand health minister Chris Hipkins told Radio New Zealand that the re-opening of state borders within Australia was of concern and thus "slowing down our eagerness."
"There are some states that we could have travel with relatively quickly but if there is a risk that they will then re-open their borders between states then obviously that increases the risk of there being transmission between states in Australia which therefore makes us a bit more hesitant," he said.
Airlines will continue to suffer. September's ASKs between the two countries were down 95.7% from a year earlier, with just 36,600 seats provided.
SO CLOSE, YET SO FAR
Another of the region's major international markets is Singapore-Indonesia. In September 2019, airlines provided 908,000 seats between the two countries. In September 2020 this fell to just 40,400 seats, with ASKs down 96.4%.
On 12 October the two country's governments offered a ray of hope, albeit a vanishingly faint one. They announced that a reciprocal green lane (RGL) will be set up between the two countries for "essential business and official travel."
"The RGL with Indonesia is part of the gradual and calibrated steps to re-open Singapore's borders and support our economic recovery," said Singapore's Ministry of Foreign Affairs on its Facebook page.
"Appropriate health measures will be put in place for these travellers, including pre-departure and post-arrival Polymerase Chain Reaction (PCR) testing and controlled itineraries to protect the health and safety of our citizens."
Applications to use the RGL open on 26 October, and cover air travel between Singapore's Changi Airport and Jakarta's Soekarno-Hatta International Airport. Also included are a pair of ferry ports.
Singapore to/from key international markets
September 2020 compared with September 2019
Seat Decline
ASK Decline
Indonesia
-95.6%
-96.4%
Malaysia
-96.1%
-97.0%
Mainland China
-96.9%
-97.1%
United States
-91.7%
-91.5%
India
-96.0%
-96.2%
Thailand
-98.9%
-98.8%
Source: Cirium schedules Data
The move to allow some very limited travel, pending approvals and Covid-19 testing before and after arrival, is highly unlikely to restore air travel of any magnitude. Singaporeans hopeful of a cheap weekend jaunt to Bali on a low-cost carrier will have to content themselves with Singapore's local resort island, Sentosa.
As for reciprocity, travellers originating in Singapore would appear to be far less likely to have Covid-19 than those originating in Indonesia. Singapore has all but completely controlled local coronavirus transmission, while Indonesia continues to struggle with the disease – although the government is relaxing some restrictions imposed in September.
Singapore has, however, taken a leadership role in trying to open up travel. The country will allow visitors from Australia (excluding Victoria), Brunei, China, Japan, Malaysia, New Zealand, South Korea, and Vietnam. The challenge for visitors from these countries is that travel restrictions at home make it hard, if not impossible, to return.
Moreover, travelling to Singapore is not precisely easy, even from a country that has largely defeated covid-19, such as Vietnam.
Though Vietnam has seen no local transmission for over one month, Vietnamese visitors to Singapore must still apply for an "Air Travel Pass." In addition to having a PCR test before departure and after arrival, they will need to spend 1-2 days cooped up in a local hotel while waiting for the result. They must also download and use Singapore's TraceTogether mobile app, which aims to facilitate contact tracing in the event of an outbreak. When they wish to return to Vietnam, they need to join a long waiting list managed by the Vietnamese embassy in Singapore.
Singapore admits that travel restrictions can be somewhat of a moving target.
"The risk of importation from travellers varies across countries/regions," says the state's healh ministry. "Hence, the taskforce continues to calibrate our border measures based on the latest developments in countries/regions as well as our assessed risk of importation and onward transmission in the community."
Singapore is working to speed up testing, including a dedicated testing facility at Changi Airport.
Moreover, travel bubble efforts continue: on 15 October Singapore and Hong Kong announced they have reached an in-principle agreement on an air travel bubble to help boost traffic between the two aviation hubs.
NO SEOUL
On 17 September Vietnam, which had effectively shut its borders on 23 March, announced that it would launch commercial operations on six international routes: Tokyo, Seoul, Guangzhou, Vientiane, Laos, Taipei, and Taiwan.
Passengers will need to submit documentation to show that they have tested negative for Covid-19 prior to boarding. Fourteen days of quarantine await them in Vietnam.
The flights are only open to Vietnamese nationals and to foreigners on official and business trips, as well as skilled workers, investors and international students, among others.
Vietnam to/from key international markets
September 2020 compared with September 2019
Seat Decline
ASK Decline
South Korea
-85.8%
-86.5%
Japan
-94.6%
-94.2%
Taiwan
-77.8%
-77.7%
Mainland China
-97.4%
-98.8%
Hong Kong
-96.1%
-95.2%
Source: Cirium schedules Data
The target countries used to be major international markets for Vietnam in the pre-coronavirus days. South Korea was of particular importance. In September 2019 carriers such as Korean Air, Vietjet Air, Asiana Airlines, Vietnam Airlines and others provided 916,000 seats between the two countries, but this fell to just 130,000 in September 2020.
VietJet made much of its return to Japan, South Korea, and Taiwan, starting on 29 September. It stressed, however, that travellers need to abide by the inevitable web of restrictions imposed by destination countries.
An uptick in coronavirus cases in Seoul, however, quickly killed Vietjet's plans, and on 7 October it suspended its re-launched Ho Chi Minh City- Seoul Incheon service. The airline has no clear idea as to when it will re-start.
MORE TUNNEL THAN LIGHT
Reduced case counts and improved testing are seen as essential in getting regional air travel moving again. Still, governments that have got the virus under control receive constant reminders that passengers from countries with high infection rates could well carry the virus.
Singapore's government sends out a daily WhatsApp alert about cases in the country. While cases in the community have fallen to negligible numbers, virtually every day Singapore residents arrive from overseas with the virus. On 12 October there were two imported cases, while on the 11th there were seven.
Media reports suggest that these arrivals come from hard hit countries such as India and the Philippines. In the past, both countries were critical air travel markets for the city state.
Another challenge can be testing discrepancies between countries. China is understood to have a very sensitive test for arriving passengers. It sometimes classifies arriving passengers as having coronavirus, although they were deemed negative in their country of origin.
This sort of situation not only makes countries warier, but also discourages individual travellers. Who wishes to test negative at home only to be labelled a health risk upon arriving in a foreign country?
Testing discrepancies create a minefield for airlines as well. In late September, for example, the Hong Kong Civil Aviation department banned Cathay Dragon from operating to Kuala Lumpur for two weeks. The carrier had collected five transit passengers from India who had arrived in the Malaysian capital via Air India Express. Upon arrival in Hong Kong, tests showed that they were infected with coronavirus.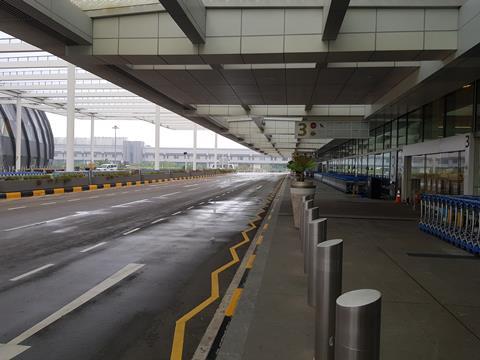 IATA has strongly urged governments to find alignment on "rapid, accurate, affordable, easy-to-operate, scalable and systematic Covid-19 testing" for all passengers before departure.
"The key to restoring the freedom of mobility across borders is systematic Covid-19 testing of all travelers before departure," says IATA director general Alexandre de Juniac.
"This will give governments the confidence to open their borders without complicated risk models that see constant changes in the rules imposed on travel. Testing all passengers will give people back their freedom to travel with confidence. And that will put millions of people back to work."
De Juniac's view is reflected by Subhas Menon, director general of the Association of Asia-Pacific Airlines:
"AAPA calls for an urgent review of border closures and blanket quarantine requirements, particularly for travel between countries where the prevalence of the virus is low and contained. A more coherent and evidence-based approach to cross border measures and processes, including testing and quarantine, would pave the way to restore global mobility in a safe and sensible way."
Unfortunately, the airline sector has been so hard hit that even were coronavirus to miraculously disappear tomorrow, it would take considerable time for both Asia-Pacific economies and the airlines that serve them to gear back up.
Restrictions stemming from the pandemic will keep Asia-Pacific air travel in its dark hole for some months to come. "Travel bubbles" and "green corridors" make for positive public relations, but only concrete, decisive action can give words meaning.

Greg Waldron is the Asia Managing Editor of FlightGlobal, responsible for the team's airline, aerospace, and defence coverage across the region. He has worked at the company since 2009. In the airline space, Waldron has conducted dozens of interviews with airline leaders in the Asia-Pacific. He also covers areas such as MRO and safety. On the defence beat, Waldron has written extensively about the rise of Chinese airpower, as well as broader airpower developments around the region, such as indigenous fighter programmes, and regional acquisitions of foreign equipment. In addition, Waldron writes about commercial helicopters in the region and business aviation. Waldron worked has a freelance journalist with his work appearing in several business publications.
View full Profile