Tourism growth is back on the agenda in Argentina. However, in a country where airlines have historically struggled to thrive, and with the scars of the pandemic still healing and further economic headwinds ahead, operators can be forgiven for retaining a sense of caution.
Flag carrier Aerolineas Argentinas and low-cost operator Flybondi both have growth plans in place. Aerolineas expects to take 10 more Boeing 737 Max jets over the next three years, while Flybondi aims to add five more 737s in 2023.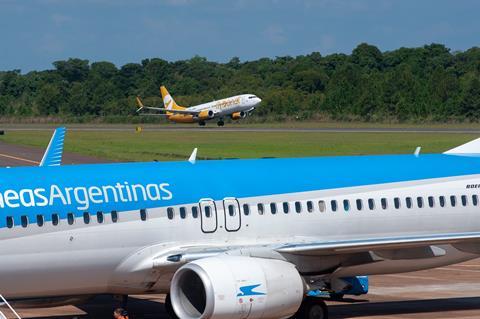 But the past few years have underlined growth cannot be taken for granted.
Flybondi launched operations in 2018 amid air transport liberalisation moves in the country under president Mauricio Macri. That also saw the launch of Argentinian operations from Avianca, JetSmart and Norwegian, as new ventures aimed to capitalise on the scrapping of minimum domestic fare rules in the country.
However, Argentina's liberalised airline sector struggled to take off amid familiar challenges, including currency depreciation and challenges in terms of access, typified by a tussle to operate from Buenos Aires' El Palomar airport. Even before the pandemic brought wider services to an abrupt halt, Avianca Argentina had ceased operations and Norwegian had sold its fledgling Argentinian operation to JetSmart.
Flybondi and JetSmart Argentina are therefore left as the domestic rivals to an Aerolineas bolstered by its merger with sister regional carrier Austral.
ARGENTINA BACK IN DEMAND
According to ALTA's Openness Index, which tracks Covid travel policies at a country level, border restrictions in Argentina were until April of this year among the strictest in the region.
That though changed at a stroke in April – ALTA listing Argentina as one of seven countries in the region to be 100% open without any remaining Covid-19 travel restrictions in place.
Argentina's domestic market has bounced back sharply already. September data from civil aviation authority ANAC shows domestic passenger levels of just under 1.2 million were some 87% above 2021 levels and just 11% down on September 2019. Argentina's national administrator of civil aviation Paola Tamburelli says she expects it to surpass 2019 levels in January.
"The market recovered very well in 2021. Now we are almost recovered," Aerolineas chief executive Pablo Ceriani tells FlightGlobal on the sidelines of the recent ALTA Airline Leaders Forum in Buenos Aires. Passengers on domestic services are back to 97% of pre-pandemic levels, though are still lagging at 70% on international markets.
Argentina domestic traffic Sep 22 v Sep 21
Airline
Passengers (Sep 22)
Paseengers (Sep 21)
Change v Sep 21
Load factor (Sep 22)
Load factor (Sep 21)
Source: ANAC
Aerolineas Argentinas
816,111
427,372
91%
87%
87%
Flybondi
206,818
103,064
101%
94%
94%
JetSmart Argentina
156,275
101,102
55%
88%
81%
Others
6,514
4,027
62%
Total
1,185,718
635,565
87%
84%
82%
International traffic has been slower to return, largely because of Covid restrictions.
ALTA cites Amadeus data over the second half of 2022 showing there are 33 international routes from Argentina – 62% of the number operated in 2019. By contrast, Colombia and Mexico, among the most open Latin America markets through the crisis, were respectively back to 85% and 79% of their 2019 international routes.
September ANAC data shows international passenger numbers still 31% down on 2019. "Now we are recovering more tourism, which has a high potential growth," say Tamburelli. "We need more international flights to bring people to our country."
That ambition was underlined by ministers, speaking during the opening of the ALTA Airline Leaders Forum. Listing a series of investment commitments across the country's airports, transport minister Diego Giuliano told delegates: "We have placed a bet on infrastructure and building a regional durable, sustainable airline system. We want all airline companies to grow and develop, our national airline, low-cost carriers and international carriers."
Tourism minister Matias Lammens adds: "We are convinced of this opportunity we have and we want to make the most of it. We have new airlines coming."
AEROLINEAS ARGENTINAS TAKES CAUTIOUS PATH
The commitment to invest in aviation is welcome news for Argentina's airline sector.
"In politics there are two ways of doing things, and they are polar opposites," notes Ceriani, referring to the carrot and stick approaches governments can take.
"In Argentina, Aerolineas has a very long story, and it is very important for provinces and for the different provinces that are very far away from Buenos Aires. Trips in a bus are very long and very expensive too, so it's a very important part of connectivity in the country. So there is a strong feeling that Aerolineas is important for growth and economics and social development in the country."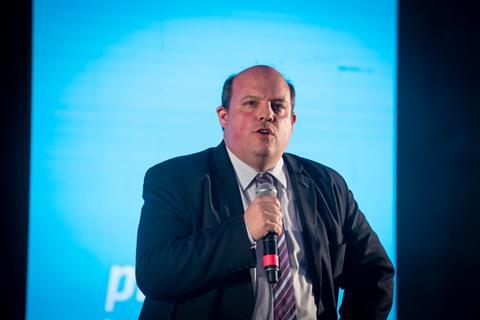 Part of that Aerolineas story has been one of long-running financial losses. These deepened when the crisis hit and revenues collapsed. "It was a very tough time," says Ceriani, who took the helm at the end of 2019, just before the pandemic.
One benefit to emerge during the crisis, however, was the move to merge Aerolineas with regional carrier Austral. The process began in May 2020 and was complete by the start of December of that year.
"It helped a lot. It was crazy that they were two companies," Ceriani says. In particular he points to the operational benefits and progress in maintenance efficiencies. For example, Aerolineas shops are now starting to work on the Embraer fleet operated by Austral. "Many parts of the efficiencies and productivity we have in the company compared to 2019 comes out of the merger," he says.
Aerolineas reported progress last year in cutting losses in 2021. It reduced its negative EBIT by 55% and lifted revenues a quarter in local currency – before the devaluing impact of the weak currency against the US dollar is considered.
The return of currency issues, exacerbated by surging inflation in Argentina – which reached 80% in September – add to the challenging global economic environment facing the wider airline sector
For now though the airline has a growth opportunity as markets elsewhere in the region reopen from the pandemic. Ceriani expects the airline to have its full fleet back in service next year and to add more aircraft.
"We are surpassing pre-pandemic levels next year… we are planning to grow three aircraft a year," he says. That is the equivalent of growth of around 5% and will likely see the airline add three more 737 Max twinjets next year and seven more by the end of 2025.
"We will see how demand evolves," he says. "If everything goes just as well as now, and fares stay high and growth continues to be strong, probably we will have to revise that. If we have problems with oil prices and world recession, we will just stay the way we are. But we are planning to have growth of 5% a year from next year onwards."
One area of growth it sees is in connections with Brazil. It is deepening its co-operation with Brazilian carrier Gol from the start of November with a jointly operated seven-times daily 'air-bridge' service between Buenos Aires and Sao Paolo.
Gol is in the midst of teaming up with Avianca under the Abra holding company and, while Ceriani does not see state-owned Aerolineas joining such a group, he does see a chance for more co-operation with the airline.
"We can still work together a lot of synergies and strategic vision of how to work in the region," he says. "The possibilities of growing in Argentina and Brazil are huge, because the amount of trips per capita in both countries is very low and I think there is room for a lot of growth. Being those big airlines in terms of our domestic markets gives us a very good position to have a very positive share of the market," he says.
FLYBONDI MAKES PUSH FOR SHARE
If Aerolineas is steeped in history, Flybondi is very much a newcomer – albeit in its short history it has already been through ups and down.
But with pandemic restrictions lifted and domestic demand recovering quickly, Flybondi chief executive Mauricio Sana a year ago embarked on a mission to double the size of the operation it had in 2019.
Sana says the carrier is already flying 87% more passengers than in September 2019 and has doubled its market share on domestic routes to 18%.
The airline, which was operating five 737s before the pandemic, has just taken its eighth aircraft. "Next month we should be completing [the doubling of] our fleet to 10 aircraft," he says, adding: "We hope we can incorporate two more aircraft by the end of the year, so our fleet will be 12 aircraft."
The airline currently serves 17 domestic destinations and will in December begin a third route to Brazil when it adds Florianopolis to its existing network of Rio de Janeiro and Sao Paulo.
It has also just issued an RFP to lessors covering the addition of five more 737s next year. "With this fleet, we could be operating by the end of 2023 in all Argentine provinces.
"Flybondi is no longer trying to recover to pandemic levels, but is reactivating growth," he adds. "Our goal is to cover five million passengers in 2023." The airline had 1.5 million passengers in 2019.
Sana adds: "We are betting on the long-term. One of the things we learnt [so far] is how can we guarantee our survival. We understood the market changed, demand changed. Demand in the domestic market grew and we started to take advantage of it."
Here he sees the airline's model as a key advantage. "We all operate with the same costs, the same fleets, the same airports, the difference between traditional airlines and the LCCs is the management model. Our difference with the other airlines is that we understand that we have the resources, we face many situations with many actors that are not on the same page. All the different actors have to think about optimising resources."
Sana also flags the potential beyond simply driving tourism. "It's a mistake to focus air travel on just tourism. Tourism is one of many industries that air travel contributes to. At Flybondi today 60% is tourism passengers and 40% of passengers are not travelling for tourism purposes," says Sana. "Air travel is mobility, transportation that has to do with economic development and not necessarily tourism."
Notably that includes air freight. Flybondi in March developed a domestic courier proposition using its 737 fleet in combination with Fly Cargo. JetSmart Argentina had itself established a cargo unit in September last year, while Aerolineas is reportedly looking at the possibility of adding a pair of 737-800BCFs.
Additional reporting Pilar Wolfsteller