The tightening of border controls is an emerging theme in the early days of 2021, as governments react to concerns about new variants of Covid-19 and soaring infection rates in many regions.
Among countries that previously had relatively open borders, the UK is the latest to embrace the requirement for incoming travellers to produce evidence of a negative Covid-19 test – in addition to existing quarantine stipulations – joining others including Canada, Chile, Colombia and Germany in announcing such measures in recent days.
That is on top of existing case-by-case requirements, such as for UK travellers to the USA on the crucial transatlantic sector.
In isolation, the sudden increase in governments introducing testing requirements might be seen as a positive step towards meeting IATA's demands for international testing regimes to open up travel markets.
But in terms of the airline industry's prospects in the coming months, the immediate impact of such moves is to add barriers to travel, helping to offset at least some of the optimism around the rollout of vaccines as operators look towards the northern hemisphere summer season.
Previously bullish Ryanair's decision to downgrade its traffic forecast for 2021 only days into the year highlights how quickly sentiment has changed.
While it remains the case that such downward revisions are ultimately caused by an ongoing global pandemic, rather than the measures taken by governments to contain it, comparing the Covid-19 testing measures being introduced across the world with the airline industry's proposals reveals why the former are a cause for concern.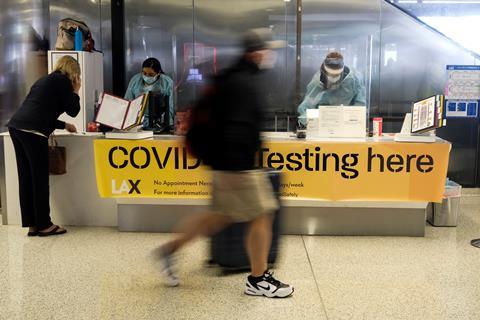 First, the tests are being used to augment existing restrictions, rather than alleviate them.
"The aviation industry supports pre-departure testing, but this should be to facilitate the safe opening of borders and lifting of travel restrictions," says IATA today in response to the UK's imposition of Covid-19 testing requirements. "It should not be introduced simply to create a further barrier to travel. Presentation of a negative test result should be sufficient to enable those passengers that need to travel to cross borders safely and efficiently without quarantine."
The airlines body had, days earlier, expressed similar dismay at Canada's decision to require proof of a negative Covid-19 test, citing its "deep frustration" and calling the new rules "callous and impractical".
IATA highlights surveys showing that quarantine requirements alone were enough to put off the vast majority of potential travellers. Adding a testing requirement just compounds that.
Second, the new requirements are not tied to an internationally agreed testing regime, nor are they always a simple case of passengers being tested at the airport a couple of hours before departure. In most instances, it is down to the travellers to source their own PCR tests on the private market – most of which have turnaround times measured in days, rather than hours, with no guarantee of availability. The cost of such tests is also a limiting factor when it comes to travel, potentially matching or exceeding the price of low-cost carrier flights in particular.
Aside from the logistics involved in getting a test, the patchwork of ever-changing requirements is yet another barrier to travel for people already wary enough about moving between countries in a pandemic.
That point was made by Heathrow airport chief executive John Holland-Kaye during a BBC radio interview today, when he noted that the industry has "been calling for a common international standard for testing, so there is some consistency between countries of what test needs to be taken, how you need to demonstrate that you've taken the test, and when you need to take them.
"And that would allow us to get back to some kind of normal travel, while keeping people safe."
His comments echo those made numerous times by outgoing IATA director general Alexandre de Juniac in recent months.
Crucially, however, Holland-Kaye also welcomed the UK's introduction of Covid-19 testing requirements, even if the details of the scheme were a long way from ideal, in his view.
COULD NEW REQUIREMENTS PROVE USEFUL TO AIRLINES?
The Heathrow chief is perhaps aware that while it might be tempting to conclude that the industry should have been careful what it wished for with Covid-19 testing, there does exist a scenario where having something in place is better than nothing.
After all, there are few indications that a global testing scheme is likely to be introduced any time soon.
Presuming, therefore, that concerns about new variants of Covid-19 persist and vaccines only have a limited effect on the prevalence of the virus this year, testing requirements introduced by individual countries may be the only way to allow pent-up demand for short-haul leisure travel to be met, for example, in a scenario where governments drop their quarantine requirements as the current wave of the virus drops away.
In that case, the country-by-country testing requirements could yet prove invaluable to the airline sector in 2021 – if the process around securing tests and the cost implications are addressed.
Under a better-case scenario, testing requirements – including demands for an international regime – may become moot in some cases, particularly if, for example, blocs of countries begin to release travel restrictions and allow restriction-free travel, as was seen during summer 2020.
But ultimately, with the next couple of months largely written off by many airlines as a period of severely depressed travel, the true impact of testing requirements will only become apparent as countries mercifully move beyond the current wave of the virus.
At this stage, the only certainty is that it is too soon to categorise the rise of pre-flight testing requirements as a wholly negative development for the airline industry.