If there was a familiar ring to the narrative around EasyJet's first-half results and outlook today, it's because in many ways it has already played out across a string of European carriers during the current financial reporting season.
The region's airlines have seen revenues plummet and more red ink over a torrid winter period which offered up little, if any, respite from stringent travel restrictions.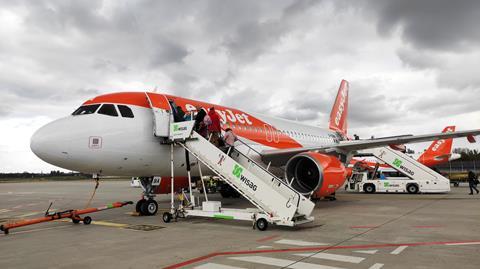 During that period the focus for all has been on continued cost-saving efforts, constrained capacity and ensuring liquidity levels stay high enough to counter any worst-case scenarios in the reopening of travel markets.
All have spoken of pent-up demand for travel when markets reopen, flag a readiness to rapidly meet that demand with capacity, and press the case that progress in the vaccination programmes in the UK, USA and now mainland Europe, means that air travel markets can safely reopen this summer.
But capacity, at least for now, remains sharply curtailed.
So for example while EasyJet was today flagging its ability to flex up to operate 90% of its current fleet over the summer, its outlook for the three months ending 30 June 2021 is to operate just 15% of its pre-crisis capacity.
Four days earlier, rival European low-cost operator Ryanair, in reporting its full-year results, offered a similar story. The airline, which pre-crisis was carrying close to 150 million passengers annually, expects to carry no more than six million in the current quarter. Yet the demand for travel when markets reopen is still enough for it to, albeit cautiously, believe it can be close to breakeven this year.
Tough winter takes toll on European airlines
In reporting a pre-tax headline loss of €701 million ($852 million) for the first half, EasyJet became the latest major European airline group to detail the extent to which prolonged travel restrictions have hit operators. While the network carrier groups could fall back to some extent on cargo or MRO activities to bolster revenues, none could escape the big slump in passenger travel.
Major European airline group results recently reported
Airline Group
Period
Passengers (m)
Change (%)
Revenue (€m)
Change (%)
Loss
Type
Source: Airlines
Ryanair
FY (Apr-Mar 2021)
27.5
-81%
€ 1,640
-82%
€ 815 (net loss before hedging)
EasyJet
H1 (Oct-Mar 2021)
4.1
-89%
€ 240
-90%
€ 701 (pre-tax headline loss)
IAG
Q1 (Jan-Mar 2021)
2.6
-87%
€ 968
-79%
€ 1,135 (operating loss)
Air France-KLM
Q1 (Jan-Mar 2021)
4.8
-73%
€ 2,161
-57%
€ 1,179 (operating loss)
Lufthansa Group
Q1 (Jan-Mar 2021)
3.0
-86%
€ 2,560
-60%
€ 1,143 (adjusted EBIT)
WILL RESTRICTIONS LIFT IN TIME TO SAVE AIRLINE SUMMER?
At the heart of gap between low airline capacity level today and the hoped for rise later this summer peak are the restrictions governing travel within Europe.
The mixed messages emanating from the UK Government, which has spent much of the time discouraging people from travelling since it outlined the measures to allow it, has done little to fuel confidence that a sharp summer return in travel lies ahead.
Airlines will take more encouragement from the move by European ministers today to approve fresh recommendations which theoretically pave the way for EU states to reopen to travellers from countries which have the virus under control or are fully vaccinated.
Ultimately travel decisions still rest with individual states, but such is the importance of tourism to many EU countries that a proactive approach to travel seems likely from many. But if airlines have learnt anything through the course of the pandemic it is that the only certainty is uncertainty.
"We are not providing any guidance on forward bookings," EasyJet chief executive Johan Lundgren said today during an analysts call. "The number we have today is we expect to fly around 15% of the capacity for Q3 [April-June 2021] and the visibility beyond that is very limited.
"We know there is a huge pent-up demand, and this comes out as the number one thing people want to do post-pandemic, so that's why its been so important for us to have the flexibility in the fleet to make sure we can capture that demand, and at the same time make sure that if the demand isn't there – because of the restrictions being in place – we can also have the most optimal size of the fleet."
EasyJet did not breakdown its 15% capacity outlook for the quarter, but indicates it expects to see a pick-up in June in line with signs of the reopening of travel markets.
"We are clearly looking for it [capacity] to increase throughout June," says Lundgren, noting much then depends on whether more countries join the UK's green list of countries where quarantine-free travel is permitted at the next review.
"But clearly we are seeing now a surge in bookings across the European networks," he says. "There is still very much depending on the daily news flow of what's going to happen."
Lundgren echoes the views of other European airline executives in seeing a likelihood that the traditional summer season demand will be extended into October and early November.
EasyJet chief commercial officer Sophie Dekkers also highlights the flexibility the carrier's network, including its seasonal bases at leisure destinations like Malaga, Palma and Faro, gives it to adjust to demand peaks. This helps offset any extra complexity in its fleet given that since the UK left the EU, this is split between aircraft registered in the UK and Austria.
"We can reallocate aircraft from our destination bases," Dekkers explains. "We were able to redirect capacity in Palma that was directed into the UK and is now directed to fly within Europe, so that gives us much more flexibility than we have ever had before in terms of being able to move across the network, without necessarily having to re-register aircraft specifically."
She adds: "Given our network, we can really rely on the domestic [markets] as well at the moment. So we are launching seven new domestic [routes] in the UK this year, six in France, seven in Italy.
"So we can really flex within markets according to customer demand. Having that combination of domestic, city-to-city and leisure [routes] is really playing in our favour right now."