After high-profile scenes of delayed passengers and mounting baggage piles dominated news in the early part of the last summer, European airports believe improved staffing levels and advanced planning give them heart for a quieter summer out of the headlines.
That was the sentiment as aviation industry leaders discussed the challenges ahead at the UK Airport Operators Association's annual conference in London at the end of January.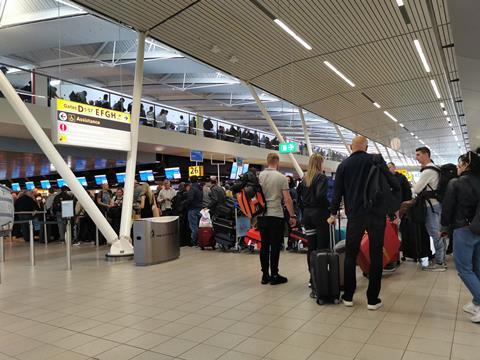 "Last year we faced significant operational challenges; that's because the volume surge took us a little by surprise, beating expectations," Olivier Jankovec, director general of airports body ACI Europe, said at the start of the event.
"If you look at traffic between January to August, you see some markets had to face really exponential growth and it was not easy to cope with that. It was not easy because we faced acute staff shortages, impacting all actors in the ecosystem. Some markets were more impacted than others, notably the UK, the Netherlands, Germany and Ireland, that resulted in significant disruption and impact on passengers."
Major hub airports like Amsterdam Schipohl, Dublin and London Heathrow were among the hardest hit, with the UK and Dutch hubs implementing caps on departing passengers in an attempt to avoid further disruption.
"I think it's clear that there is no magic wand to solve this, and this also reflects differences in the way states chose to support – or not to support – airports and ground handlers [during the pandemic]," says Jankovec.
This was a point Heathrow airport chief executive John Holland-Kaye hlghlighted later in the day. "It was quite telling that in France, where they had government financial support in their sector and they have a big market, Charles de Gaulle didn't cut as deep as we did and they were able to recover a little quicker," he notes.
Handling at airports came particularly under pressure. "The recovery has laid bare a number of structural issues as regards social conditions and organisational processes," says Jankovec. "I think this has clearly impacted, and continues to impact, performance. We have engaged with states across Europe, focusing on the ability of airports to be better in control of the way ground handling services are being delivered."
IMPROVED OUTLOOK AHEAD
Airport executives are hopeful of a better performance this summer, particularly due to progress in tackling the staff shortages. For example, Holland-Kaye says companies across Heathrow airport have recruited 20,000 staff over the past 15 months and are now just 5,000 below pre-pandemic levels – though he acknowledges it will take time to replace the experience that has been lost by people leaving the sector.
Edinbugh airport chief executive Gordon Dewar also believes the sector is better placed to meet the summer demands.
"It is going to be better," he says, but notes it will take time for customer confidence to return after high profile challenges. "It needs a year… to get people back confident again, we need to be performing well, consistently, and really boringly," Dewar says.
"We are not out of the woods. We've got industrial action currently with [UK] border force – we don't know how and when that's going to get resolved. There will no doubt be other disputes across handling companies, across airports. All these things risk it being less boring again. I just hope we can hold the line and make sure we've learnt all those resilience lessons.
"The biggest one, is we've solved I think 90% of the staffing issues," he says, noting the industry has not only had a year to recruit, but there has been a softening in the employment market. "The pressure has come off, so I don't think staffing should be the real hotspot it was," he says.