On the one hand airport leaders met in Barcelona at the end of June for the joint ACI Europe/World AGM with an air of business as usual.
Passenger traffic, both globally and within Europe, is nearing a return to pre-pandemic highs; major hubs that had dipped to activity levels not seen for generations have been growing strongly; and airports appear better placed for the peak-time operational pressures which so hampered recovery last summer.
However, amid the familiar debate between airlines and airports on issues like charges and slot rules, there are also additional pressures arising from higher debt levels post-Covid and the need to meet the sustainability challenge. That is particularly evident within Europe.
ACI Europe director Olivier Jankovec tells FlightGlobal: "It is important that we really keep focusing on what is the mother of all challenges which is decarbonisation and in Europe certainly, it's no longer about our licence to grow, but just keeping our licence to operate. And I think… it makes sense for us all to work together.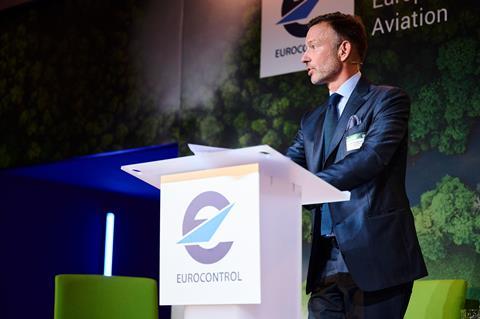 "But that means all parties in the ecosystem must accept the way that Covid and the structural changes in the market are impacting the different actors. You don't hold the conversations we had before Covid on a number of things in the same way and based on the same assumptions because the paradigm has shifted tremendously."
TRAFFIC RECOVERY ON TRACK
Last year was at least brighter in terms of traffic and financial performance for European airports, despite last summer's high-profile operational challengers at some airports. ACI Europe disclosed that airports in the region made a net profit of €6.4 billion ($7 billion) in 2022.
That was achieved despite passenger traffic remaining more than a fifth down on pre-Covid levels in Europe. Passenger numbers have since improved further, moving to within 8% of pre-pandemic levels in April.
On a global level ACI World expects airports to handle 8.4 billion passengers this year – around 92% of pre-pandemic levels. ACI World director general Luis Felipe de Oliveira says: "Different parts of the world are recovering at different paths, and that is based on how the restrictions were lifted in the regions and the countries. Some regions have already reached more than 100%.
"Globally speaking we are in a very good patch," he adds. "In terms of passengers we are reaching the same number as 2019 next year. Domestic markets are recovering faster than international markets. That helps us to next year reach the same levels of 2019. But international markets will only be fully recovered by 2025."
DEBTS AND INFLATION TAKE TOLL
However, if traffic levels are close to returning to normal, airports say debt levels are not.
"During the pandemic, different from the airlines, most of the airports did not receive any support," says de Oliveira. "But we needed to continue to operate. If you need to maintain the airport, you need to get the money from somewhere. Airports got loans. Now we need to pay [that] back."
ACI Europe estimates that debt and liabilities are still €47 billion higher than before the pandemic. "That money is not available for investment. So a big worry for us is how we can get back on a financial footing that allows us to recover our full investment capacity, knowing that investment need will remain very high for airports," says Jankovec.
He also believes Europe needs to prepare for lower levels of growth than have been historically enjoyed, as the impact of tackling sustainability is factored in. "There will still be growth, but much less because prices for travel will increase, there is no way around," he says.
It is against this backdrop that Jankovec argues there is no option but for airport charges to increase.
"I think the responsibility is very much with the regulators… to realise that we are under a very different environment in terms of our economics and finance and to try to regulate not by looking in the rear view, but with a forward view.
"We are volume driven and our charges are set in advance and we can't modify them for a certain period of time, and all this is based on, normally, the principle that traffic will continue to grow dynamically," Jankovec says. "But we know that is not going to be the case, at least in Europe, and that therefore unit revenues will need to increase.
"Of course, we continue to work on efficiencies," he adds. "It's very clear that when we went back into the black last year, that was in great part because of the efficiencies achieved by airports. But there is only so much you can press the lemon. At a certain point in time you need the revenues to catch up with a new economic financial reality and the investment we need to make."
That point was reiterated during a panel session at the AGM by ACI Europe president, executive vice-president at Spanish airports group AENA, Javier Marin. "Many regulators now are focused on the short-term, pressing airport charges downwards so they are not taking account enough the needs of the airport and the needs of air transport," he says.
"When we look at the challenges of the next two to three years, you have to take into account that we need to invest in the capacity for the future. If you make creating capacity more difficult, it takes a long time."
AIRLINE-AIRPORT RELATIONSHIP
However, pushing for increased charges sets airports on collision course with airline association IATA, which has been a vocal critic around several high-profile hikes in airport charges.
Delivering his opening address at IATA's own AGM in Istanbul earlier in June, the airline association's director general Willie Walsh took aim at "grievous examples" of airports and ANSPs "shifting the costs of their inefficiency" to airlines, reserving particularly strong criticism for increased charges at Amsterdam Schiphol.
De Oliveira, once of IATA himself and more recently of the Latin American and Caribbean Air Transport Association (ALTA) airline body, estimates airline and airports share common ground on around 85% of issues.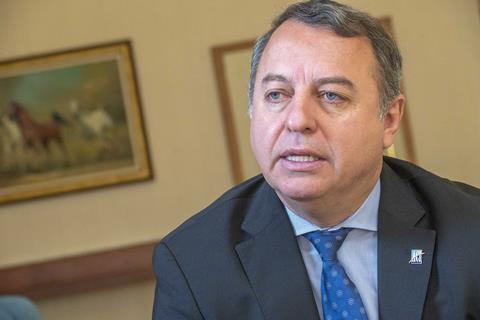 "We have this common ground that we need to reach this huge target of decarbonisation," he says. "If you focus on this 85% and you continue to discuss this 15% in a different manner, I think it will be much more positive. I think the blaming system you see today… does not work any more.
"We have a lot of opportunities to work with the airlines to improve. In the local bases that is happening, there is a lot of collaboration from the airlines and the airports in different ways. Around 80% in the world give incentives to the airlines to improve the routes and services there."
Further adding pressure is inflation, which intensifies the cost challenge airports face – particularly around salaries.
ACI World chair, Oman Airports chief executive Sheikh Aimen bin Ahmed Al Hosni, says: "The airports raised their charges by 7%, which is even less than the increase of inflation. On the other hand airlines increase [fares] by demand."
He says airport charges account for around 4-5% of airfares. "I always tell my airline friends, please concentrate on the 95%. What we really need to do is work together, try to support each other not confront each other; we have one customer."
REFORMING EUROPEAN SLOT RULES
That highlights another familiar area of difference between airlines and airports surrounding slot rules.
While IATA has backed the existing slot rules system, something it calls an "unsung hero" of the system, ACI Europe has renewed its call for European regulators to reform the rules.
"The age of the regulation is apparent in its loopholes which allow multi-airline groups to take advantage of the New Entrant rule as well as in its silence on measures which would allow increasingly scarce airport capacity to be optimally allocated," wrote ACI Europe president Marin to the European Commission in May.
Ongoing moves to reform the regulation within Europe are now expected to wait until a new Commission takes office next year.
Jankovec says: "It is not about throwing the baby out with the bath water. It is about adapting the rules to the reality of the market; adapting the rules to the reality that airport congestion is not going to get any better and we really need to pull every lever to generate efficiencies and make the most optimum use of scarce capacity.
"And the reality is airports as a business in their own right want to have a say in the way their capacity is being allocated and used, because they are the ones investing billions in that capacity."
A SUSTAINABLE WAY TO DIVERSIFY?
While the pressure to decarbonise adds a financial and growth challenge to airports within Europe, there are opportunities to play a bigger role in the energy transition.
"That's really about seizing the opportunity of decarbonisation through innovation to diversify the business model to become suppliers of green energy, not just to the users, but to our communities," says Jankovec.
He highlights the example of Paris airports operator Groupe ADP's announcement during June that it is creating an engineering and consulting joint venture with Air Liquide focused on helping airports integrate hydrogen projects.
"It is about rethinking capacity, not just in aeronautical terms, but in terms of the supply of green energy. It's a great diversification opportunity potentially, and therefore it could create a new revenue stream – [though] this needs to be further studied. But also crucially we see the opportunity to redefine and win over the challenge of our societal evidence, because it would give airports a new societal role in this green energy transition.
"The challenge will be for airports to go into an area that is unchartered territory, where we don't have much know-how."
In the meantime European airports have doubled-down on their net-zero commitment, with more than 50 further airports taking to over 300 the number committing to reach net-zero carbon emissions by 2050. Notably 48 airports advanced their target over last year's pledge and 132 airports are committed to reaching net zero by 2030 or earlier.
"Different parts of the world have a different approach because you have different needs," says de Oliveira. "That's why when we set our targets for 2050 for net-zero, we will see in Europe probably it will arrive early. Other parts of the world will take longer."
He adds: "We need to be ready for electric aircraft, ready to have hydrogen aircraft, [and] how can we take advantage of the hydrogen to also provide the energy power.
"We see it as an opportunity rather than just a challenge. This opportunity to turn airports into energy hubs… we can generate new markets and new approaches for airports."