As Avianca and Gol continue to work towards the creation of a new airline holding company in the region, the latest data shows why the tie-up is attracting so much interest and scrutiny.
The combination of the two airlines – alongside Viva's Colombia and Peru operations, and an interest in Chile's Sky Airlines – in the Abra Group would create a business that would rival LATAM Airlines Group in terms of scale.
That would mark a significant shift in the balance of power in a region where LATAM has been by far the largest airline group, exceeding the capacity data for other operators by some distance.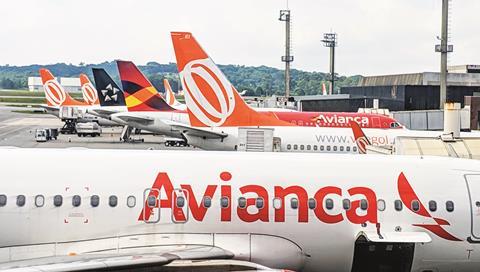 Indeed, when it comes to flight numbers, seats offered and available seat kilometres (ASKs), Cirium schedules data shows LATAM's group output is at least double that of every other group or airline in the region for October 2022 – with the exception of one airline on one data point. That is for flights offered by Azul, which at around 27,000, are more than half 40,000 offered by LATAM. Gol is the third-busiest in terms of flights, at nearly 19,000, followed by Aeromexico at 17,000.
By seats, LATAM's 7.3 million are followed by Gol's 3.3 million, Azul's 3.2 million, Volaris' 3.1 million and Avianca's 2.6 million.
In terms of ASKs, LATAM's 10.5 billion are followed by Volaris' 4.8 billion, Aeromexico's 4.2 billion, Gol's 3.7 billion, Avianca's 3.5 billion, Azul's 3.5 billion and Copa Airlines' 3.2 billion.
When the proposed Abra Group carriers are joined together, however, the balance changes significantly.
How Abra Group would rank among region's top carriers in October 2022
Source: FlightGlobal analysis of Cirium schedules data for marketed flights.
*Combines data for Avianca, Gol, Viva Colombia, Viva Peru and Sky Airline
Rank
Airline/Group
Flights
Seats
ASKs
1
LATAM Airlines Group
40,461
7,329,129
10,460,750,047
2
Abra Group*
43,556
7,625,087
8,832,243,225
3
Volaris
15,967
3,122,669
4,768,343,477
4
Aeromexico
17,116
2,468,763
4,164,213,360
5
Gol
18,883
3,293,352
3,667,172,448
6
Avianca
15,065
2,564,897
3,475,705,688
7
Azul
26,719
3,229,887
3,459,266,835
8
Copa Airlines
9,162
1,416,786
3,211,095,155
9
VivaAerobus
11,139
2,240,484
2,632,398,624
10
Aerolineas Argentinas
8,864
1,304,204
2,065,580,916
Cirium data for October shows the proposed Abra Group carriers are today offering around 7.6 million seats, compared with the 7.3 million by LATAM.
In Abra's case, those seats are being offered on around 43,000 flights, ahead of the 40,000 offered by LATAM.
LATAM is ahead of the proposed Abra grouping when available seat kilometres are considered, however, reflecting its greater presence in long-haul markets. Abra carriers are operating 8.8 billion ASKs, while LATAM carriers are operating 10.5 billion.
SIMILAR FLEET SIZES
In terms of fleet size, the proposed Abra Group would be slightly ahead of LATAM Airlines Group, Cirium data suggests, with both operating more than 300 aircraft. The latter, however, has a much larger roster of twin-aisle jets.
More than 150 of Abra's fleet would be from the Airbus A320 family, of which just over a third are current-generation Neo jets. Around 140 aircraft are from the Boeing 737 family, with approximately a quarter of those being current-generation Max jets.
Abra would have around 22 widebody jets, including 13 Boeing 787-8s, six Airbus A330-200 freighters and three passenger versions of the same aircraft.
LATAM Airlines Group has a much longer list of widebody aircraft in its fleet.
Cirium data shows the group has 74 widebody jets, including 20 787-9s, 18 767-300ERS, 10 787-8s, 10 777-300ERs and 16 767 freighters.
The rest of LATAM's fleet is made up of A320-family jets.
As things stand, Abra would have a much larger orderbook than LATAM, featuring more than 230 aircraft, Cirium data suggests, split between A320neo and 737 Max types.
Data shows some 68 aircraft in LATAM's orderbook – nearly all of them A320neo-family jets.
POWER DYNAMIC
Ultimately, the data shows that should the European-style holding company structure take off in the region, a new power dynamic will quickly emerge.
And that is before partnerships with carriers outside the region are considered. On that point, the recent clearance by US authorities of LATAM's joint venture with Delta Air Lines is a significant milestone.
For the carriers left outside the groupings, however, there is not necessarily anything to fear.
"Consolidation in most cases tends to be a positive thing for all airlines, not just for the consolidating airlines," said Copa Airlines chief executive Pedro Heilbron, soon after the proposal to set up Abra Group was announced.