Domestic markets have been a salvation for many airlines as the global pandemic continues to batter international travel.
While international travel remains at the mercy of national policies and the success – or otherwise – of efforts to control coronavirus, domestic air travel has provided airlines and consumers alike with a more reliable market.
In some cases that has been bolstered by a greater number of people holidaying domestically as travel restrictions have put many overseas destinations out of reach during the pandemic.
But the scale of that opportunity varies dramatically based on the size of the domestic market – and even among sizeable domestic sectors, capacity is returning at varying rates.
UNITED STATES
IATA data shows that domestic business accounted for around 36% of global traffic in 2019. The largest of these markets, accounting for 14% of global traffic, was the US domestic market.
Capacity in this market has in part been propped up through the pandemic by minimum service levels attached to the US CARES aid package, under which carriers have tapped billions in state support through the crisis. It means that even in June, airlines in the USA were still flying around a third of the previous year's level of capacity – albeit with sharply depressed load factors.
But there has been little change in the momentum of domestic capacity in recent months. In the USA, Cirium schedules data shows that capacity by all metrics is set to be around 45% down in October over the same month last year. By comparison, ASKs were down by almost half in July against the same month in 2019.
Fresh weekly data from US carrier trade body Airlines for America shows domestic traffic volumes still some 63% below the previous-year levels. Load factor on those domestic routes stands at 57% – close to the post-crisis high of 60% reached in June – but still well short of the 87% enjoyed a year ago.
Leading US airlines by domestic capacity in ASKs: October 2020
Airline
Flights
Change
Seats
Change
ASKs
Change
Delta Air Lines
87,875
-42%
10,559,439
-42%
14,080,074,137
-40%
American Airlines
92,978
-49%
10,081,460
-48%
13,432,026,028
-47%
Southwest Airlines
64,101
-45%
9,965,323
-43%
11,714,261,793
-44%
United Airlines
68,874
-49%
6,710,581
-52%
10,165,511,219
-54%
Alaska Airlines
23,548
-37%
2,744,555
-42%
4,537,920,629
-47%
JetBlue Airways
9,452
-62%
1,469,387
-57%
3,245,594,688
-51%
Spirit Airlines
9,018
-47%
1,747,858
-44%
3,032,013,125
-38%
Frontier Airlines
7,936
-38%
1,515,274
-38%
2,333,819,030
-42%
Allegiant Air
7,268
-8%
1,265,994
-6%
1,764,182,153
-3%
Hawaiian Airlines
5,691
-28%
822,966
-27%
1,239,588,295
-36%
TOTAL
409,471
-45%
47,413,210
-45%
65,983,683,862
-45%
Source: Cirium schedules data October 2020 v October 2019
Allegiant Air is a stand-out, as the low-cost carrier is the only major US operator to have only a single-digit reduction in capacity in October.
This is in line with its traffic over recent months. Allegiant's capacity in September was only 9% down compared with the same month in 2019 – and by only 6.5% across the third quarter as whole. By contrast the airline's traffic, however, was sharply down by 37% in September and almost 46% across the quarter.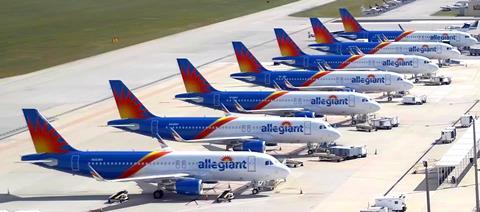 As a result, the airline's load factor was some 35 percentage points down during the quarter at 49.7% – though it significantly closed the gap in September, when load factor was 25 points down at 57.4%.
"We will continue to approach the fourth quarter by maintaining a wide selling footprint," says the airline's vice-president of revenue Drew Wells. "This approach has been effective at capturing demand as it returns.
"We completed the quarter with capacity down 6.5% year over year and a load factor of just below 50%. We saw some strength towards the back half of the quarter, as evidenced by September's load factor of 57.4%. We continue to monitor bookings and will make any necessary cuts to the schedule as dictated by demand trends."
Speaking at the International Aviation Forecast Summit in Cincinnati on 12 October, Allegiant chief financial officer Greg Anderson said the airline is clearly seeing pent-up demand from customers who had been prevented from travelling earlier this year due to lockdowns and other restrictions. He says the airline is "encouraged" by forward bookings for the upcoming Thanksgiving period and year-end holiday season.
"We are not running out and claiming victory today, but we think there's a line of sight to get out of the cash-burn narrative," he says.
Aviation analyst Michael Boyd, speaking at the same event, says the point-to-point model that ultra-low-cost carriers like Allegiant specialise in will likely rebound fastest from the pandemic. Notably, mainline carrier United Airlines recently introduced numerous point-to-point flights to try to draw more of the leisure market to its own network as business travellers continue to stay away.
Schedules data for October shows Los Angeles and New York JFK airports are the hardest hit in terms of lower domestic capacity – both reporting drops of more than 60%. By contrast Denver, which leads the way in October in terms of domestic ASKs, has capacity down only 30% compared with October 2019.
Leading US airports by domestic ASK capacity October 2020
Airport
Flights
Change
Seats
Change
ASKs
Change
Denver
18,474
-29.3%
2,465,238
-27.4%
3,624,259,592
-30.1%
Atlanta
21,194
-37.4%
2,987,871
-38.6%
3,463,390,187
-36.8%
Los Angeles
9,565
-54.5%
1,436,319
-52.3%
3,198,047,220
-51.5%
Dallas/Fort Worth
19,521
-27.3%
2,211,818
-32.7%
3,186,227,433
-30.7%
Seattle
11,754
-28.1%
1,572,895
-30.2%
3,069,409,058
-30.2%
Las Vegas
9,197
-39.9%
1,537,184
-37.6%
2,666,934,080
-34.5%
Chicago-O'Hare
16,741
-53.3%
1,664,161
-55.3%
2,330,924,728
-53.6%
Phoenix
9,815
-35.8%
1,345,278
-37.8%
2,062,211,416
-40.6%
Orlando
6,830
-41.7%
1,158,208
-41.5%
1,802,395,326
-41.5%
San Francisco
6,503
-55.9%
841,689
-60.4%
1,779,915,673
-62.1%
Charlotte-Douglas
15,212
-32.5%
1,639,904
-32.8%
1,722,783,779
-30.6%
Minneapolis/St. Paul
9,246
-37.5%
1,099,378
-39.8%
1,593,011,974
-38.8%
Newark
5,780
-59.1%
774,934
-54.7%
1,504,313,294
-53.3%
Salt Lake City
8,200
-19.0%
991,507
-18.6%
1,362,868,648
-18.8%
Boston
5,610
-63.5%
689,910
-62.8%
1,361,654,612
-57.6%
Detroit
9,124
-40.1%
1,031,204
-40.2%
1,347,147,147
-36.8%
New York JFK
3,758
-64.6%
551,789
-60.6%
1,312,697,127
-60.4%
Houston Intercontinental
7,953
-48.5%
832,035
-51.8%
1,244,761,029
-51.6%
Fort Lauderdale
4,320
-45.0%
733,089
-41.9%
1,213,934,766
-40.6%
Baltimore
5,678
-39.8%
819,675
-40.2%
1,062,419,960
-41.1%
TOTAL
409,471
-45.1%
47,413,210
-45.0%
65,983,683,862
-45.4%
Source: Cirium schedules data
In the Washington DC market, domestic capacity is down most sharply at the downtown Ronald Reagan National airport. Flights at the airport, by which it was the busiest of the three airports serving the market in October 2019, were down 75%, while capacity is down 66% in terms of ASKs. Schedules show ASK capacity down 56% at Washington Dulles in October and by 41% at Baltimore.
CHINA
In China, October schedules point to a continued climb in airline capacity. Schedules data shows domestic capacity across mainland China had reached prior year levels in August, and was 6% higher by September.
October data shows Chinese mainland domestic seat and ASK capacity running more than 10% above the same month in 2019. Virtually all carriers are scheduled to lift their domestic capacity over October 2019 – the biggest exceptions among leading carriers being Hainan Airlines and Tianjin Airlines.
Notably, capacity is up by double-dight levels across China's largest airports – when Beijing traffic levels are adjusted for the opening of the city's second airport at Daxing last year.
Capacity in another Chinese city with two gateways, Shanghai, has favoured the city's Pudong airport. Domestic capacity is flat at Xi'an and down sharply at Urumqi.
Leading mainland China airports by ASK capacity: October 2020
Airport
Flights
Change
Seats
Change
ASKs
Change
Guangzhou
17,981
14.2%
3,334,926
16.0%
4,193,552,296
15.1%
Beijing Capital
14,603
-22.6%
2,968,930
-22.9%
4,180,444,553
-22.6%
Chengdu
15,541
14.3%
2,915,261
19.0%
3,845,190,429
18.7%
Shenzhen
15,057
13.8%
2,781,348
14.5%
3,601,006,699
12.4%
Shanghai Pudong
14,062
22.7%
2,372,407
20.3%
3,060,478,043
24.0%
Kunming
15,337
11.8%
2,469,389
12.2%
2,978,914,053
11.2%
Chongqing
14,057
11.1%
2,376,593
13.9%
2,810,330,767
12.9%
Shanghai Hongqiao
11,674
4.2%
2,365,962
6.1%
2,796,607,023
6.0%
Beijing Daxing
10,783
411.5%
1,970,862
433.4%
2,698,619,743
604.1%
Xi'an
13,957
-1.3%
2,303,816
-0.1%
2,652,818,512
0.4%
Hangzhou
11,188
8.4%
1,999,457
12.3%
2,394,911,862
11.9%
Urumqi
6,541
-14.5%
1,077,128
-14.0%
2,021,042,268
-16.5%
Nanjing
9,525
10.9%
1,571,554
11.1%
1,862,699,819
9.6%
Zhengzhou
8,847
3.8%
1,494,917
5.0%
1,854,708,779
1.9%
Sanya
5,719
21.6%
1,109,585
27.1%
1,757,187,072
27.4%
Harbin
6,613
9.4%
1,100,543
10.1%
1,683,441,042
9.8%
Changsha
8,810
12.7%
1,476,393
15.5%
1,539,451,283
18.0%
Haikou
6,914
12.6%
1,202,517
13.9%
1,436,348,471
15.0%
Tianjin
6,385
10.9%
1,069,738
11.5%
1,413,984,884
13.5%
Xiamen
7,367
5.4%
1,245,906
6.0%
1,406,042,638
6.3%
TOTAL
412,603
8.9%
69,401,726
10.3%
82,773,770,535
10.9%
Source: Cirium schedules data
This continues the strong traffic recovery, at least on domestic routes, that Chinese carriers have reported in recent months.
The Chinese market, where the coronavirus outbreak first emerged in Wuhan early this year, was initially hardest hit. But it has been among the first markets to recover. While a recovery in international air travel out of China is still to gain traction – capacity remains 90% down in October – domestic traffic has been a bright point for Chinese operators.
RUSSIA
The Russian domestic market has experienced an even sharper return in capacity than China. Russia became the first of the major domestic markets to return to 2019 levels in August – and capacity ran 9% above prior year levels for the month.
"It's partly because Russia had a substantial outbound tourism flow – and people have decided to holiday at home," explained IATA chief economist Brian Pearce in late September. "Also, airlines in the Russian domestic market have been discounting their fares much more than other markets – down almost 40%. I think that's one of the key reasons we have seen."
Load factors in the Russian domestic market were down only five percentage points at 86.4%.
Aeroflot Group in August flew 3.55 million domestic passengers, just 0.4% fewer than a year earlier. That was driven by a strong performance from its low-cost unit Pobeda. The latter had already by July "reached the traffic levels of comparable period of last year".
By August, Pobeda's passenger numbers were 17% above a year earlier, at 1.2 million travellers, according to Rosaviatsia, Russia's federal air transport authority.
A similar dynamic can be seen at Russia's other major airline group, S7 Airlines, which restarted its entire domestic network in June. Cirium data shows that, following its merger with Globus last year, S7 was by 1 August operating 355 flights per day, measured as a seven-day average, against 271 daily flights a year earlier. Of those 355 flights, all but 15 were domestic.
October schedules show no sign of a let-up. Cirium data shows showing domestic capacity running 10% above 2020 levels for October.
OTHER MARKETS
In neighbouring Kazakhstan, national carrier Air Astana is reporting a strong uptick in domestic demand – in part fuelled by the low-cost unit it launched last year, FlyArystan.
"The domestic market is extremely resilient," Air Astana chief executive Peter Foster told FlightGlobal in Sptember. "On domestic, there is an interesting phenomenon here. Kazakhstan is a very large country and has this very well developed rail network, so a huge amount of travel has been done by rail, which has meant domestic air travel has been very low – which is the reason why we launched FlyArystan.
"What seems to be happening is, people don't want to go by rail," he says, highlighting the shorter journey times in an aircraft, together with the clear enforcement of measures such as mandatory wearing of masks on board. "So it seems a lot of people have migrated from the train, particularly to FlyArystan, driven by that phenomenon."
But domestic air capacity in Kazakhstan as a whole is still set to be down 11% in October, schedules data shows.
And of the large domestic markets, China and Russia remain outliers in having already seen capacity return to or exceed prior year levels.
October schedules data shows domestic capacity in Japan – the second biggest market by traffic in 2019 – Indonesia and Vietnam down around a fifth. Indian domestic capacity remains down more a third October schedules indicate. That though would mark an improvement on the 60% reduction in August and the roughly halving of capacity in September versus the previous year.
Domestic capacity – in terms of ASKs – remains 40% down in October in Brazil, and closer to 50% in terms of seat capacity. That though marks an improvement on the 60% reduction in September capacity.
Perhaps slowest to recover domestically is the Australian market. IATA figures show domestic traffic was down 91% in August and schedules data shows domestic capacity remains down by three-quarters in October.