Asia-Pacific carriers received 86 of the new commercial aircraft delivered in December 2019, with the year's last month again the biggest in terms of deliveries.
European carriers followed with 30 deliveries, North American carriers with 28, and Middle Eastern carriers with 18, according to Cirium fleets data.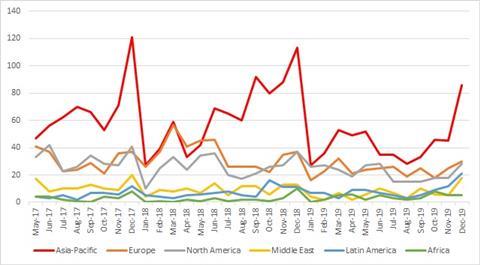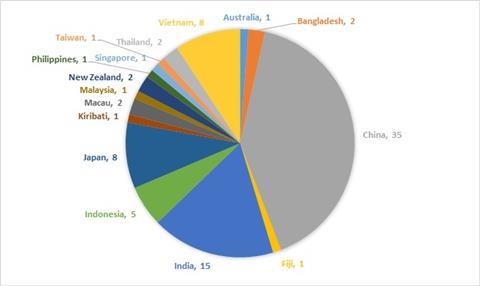 Though December was the strongest delivery month for the Asia-Pacific, the 86 aircraft received were considerably lower than the 118 received in December 2019 and 121 in December 2017. A significant part of the change can be attributed to the absence of Boeing 737 Max deliveries amid the type's continued grounding.
Again reflecting the absence of the 737 Max, on an annual basis Asia-Pacific deliveries in 2019 were sharply lower with 525 new aircraft received compared with 767 in 2018.
As for December's deliveries in the region, China led with 35 deliveries followed by India (15), Japan (8), Vietnam (8), and Indonesia (5).
The Asia-Pacific carrier with the biggest deliveries, however, was not Chinese, but rather Indian low-cost carrier IndiGo, which took nine aircraft during the month: four A320neos, three A321neos, and a pair of ATR 72-600s.
Following IndiGo were China Eastern Airlines with seven new aircraft (six A320neos and an A350-900), China United Airlines (six 737-800s), and Air China (four A320neos and two A321neos).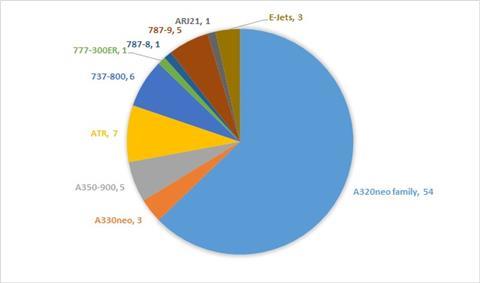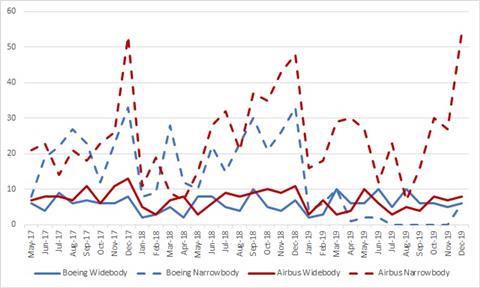 Among the big airframers, Airbus delivered eight widebodies to the Asia-Pacific in December compared with Boeing's six. It also led among narrowbodies, with 54 deliveries against China United's six 737-800s – Boeing's first narrowbody deliveries to the region since June.
On an annual basis, Boeing delivered 75 widebodies to the Asia-Pacific in 2019, up from 63 in 2018. The grounding of the Max in March, however, caused its Asia-Pacific narrowbody deliveries to fall to just 31 aircraft in 2019, compared with 237 deliveries in 2018.
Airbus delivered 69 widebodies to the Asia-Pacific during the year, down from 88 in 2018. It also delivered fewer narrowbodies, with 289 deliveries for the year compared with 305 in 2018.
Lessors had a respectable December, with involvement in 35 of the Asia-Pacific's 86 deliveries. Air Lease Corporation, BOC Aviation and CDB Aviation all had notable months, with involvement in six deliveries each.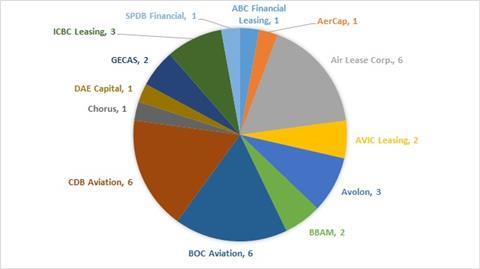 Air Lease was involved in six A321neo deliveries to Air Macau (one), Sichuan Airlines (one), and Vietnam Airlines (four), while BOC Aviation was involved in six A320neo deliveries divided among Air China (three), Air Macau (one), Bamboo Airways (one), and GoAir (one).
CDB Aviation was involved in an A320neo for Bamboo Airways, three A321neos for IndiGo, and a pair of A330neos for Garuda Indonesia.