Southern California start-up Air Cahana has an ambitious plan to establish and expand hydrogen-powered regional air service in the Southwest USA this decade.
Founder and chief executive Tony Thompson believes the regional air mobility company's vision of retrofitting a fleet of passenger turboprops with hydrogen propulsion systems by 2030 is aggressive but realistic, he told FlightGlobal in late July.
"A big part of what we're trying to do is clean up aviation, to decarbonise it," he says. "At the same time, the business has to be profitable."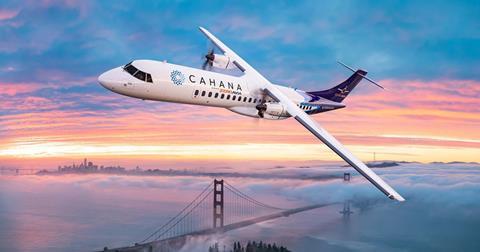 The prospective airline, which remains years away from flying hydrogen-powered aircraft, plans to fly passengers point-to-point between local airports, avoiding major hubs. Like other start-ups re-envisioning regional air transportation, Air Cahana plans to use the USA's many small, manageable airports to offer a convenient and time-saving alternative to driving. Thompson believes this will be a winning strategy because "most people live within 15min of a regional airport", and using hydrogen fuel will keep operating expenses relatively low.
A 2021 study by NASA about the potential of hydrogen propulsion "considered aircraft with seat capacities from 20 to 80 seats and concluded that a hypothetical 40% reduction in operating cost compared to today's regional aircraft would push the market to a huge expansion in small regional flights serving far more airports".
But as Air Cahana positions itself to capitalise on what it calls a "turning point in aviation", the company faces uncertainty related to how quickly the industry can scale production of sustainable aviation fuel (SAF) and develop hydrogen technology to power the next era of regional passenger flying.
FLEET OF THE FUTURE
Founded in 2018 under the name Flyshare, Air Cahana initially considered launching an airline using fully electric aircraft before concluding that current battery technology does not yet provide sufficient energy density. It subsequently pivoted plans to using aircraft powered by hydrogen systems being developed by advanced engine manufacturer ZeroAvia.
In June, ZeroAvia disclosed a deal to provide Air Cahana with 250 of its hydrogen-electric ZA2000 powerplants designed for 40-80 seat regional turboprops, which it hopes to certificate in 2027.
In the meantime, Air Cahana intends to begin flights using two Pilatus PC-12 aircraft, burning SAF, "as soon as we get access to it", Thompson says, adding that the company is close to securing financing and signing leases for a pair of the single-engined turboprops. The start-up plans to deploy PC-12s for charter operations within the next couple of months.
It plans to transition to scheduled services with larger French-made ATR regional turboprops "about a year" into flying passengers. "It's almost certainly going to be the only aircraft in the world that's certified for 100% sustainable aviation fuel," Thompson says. "The second reason we are going to transition to that aircraft is because that's the aircraft ZeroAvia is going to certify their hydrogen powerplants on."
Air Cahana intends to operate ATRs using SAF before retrofitting them with hydrogen propulsion systems when ZeroAvia's technology becomes commercially available.
It plans to scale to 21 aircraft – seven based in Los Angeles, seven in the San Francisco Bay Area and seven in Colorado – by the end of the decade. "That gives us coverage all over the southwestern part of the United States," Thompson says. "That's a pretty aggressive plan but… I think we can do it."
JOINING THE REVOLUTION
A native of Southern California, Thompson has degrees in physics and aeronautical engineering from the Massachusetts Institute of Technology and worked as a spacecraft and aeronautical engineer for Boeing in the early 1990s. His background also includes working on Wall Street, practising law for roughly two decades and helping launch a start-up company founded by a high school classmate.
His return to aviation was motivated by eagerness to participate in the revolution of low-emissions aircraft being developed by dozens of companies in the regional air mobility segment, typically defined as including novel, in-development aircraft like electric air taxis and fixed-wing types powered by electric, hybrid-electric and hydrogen propulsion systems.
"Aviation has had a couple of golden years, but in between the golden years the advances have not been quick or revolutionary," Thompson says. "However, the past six or seven years has seen a flurry of really great innovation – we're going back to the moon, there's autonomous aviation, there's vertical aviation, there's battery-electric, there's hydrogen and supersonic stuff going on. I decided that I wanted to get back into it."
Practical challenges could prevent Air Cahana's vision from unfolding as planned, however.
The company is counting on continued development of hydrogen propulsion technology and lower fuel costs. And in the short term, it is banking on customers paying higher fares for low-emissions flights, as SAF costs much more than conventional jet fuel.
"We're going to be offering service out of smaller airports, and we think our passengers will pay more for that," Thompson says.
Critics of hydrogen propulsion point to expensive new infrastructure need to transport and store the notoriously difficult-to-handle fuel. A 31 May report from management consultancy McKinsey estimates that "a typical regional airport serving 200,000 passengers annually could require $6 million in investment for charging or fuelling" electric- and hydrogen-powered aircraft.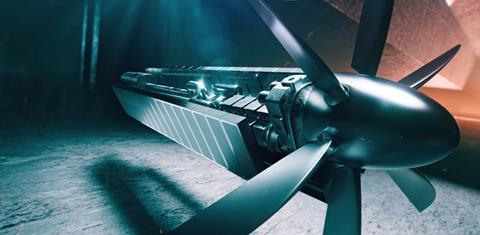 Thompson counters that Air Cahana won't need hydrogen fuelling stations at every airport in its future network, and that industry observers have "overestimated the need" for new infrastructure, at least initially.
The company favours the energy density of hydrogen over current battery technology because "that means more range", Thompson says. "It's going to be possible for us to fly from San Jose to Chico and return to San Jose without refuelling… In the early days of this business, I don't expect us to require infrastructure at more than three to four airports."
Handling hydrogen fuel "is not an economic problem, but simply a problem of experience and training", he adds, while acknowledging that "it is more difficult than Jet A in many respects".
And the company has a fall-back plan: In case of a delayed certification for ZeroAvia's hydrogen propulsion systems, Air Cahana intends to continue operating a fleet of SAF-burning aircraft.
UNTAPPED POTENTIAL
Air Cahana is privately funded by Thompson himself and a handful of other investors. The company is also hoping to secure loans through US Department of Energy that support start-ups working to decarbonise the US economy in order to finance its fleet of ATRs.
Thompson believes demand for regional air travel has "always been there" and will only increase as ground traffic becomes more congested, car commutes get longer and remote work becomes more commonplace.
"There are a lot of different types of demand that we can tap into," he says. "There's business demand from LA to the Bay Area. There is the entertainment demand from LA to Las Vegas. And then there's the [remote-working] demand, and that's growing as well."
Thompson also sees potential in the thousands of underutilised regional airports throughout the USA. Air Cahana is exploring flights to Truckee Tahoe airport in California's Sierra Nevada mountains and to Monterey Regional airport on the Pacific coast.
"There's no capital costs to develop these airports – they are already developed – and there are thousands of them situated in communities that are underserved," he says.
Air Cahana will be based at an airport in central Los Angeles area where SAF is available, Thompson says, but declines to get specific, adding only that "we're close to getting access to an airport that has dedicated tanks for biofuel".
That would be an early step toward realising the carrier's long-term plan of decarbonising regional aviation and connecting communities across the vast distances of the Southwest USA.
"The basic idea is that America is not a small place," Thompson says. "But we've got 5,000 airports and people want to move from outlying areas into the city, and from one city to another. The demand for air travel is there."