Airlines are unlikely to see a return to pre-crisis traffic levels before the start of 2021 at the earliest IATA expects - and even that projection assumes coronavirus issues are largely tackled over the next three months.
The airline trade association today estimates the industry as a whole is set to lose $39 billion in the second quarter - during which countries around the world are in lock-down mode in tackling the pandemic - and points to a likely wider cash-burn of $61 billion when the impact of refunding sold but not flown tickets is factored in.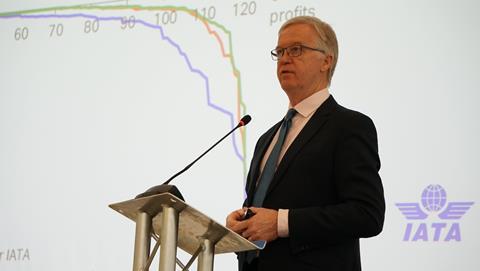 "In past pandemics we have seen this V-shape, with a sharp recovery after about six months," explains IATA chief economist Brian Pearce during a media briefing today.
"This time its different, mainly because we've got a deep recession. The lock-downs have stopped the world economy to a large extent, there are going to be job losses, there is clearly going to be a fall in [consumer] confidence and that will certainly delay the recovery of the industry.
"Our assumption today is that we have essentially a three-month lock-down during the second quarter, and then travel restrictions are relaxed and we start to see a recovery from that point, but I think in the third quarter it will still be weak because of the recession.
"The economic forecasts suggest the fourth quarter will see some strong economic stimulus from the fiscal packages, and we would hope to see a significant increase… but we don't see the industry back to pre-crisis levels by the fourth quarter, so it won't be until 2021 that we would expect a significant recovery."
But Pearce warns that its not clear that is going to happen. "It could be it takes much longer to get through the issues with the virus, it could be the virus come back," he says. "So we are exploring scenarios where we have a much longer period of weakness, and obviously the pressures on airlines are correspondingly larger."
Surviving the immediate crisis
Since the escalation of the coronavirus outbreak, IATA has been leading the call for urgent action from governments and regulators to act to support airlines.
"The light we see is the open attitude and actions taken by governments to help the economy and to put together rescue packages for companies and for airlines that could help us to cope with the incredible and unprecedented crisis," says IATA director general Alexandre de Juniac.
IATA cites specific financial or regulatory aid packages to the industry from Colombia, the United States, Singapore, Australia, China, New Zealand and Norway. More recently, it says Brazil, Canada, Colombia and the Netherlands have relaxed regulations to allow airlines to offer passengers travel vouchers in place of refunds.
"Some governments have been fast, some others less. In the Nordics they have been spectacular, they have been very, very, very fast. And some big countries have announced a lot of measures," de Juniac. "Now the point is not the announcement, it's the implementation. The industry needs the money to flow…otherwise the situation will not be solved."
Pearce again highlights the disparity in performance between leading airline groups - which have led industry profits over recent years - and a larger number of struggling carriers.
"There is a long tail of airlines that are much weaker, so there is clearly a substantial risk of bankruptcy. The extent to which that happens depends on the rescue packages," he says.
But he adds: "Even the solvent ones with good business models and strong balance sheets are in trouble in this kind of environment, so it is a leveller."
Checking the positive indicators
Airlines have taken some encouragement by the strength of the cargo market - albeit that strong demand is largely a product of the collapse of the passenger market and its related bellyhold capacity. Many airlines have been supplementing the freighter market by operating passenger aircraft on cargo missions.
But de Juniac does not expect a lasting impact from the boom in cargo demand. "Airlines have been used for years and years for this part of the activity to be fluctuating with ups and downs. We have currently an up – because there is a strong demand and not enough capacity. How long it will last, we don't know. But… it will not transform the industry significantly."
And he highlights the challenging times airfreight has been through - cargo volumes falling last year for the time since 2012. "In the past 14 months the cargo sector was in a pretty difficult shape, volume and prices were declining, so I wouldn't expect significant transformation triggered by the current crisis," he says.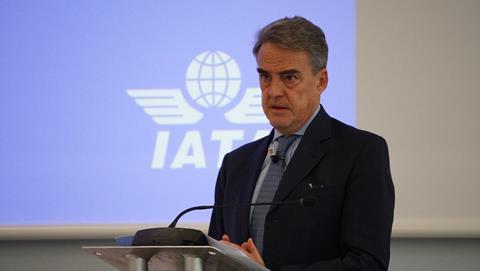 China too has offered the industry some solace as air travel has resumed following the earlier lock-down in the country, albeit that recovery has been tempered by restrictions subsequently re-imposed on international air travel to curb the risk of "importing" coronavirus cases.
"The situation is recovering very slowly at the moment – it is more or less flattish," says de Juniac.
But Pearce adds there are some encouraging signs to be taken from the Chinese domestic market. "The fleet was down 80-90% in January and February, its back up significantly now and load factors [are] at 60%, so passengers are returning too, as China slowly goes back to work."
All eyes are on progress in China as it was the first country to suffer from the outbreak - and thus offers the first example of challenges countries may face in exiting crisis mode and restoring normal air links.
"The co-ordination between the states to lift barriers to travel is a key issue that we will have to work out with the states and governments to see how we organize this lift of travel restrictions," notes de Juniac.
"It's a big issue and we are working on it. It has to be organised, otherwise it will be impossible to predict and to work out for the airlines. If it's a case-by-case lifting of restrictions, it will be difficult to implement. So we try to find a co-ordinated solution," he says.