The past week has seen a growing list of airlines offer optimistic outlooks for the coming northern hemisphere summer season, despite a lengthy list of challenges faced by the sector – although one chief executive bucked the trend, calling on airlines to "get real" on changed industry fundamentals.
Among those offering their views on the coming months, Wizz Air chief executive Jozsef Varadi said on 14 April that, despite the pandemic and the emergence of the Ukraine conflict, the carrier is "starting to see recovery take shape" ahead of the European summer season.
A day earlier, there was a similarly positive outlook from another big European low-cost operator.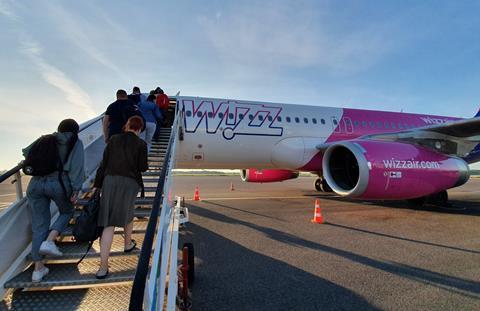 "We remain confident in our plans, which will see us reaching near-2019 flying levels for this summer and emerge as one of the winners in the recovery," says EasyJet chief executive Johan Lundgren.
That sentiment is shared in the USA, where one of the biggest carriers – Delta Air Lines – kicked off the financial reporting season this week.
"Everything we see right now points to very, very robust travel through the spring and summer," says Delta Air Lines president Glenn Hauenstein.
And in the Asia-Pacific region, airlines have started making noises about new route launches – or more accurately re-launches – as travel restrictions in most countries come down.
Notably, New Zealand's reopening – following some of the tightest border controls during the pandemic – has prompted high expectations for travel demand in the coming months.
Auckland airport said on 12 April that it expects international passenger capacity to surpass pre-pandemic levels by July this year.
But while the recovery momentum is spreading to more and more markets, SAS chief executive Anko van der Werff insisted during the CAPA Airline Leader Summit on 7 April that "it's not going to fly" for the industry "to just build back what we had, who we were".
He cites factors including greater airline debt coming out of the pandemic, rising inflation, higher fuel costs, the impacts of the Russia-Ukraine war on globalisation, and structural demand changes in long-haul connecting traffic – notably driven by an increased corporate focus on sustainability – as key considerations when mapping out the industry's future.
"I'm not fully convinced and I'm not sold yet on the future," van der Werff states. "We do have to change. We do have to get real about what is working for the industry."
Subscribers to the Airline Business newsletter receive the Weekly Briefing first every week. For more information, click here.