Italian national carrier Alitalia will carry out its last flight today as the company ceases operations, though it remains to be seen if it is the last time the long-standing and familiar brand is seen in the air.
The end of Alitalia operations comes almost exactly a year after Italian ministers signed a decree on the formation of a successor carrier. New national airline Italia Trasporto Aereo (ITA) began ticket sales on 26 August and will launch operations on 15 October as Alitalia ceases its flights. It will do so having unveiled a "Born in 2021" liveried aircraft, distancing itselffrom a predecessor that has been flying for more than 70 years.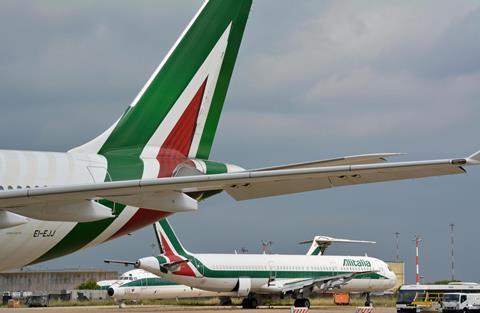 Alitalia, though, has long been beset by financial challenges. Over that time the airline has been through numerous restructurings and recapitalisations, and had dalliances with a string of airline partners. Notably these have included an aborted tie-up with KLM, a new start through a merger with Air One under private investors, and equity investments from Air France and Etihad Airways.
Yet none of these fresh starts could stem the red ink for long as the airline, often caught in the middle of political battles and between serving hubs in both Rome and Milan, consistently struggled for financial viability. Rivals, notably pan-European low-cost carriers, heaped further pressure by making strong inroads into the Italian market.
The airline's challenges were underscored by it spending the last four years in administration, failing to secure new investment after a drawn-out search even before the pandemic rocked the airline sector.
Successor operation ITA will utilise various assets acquired from Alitalia, including 52 aircraft, slots and contracts.
It could potentially also include the famous Alitalia brand. That, however, is subject to a tender, which was opened last month. Administrators set a criteria for bidders to hold an air transport operating licence or air operator's certificate to take part in the tender, and a minimum price of €290 million ($335 million) for the brand.
ITA has previously indicated its intent to take part in the tender for the brand, which administrators hope to make available to the successful bidder by year-end.
The holding of an open tender was one of a number conditions European competition regulators set in clearing ITA to begin operations without carrying the burden of having to repay the state aid Alitalia has been adjudged to have received. The latest in a series EU state aid probes over the course of Alitalia's history came in September when it was ruled the latter had recieved €900 million in illegal state aid in the form of loans made in 2017.
Crucially, however, regulators ruled that Italy had demonstrated "a clear break" between Alitalia and ITA, and was also acting as a private investor in providing €1.35 billion in capital injections over the next three years.
Alongside the holding of an open tender for the brand, other conditions include the release of some Alitalia slots at key airports and restricting the parts of Alitalia's wider ground handling, maintenance and loyalty programme activities that ITA could bid for.
In a nod to its future, ITA at the end of last month signalled its decision to move to an all-Airbus fleet after signing a provisional agreement to purchase 28 Airbus aircraft, including 10 A330neos, 11 A320neos and seven A220s.
ITA will lease up to 56 new Airbuses over the course of its business plan, among them 13 long-haul types – the A350-900 included – and 43 short-haul models.
It has outlined a fleet expansion that will take the airline from an initial 52 aircraft to 105 in 2025.
ITA's business plan, disclosed in July, targets a return to break even by the third quarter of 2023 and a €209 million profit by 2025. But it must do so in the uncertainty of post-Covid travel markets and with many of the same pressures that dogged Alitalia still in place.
With or without the Alitalia brand, ITA is likely to face similar challenges ahead if it is to reach the profitability its predecessor found so elusive.