One of the most striking aspects of what is the deepest and most sustained crisis to ever hit commercial air transport is that it has resulted in relatively few airline collapses thus far.
FlightGlobal analysis shows around 20 operators of 19-seat or larger aircraft types on commercial services have formally pulled the plug on operations since the start of April.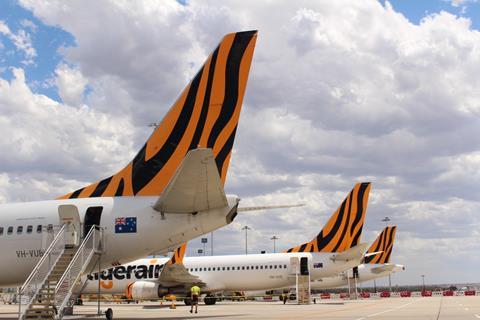 None of these carriers are of the scale of the notable failures in 2019, such as Jet Airways, Thomas Cook Airlines and Avianca Brasil. Indeed two of the bigger names to collapse this year – Air Italy and Flybe – shut down before the impact of Covid-19 could fully be felt.
Most of the airline failures since the pandemic took hold have been the consequence of strategic airline consolidation decisions.
This is the case for the biggest name to go so far, Cathay Dragon. The Hong Kong carrier's parent Cathay Pacific in October shuttered the airline. Cathay Dragon, which can trace its operations back to Dragonair to the 1980s, carried more than 10 million passengers last year and had a fleet of 45 Airbus aircraft serving 50 points in mainland China and Asia.
While the brand will go, parent Cathay has said it intends to take over the majority of the carrier's routes, alongside its low-cost arm HK Express. But given the fractured nature of airline networks since the pandemic, the full impact of the capacity and network lost by the removal of Cathay Dragon is unclear. The group as a whole expects to operate at about half capacity for the coming year.
Airline failures since April 2020 (selected)
Airline brand
Country/province
Region
Suspended
Notes
Cathay Dragon
Hong Kong
Asia-Pacific
October
Shuttered and routes taken over by Cathay Pacific and HK Express
AirAsia Japan
Japan
Asia-Pacific
October
With just three A320s, AirAsia Japan was the regional LCC group's smallest franchise
ExpressJet Airlines
USA
North America
September
Wound down after United consolidated ERJ-145 routes with CommutAir
Go2Sky
Slovakia
Europe
September
Wet-lease operator ceased flights though reportedly planning 2021 restart
Tigerair Australia
Australia
Asia-Pacific
August
Low-cost unit shuttered by parent Virgin Australia during its own restructuring process
Jet Time
Denmark
Europe
July
Filed for bankruptcy though former CEO working on Jettime successor carrier
NokScoot
Thailand
Asia-Pacific
July
Nok Air and Scoot agreed to liquidate joint-venture operation
Level France
France
Europe
July
Paris-based Level division, which formerly operated under the OpenSkies brand
SunExpress Germany
Germany
Europe
June
German unit discontinued to focus on core Turkish operations
LATAM Airlines Argentina
Argentina
Latin America
June
Carrier not part of wider LATAM group restructuring
Level Europe
Austria
Europe
June
Austrian unit of IAG Level brand filed for insolvency
TAME
Ecuador
Latin America
May
Ecuador closed state-owned carrier, which was founded in 1962
Miami Air International
USA
North America
May
Charter carrier ceased operations but assets acquired by Caribbean Sun owner
Compass Air/Trans States Airlines
USA
North America
April
Regional carriers shuttered by owner Trans States Holdings
Source: FlightGlobal analysis
It is a similar story for some of the other Asia-Pacific airlines that have ceased operations during the pandemic. Nok Air and SIA Group carrier Scoot called time on Thai joint venture carrier NokScoot in July, while one of AirAsia's affiliate carriers, AirAsia Japan, ceased flights in October. Virgin Australia, which is in the process completing its own formal restructuring, opted to shutter its low-cost operation Tigerair Australia in August.
Likewise in Europe, Sun Express – the Lufthansa-Turkish Airlines joint venture – ceased its SunExpress Germany operations in a move to focus on its core Turkish operations. IAG pulled the plug on the fledgling Austrian and French units of its Level brand – the latter division itself a revamp of the former OpenSkies operation from Paris.
LATAM Airlines Group's decision in June to close its subsidiary in Argentina reflects another retrenchment. LATAM Airlines Argentina was not part of the parent's wider bankruptcy protection proceedings.
In the USA, the pain has been predominantly felt by regional operators – mostly the impact of consolidation in feeder flights for the majors. Trans States Holdings operators Compass Air and Trans States Airlines were the first to go in April, followed more recently by ExpressJet Airlines after United Airlines consolidated Embrer ERJ-145 feeder flights around CommutAir.
There have been some smaller carriers that have simply called time on operations altogether. Notably Ecuador's ending of operations at TAME. The latter's origins date back to the early 1960s as an airline owned and operated by the air force, before more recently becoming a civilian government-owned carrier largely focusing on domestic services.
CARRIERS FORMALLY RESTRUCTURING
The relatively small number of airline failures so far, however, is not indicative of the health of the sector. Quite the opposite. It reflects that the sheer scale of the crisis means states have been forced to introduce financial measures, either direct or indirect, to help support airlines through the crisis.
Where states have been reluctant or unable to step in, formal restructuring processes have been launched in a bid to secure the necessary breathing space.
A string of carriers have undertaken – and in some cases completed – formal restructurings since the pandemic began. In some cases these have been carriers already facing financial pressures before the pandemic, though in Latin America in particular it also reflects a lack of state financial support to bridge the crisis.
Latin America's three biggest operators, LATAM Airlines Group, Avianca and Aeromexico, are all restructuring after filing for US chapter 11 bankruptcy protection.
One of the first to enter such a formal restructuring process – and set to successfully exit it – is Virgin Australia. The carrier filed for voluntary administration in April and expects to finalise a deal with new owners Bain Capital in November.
Another Virgin brand carrier, UK operator Virgin Atlantic, completed a formal solvent recapitalisation process in September.
Airlines undergoing formal business restructuring process during pandemic
Airline
Country/province
Date
Notes
Aeromexico
Mexico
July
Filed chapter 11 bankruptcy protection and secured approval for $1bn financing package in October
Air Mauritius
Mauritius
April
Filed for voluntary administration
Avianca Group
Colombia
May
Filed for chapter 11 bankruptcy protection and secured approval for financing package in October
CityJet
Ireland
April
Completed restructuring under Irish Examinership in August
Comair
South Africa
May
Set to be acquired from business rescue by consortium including former executive
LATAM Airlines Group
Chile
May
Filed for chapter 11 bankruptcy protection and secured approval for revised financing package in September
Nok Air
Thailand
July
Filed for business rehabilitation
SA Express
South Africa
Feb
Entered business rescue and has secured more time to find buyer whilst liquidation threat remains
South African Airways
South Africa
Dec
Placed in formal business rescue at the end of 2019
Thai Airways
Thailand
May
Filed for business rehabilitation
Virgin Atlantic
UK
August
Completed a formal solvent recapitalisation process in September
Virgin Australia
Australia
April
Entered voluntary administration and set to be acquired by Bain Consulting after bid was selected
Source: FlightGlobal
Many other carriers are undertaking major restructuring programmes, but outside of formal creditor protection processes.
AIRLINES IN STASIS
To some extent the crisis has put airlines, almost regardless of their pre-pandemic health, into stasis. It will only be when the support measures are taken away and a new normal – whatever that may be – takes hold that the health of airlines will become clear.
In that respect, counter-intuitively it may only be when the outlook gets better for air travel that more airlines begin to fail.
The likely slow pace of recovery means an environment of less passengers to go round. Some airlines may have done enough to see out the crisis in semi-hibernation. Other hunters may even prosper picking off opportunities. But many will not survive without further life support.
Governments over the years have shown a reluctance to switch off airline life support. But this is a crisis like no other. In the past decisions to prop up sick airlines have often been taken in isolation – a choice between intervention or the political fallout of allowing a flag carrier and major employer to collapse.
In the post-pandemic climate, states may simply not have the resources to fund continued airline bailouts – or may find they have a stark choice as to which of their industries to save. In these cases a profitable track record, or at least a return on investment of some kind, will be a major consideration. Many airline brands, despite their long-standing history, do not have a profits record to match.
Industry partners – notably aircraft lessors and manufacturers – have also played their part in supporting struggling airlines through the crisis. This of course is in their own interest – they do after all need airline customers at the other end of the crisis to fly their assets. But lessors and manufacturers are a business. They too will have to choose which airlines to back when a more normal business environment returns.
The stronger airlines have already been able to tap private capital or financial markets to generate additional liquidity through the crisis. That speaks to the improved balance sheets and investment returns parts of the industry have been able to deliver during the good times. This illustrates some will survive – potentially without the need for significant state support.
Others are likely to benefit too from circumstance; those with access to strong domestic sectors to fall back on or which operate in markets where there is better control of the pandemic or greater state desire to support a recovery of air traffic.
But when the plug on state support is pulled – and panic does set in – things can happen quickly. In Europe, after the financial crisis a decade ago, Malev and Spanair collapsed within a week of each other. The carriers had 90 years of flying between them, albeit with limited profitability.
It is inevitable more established airline brands will be lost as a result of the crisis. How many and how long it takes is another question altogether. Many brands may survive on a smaller scale – or as part of wider groups depending on the appetite or ability of the stronger carriers to become acquirers.
But history suggests it takes a lot for an airline brand to disappear altogether. And as recent interest in a reboot of Flybe shows, or continued efforts to revive Jet Airways, even some lost brands may yet return.