Consolidation is very much in the air for the three big European airline groups, all of whom are in the process of trying to get acquisitions done and with the prospect of a move for TAP Air Portugal still in the offing.
However, consolidation in the fragmented airline industry, even within the large European aviation area, is far from straightforward.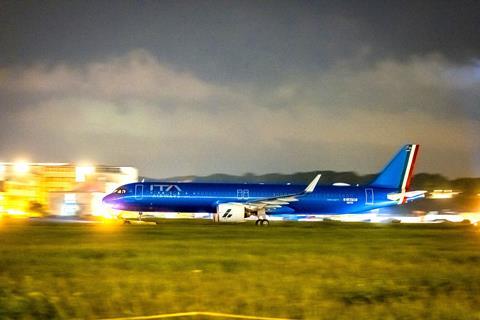 Airline groups have sometimes found the concessions required by regulators – most often slots at the key hubs they are asked to give up – too high a price to complete a deal.
And while airline leaders make the case for regulators to take a global perspective in considering competition issues, the signs are in Europe that the bar may be about to get higher rather than lower.
In an interview with the Financial Times last month, Didier Reynders – who in September took on the European competition brief after previous incumbent Margrethe Vestager took leave for her candidacy as president of the European Investment Bank – indicated the Commission may toughen its stance on airline mergers.
"We see some remedies are not efficient," he said. "Some years ago, we were sure the slots solution was fine. Maybe the results are not there."
LUFTHANSA WAITS ON ITA DEAL
Lufthansa Group is in the process of acquiring Italian operator ITA Airways. Asked about the potential new approach from European regulators during a third quarter results call on 2 November, Lufthansa Group chief executive Carsten Spohr pointed to a more global approach from Europe in terms of how it sees competition.
"With the geopolitical situation, Europe more and more is turning its attention towards being globally competitive," he says. "In other industries, when it comes to energy, when it comes to defence… I think Europe and the EU Commission have understood that we need to look after European interests on a global scale.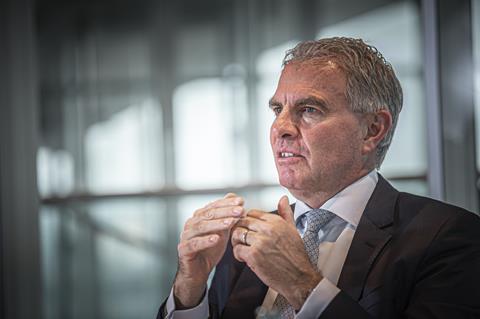 "That is good news for our industry, because to be globally competitive, the European airline groups – not just us, but also at least our two big competitors – need to grow to a…. level of other global players. The three American [airline groups] are already number one, two and three in our industry.
"So I think what is currently happening around the world, resulting in a new way of the Commission looking into European competitiveness, will also help to make that logical next step, which is the integration of ITA into Lufthansa."
Lufthansa's deal with the Italian government is to acquire, initially at least, a 41% stake in ITA Airways – although it also includes an option ultimately to acquire a majority stake. Spohr has previously cited ITA's relatively low share of the Italian market as a reason why competition issues should not be significant and said he hoped clearance could come from before year-end.
Reports subsequently emerged at September's G20 summit of Italian prime minister Giorgia Meloni's frustrations over the Commission's approach, and a decision will run into 2024 given Lufthansa is still to file formal notification for the merger with the Commission.
"We are in close and daily constructive dialogue with the European Commission to prepare the formal notification, because in this pre-notification stage you try to overcome potential resistance and questions," says Spohr. "Quality of diligence in such a transaction, which is a lifelong relationship, is more important than speed or haste.
"Our view is ITA is only number three in terms of market share in Italy, or actually number four depending how you count it, with the low-cost carriers being one, two and three. One low-cost carrier alone has 40% market share in Italy, which is resulting in I think the highest price increases the European industry has seen anywhere in [20]23, so I think it is obvious this transaction will increase competition.
"Therefore, we are looking at this in a constructive way to eventually hand in the notification," he says.
CAN IAG GET AIR EUROPA CLEARED?
British Airways and Iberia parent IAG has been trying since before the pandemic to get a deal done to add Spanish carrier Air Europa to the group. While the pandemic complicated the structure and price of a deal for Air Europa, regulatory challenges were also a factor in IAG pulling an initial deal for Air Europa at the back end of 2022.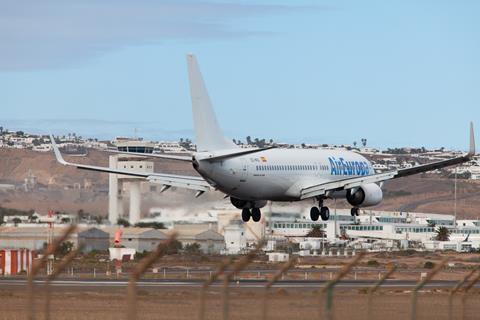 However, a fresh structure followed, under which IAG has taken a 20% stake in Air Europa, and a new deal is being put forward to regulators.
"We continue the pre-notification stage with the European Commission, so we are in the process of submitting the information," IAG chief executive Luis Gallego said during IAG's third quarter results call on 25 October.
"We are engaging with potential partner for potential remedies, and we still think the operation is going to take about 18 months. So we think this is going to be done in the last quarter of next year."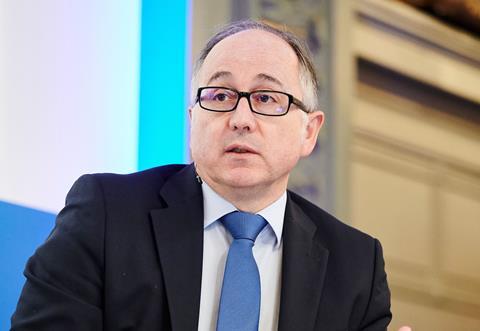 Gallego echoes Spohr's plea for Europe's carriers to be able to compete on a global basis. "We need to compete in a global world with a group of airlines and we need to have scale," he says.
But he also makes a case for greater scale helping the region's carriers to achieve their sustainability goals.
"In Europe we are going to have more pressure in the sustainability area and I think scale is going to be critical to get this," says Gallego. "We have committed to comply with the mandate. So I hope the approach is going to be to help the consolidation in the market in order to help airlines in Europe to be sustainable."
AIR FRANCE-KLM JOINS MERGER MOVES
Until recently it looked like Air France-KLM may not test European regulators' appetite for mergers before TAP Air Portugal came to market. But while it remains a potential bidder for the Portuguese carrier, it made a surprise move for SAS as part of the Scandinavian carrier's financial restructuring. Air France-KLM is taking a 20% stake as part of a deal which will see SAS join it in the SkyTeam alliance and which also offers a potential route to a majority stake.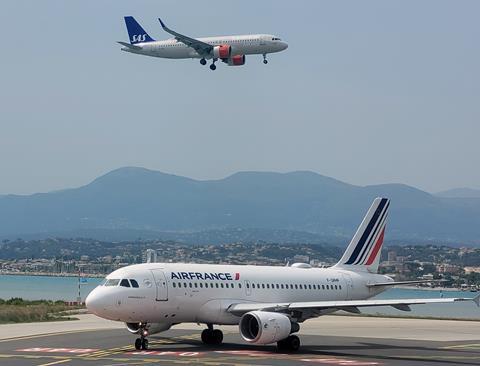 "The way we are looking at SAS and potentially others is to look at a worst-case scenario from a regulatory remedies perspective," said Air France-KLM chief executive Ben Smith during the carrier's third quarter results call, also on 25 October.
"Of course, going through Covid we were significantly hit with punitive remedies, far in excess of what Lufthansa Group experienced. As you know, we had to give up slots at Orly airport. Lufthansa Group had to give up slots at Frankfurt but with enough flexibility that it didn't impact them whatsoever. No airlines picked up any of their slots but ours at Orly were picked up immediately," Smith notes.
He, though, sees less competition issues from its move for SAS.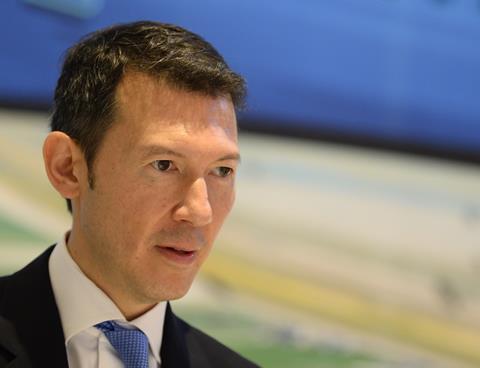 "There are no slot restrictions at Copenhagen, there are no slot restrictions at CDG, and there are no SAS flights into Orly airport and there are no Air France flights from Orly airport into Scandinavia," Smith says.
"That's not to say other things may be requested, but I think we're in a reasonably good position, relative to say Lufthansa at Linate, which is completely saturated.
"So from a slot perspective we're in a better position when it comes to getting these deals approved. And the fact we are only 19.9% should have the regulatory bodies look at this deal in a different way, than being in a majority situation like we are seeing at ITA.
"Of course, in Spain we are looking at market dominance position that is not going to be the case with us for SAS."
WHO WILL BID FOR TAP?
Gallego, Smith and Spohr have all made clear that as big network airline groups in Europe, they have an interest in TAP but are awaiting details. Portugal's cabinet in September approved TAP's privatisation and is now working on finalising the details of the planned sale.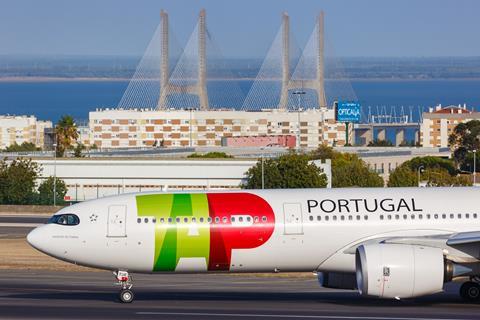 Gallego in September reminded that IAG was launched as a "platform for consolidation", adding: "We want to see the conditions of the privatisation of TAP, because I think it will be something interesting for both of us."
Smith notes that clarity on plans for new airport capacity in Lisbon will be a key element of interest for Air France-KLM, and likely other bidders.
"We're very interested to see what the next official view is on the new airport or reliever airport," says Smith.
"That would play a major role in how the regulatory bodies would look at such a transaction," he says of the capacity situation in Lisbon.
Spohr also reiterates Lufthansa's potential interest. "Lufthansa, as all of the major players, has expressed interest to look at this due to its interesting traffic flows, especially from Brazil to southern Europe," he says.
A move for TAP would come at the same time it hopes to be integrating ITA into the group. But Spohr plays down concerns that would give it too much on its plate.
"If you look at the Lufthansa organisation over the last year, it has evolved to a matrix where we have been able to plug in and play other airlines beyond the five hubs and 13 airlines in total we operate.
"So I don't look at that with that much nervousness as I probably would have five years ago, because we have come a long way in optimising our ops structure to play that business model across five hubs, and we can also play it over six or maybe seven if we have the opportunity to do that," he says.
Additional reporting Lewis Harper