While there remain plenty of pressures and potential pitfalls ahead, a doubling of profits in the second quarter underlined the steady progress Air France-KLM is making in its recovery out of the pandemic.
Air France-KLM today posted a second-quarter operating profit of €733 million ($810 million), a 90% jump on the same period a year ago. That took it to an operating profit of €426 million over the first six months of the year.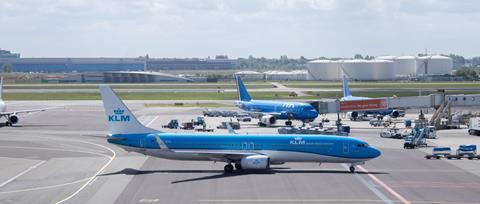 Having returned to profit last year following heavy losses during the pandemic, and restructured and repaid the state aid it secured during the crisis, it has taken a further step to strengthen its financial position with a potential deal to secure €1.5 billion in quasi-equity financing from private equity firm Apollo Global Management by spinning out its loyalty business.
YIELDS DRIVING GROWTH
Notably the carrier points to continued strong demand and yields – unit revenue per available seat kilometre (ASK) was some 13% higher in the second quarter versus the same period last year.
Speaking during a results call today, Air France-KLM chief financial officer Steven Zaat said yields remain strong into the third quarter but cautions it is only three weeks into that period and that the airline does not guide on yields. "We see strong rising momentum in the market, but yield is played by revenue management in the last week before departure," he says.
In releasing its first-quarter results on 24 July, Ryanair cited a slight weakening in close-in fares in late June and early July. "They predicted high inflation would have an impact on the residual income of people and they will not fly on legacy carriers. I don't know what they are seeing, but we don't see any drop in the bookings or the yield," says Zaat.
Group chief executive Ben Smith says: "On our strongest markets, the North Atlantic and South Atlantic, if we had more capacity we would be even happier. Those markets are performing extremely well, both on the business front but also particularly on the high-end leisure."
The group has restored much of its Asia-Pacific network, notably returning daily services to China following the latter's belated – but swift when it happened – lifting of Covid restrictions. "Those flights are going out full and with strong yields," Smith says, noting this is offsetting the additional costs incurred by not being able to overfly Russia.
"We don't have the capacity levels back where they were [on Asia-Pacific]," Smith adds. "We are going steady. We don't see the rebound happening as quickly as in North America, but it is rebounding. But we have much more competition to that part of the world, before the crisis and now."
SCHIPHOL CHALLENGES FOR KLM
While KLM has delivered the stronger financial performance within the group for many years, Air France is leading profitability so far this year. The French carrier more than trebled its operating profit to €482 million in the second quarter. By contrast, profits fell €5 million at its Dutch counterpart to €257 million for the same period.
The Dutch carrier says its result remained under pressure in the first half because capacity development was lower at KLM, "due to fleet and workforce availability" – though a stronger second quarter helped it remain profitable at the halfway stage.
After the challenges at its Amsterdam Schiphol base last year, it does point to an improved operational performance.
"We are pleased that we can once again offer customers the service they expect from us," says KLM chief executive Marjan Rintel.
"In fact, the demand for tickets was higher than the number of flights we could operate. The main reason being that aircraft are spending longer in the hangar for maintenance due to worldwide issues affecting component supply. Moreover, we have not completely fulfilled our staffing requirements at various departments yet.
"KLM was also faced with higher fuel, labour and material costs, as well has higher airport fees. This illustrates the importance of structural cost management," she says.
KLM faces further challenges at Schiphol following moves by the Dutch government to reduce flights at the airport to counter noise levels.
While the carrier has submitted proposals around operational efficiencies that it believes will deliver the required reductions in noise levels, KLM and industry associations have now joined forces to institute 'cassation proceedings' regarding the Amsterdam Court of Appeal's decision earlier this month to lift a block on reducing flights from Schiphol airport.
"We started cassation because the verdict of the appeal was really unexpected for us and creates a lot of uncertainty," says Rintel. "The judgement will not likely have an impact on the winter season, probably on the summer season. But for us it's unclear. It creates operational uncertainty for all the airlines flying from Schiphol."
That uncertainty has been compounded by the collapse earlier this month of the Dutch government. "The Parliament will decide in September which topics they still will discuss… so we need to wait until September to have clarity on this," Rintel adds.
Smith though stresses it can retain a strong hub operation at Schiphol, even with a reduction of slots. "Obviously this would be a step back, but do we have strong ability to continue to perform very well vis-a-vis the other hubs in Europe.
"We have the ability to upguage aircraft. Today on the widebodies, we don't have that many aircraft in the top-end size, so we can maintain the same capacity level if that's the model we would like to continue, and we could reduce exposure to some of the lowest yield traffic.
"We are modelling out the different scenarios from a slot perspective. Can Amsterdam remain a viable hub in Europe? Absolutely, that's not something we are concerned about. It is about how well we position the fleet and network vis-a-vis a potential new reality from a slot perspective," Smith says.
BUILDING UP TRANSAVIA
Leisure carrier Transavia boosted passenger traffic 14% and moved to break-even in the second quarter – versus an €18 million loss at the same stage last year.
"This time last year with Transavia France we had unbelievable operational difficulties," says Smith. "We definitely see a much improved situation."
However, the airline has faced disruption this year as a result of issues relating to French air traffic controller strikes, much of which have been focused at its Paris Orly base.
"From a controllable growth and stabilisation situation perspective, [we are] quite pleased with the latter half of Q2 and going into Q3 how that unit is developing," says Smith. "The bookings, the yields, the robustness of the operation is in some areas exceeding what we hoped."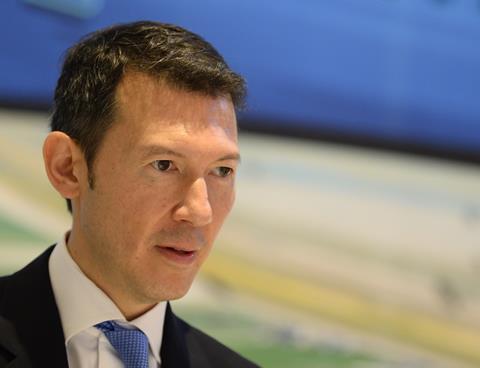 While he says aircraft are coming in "slightly late", he adds that Transavia France has new management which is more experienced in growing an operation quickly. "We are happy with the cost structure… in Q3 we are hoping we will have a better story to tell," Smith says.
Aircraft delivery delays are a wider industry issue and play a part in the group's challenges regarding the full restoration of capacity to pre-pandemic levels. Air France-KLM expects capacity to be at around 95% of 2019 levels in the third quarter.
"We've been working extremely hard to get back to 100% as quickly as possible," says Smith.
"There are a few aircraft delays that we have been experiencing across all of our airlines. We have managed to cover the bulk of those with airplanes that were supposed to exit as well as a few wet-leases on the medium-haul. So that has put a bit of pressure there.
"Also with the supply chain being tight, some of the airplanes we had in heavy maintenance have been slow to exit," he says, adding that supply chain issues have also required it to have more back-up aircraft in the fleet. "The planes are there, the pilots are there, we're dealing with supply chain and overall constraints on the operation," he says.