AirAsia X has asked creditors to accept an epic debt haircut, offering two painful options amid an airline industry in crisis.
Announced on 6 October, the plan, if approved, would see liabilities of some MYR63.5 billion ($15.3 billion) reduced to just MYR200 million payable within the next five years at a 2% interest rate.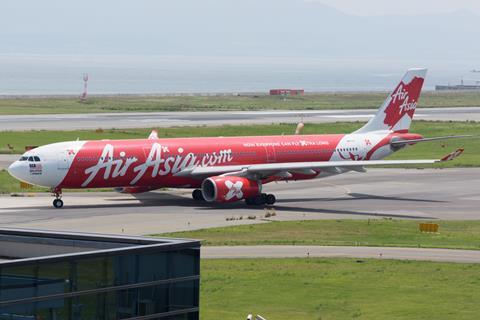 Shareholders are also being asked to share the pain, with the carrier proposing to reduce share capital by 90%.
The long-haul, low-cost operator's challenges are nothing new. The AirAsia Group unit was consistently loss-making prior to the pandemic, and travel restrictions this year have forced its hand. For AirAsia X an extreme decision has never been a question of if, but when.
"All existing contracts, agreements and/or arrangements previously entered into with the relevant creditors will be deemed terminated following their approval of the Proposed Debt Restructuring and the High Court's sanction," it says.
FlightGlobal understands that the airline's unsecured debt level is roughly MYR10 billion. The remaining MYR53.5 billion relates to items not carried on the balance sheet, namely purchase committments and termination penalties related to the carrier's 118 orders with Airbus, comprising 78 A330neos, 10 A350-900s, and 30 A321XLRs.
Of the MYR10 billion, the airline's second quarter results indicate that over half, about MYR5.8 billion, relates to current and future lease obligations. Lessors therefore have an important say in the airline's fate.
AirAsia X Berhad operates a fleet of 25 aircraft in Malaysia, of which 2 are owned and the remainder leased. Prominent lessors are ICBC Leasing and BOC Aviation with three aircraft each, followed by DAE Capital with two.
AIRLINE EYES A FRESH START
Highlighting the airline's challenges, all but two of its aircraft are in storage. In its eight-page debt restructuring proposal – which one observer dismissed as a "wish list" – the airline noted that it only operates international routes. This has made it eminently vulnerable to the patchwork of travel restrictions that have all but eliminated international flights in the Asia-Pacific.
Assuming 75% of creditors go along with AirAsia X's proposal and other approvals are obtained, AirAsia X basically aims to start afresh in 2021, initially operating a pair of A330s, and (hopefully) working up to a full network by the end of next year.
In essence, creditors are being asked to forgo a huge amount of capital to support a start-up during an extremely challenging period. While it is hoped that increased Covid-19 testing and eventually a vaccine will reboot air travel, the outlook for 2021 is far from certain. Moreover, AirAsia X was loss making long before coronavirus reared its head in Wuhan earlier this year.
In the second quarter operating losses widened to MYR323 million on revenues of MYR91.4 million, which were down 91% from a year earlier. Its cash and cash equivalents at 30 June stood at MYR212 million, down 31% from three months earlier.
Creditors' other option is voting against AirAsia X's plan and seeing the airline liquidated. Lessors would receive their aircraft, but little more - and leasing firms need no reminder that this is tough market for leasing aircraft, particularly widebodies.
BOC Aviation appears to have made up its mind about the airline. In early September it filed a claim in a London court against AirAsia X for nearly $23 million related to the lease of four aircraft.
AirAsia X's other lessors declined to comment on the company's debt relief proposal, as did the AirAsia Group itself. Airbus, when contacted, provided one line: "We are in discussions with our customer to find possible solutions during this challenging time."
A MINUTE FRACTION OF THEIR CAPITAL
Malaysian brokerage firm MIDF says AirAsia X is at an "existential cross road."
"Creditors could potentially come to an agreement on the terms but they would have to be content with recovering a minute fraction of their capital," it says.
"Additionally, the earliest repayment is expected to be due in three years after the exercise. On another note, should the proposals fall through, AAX could potentially initiate liquidation proceedings and the creditors will end up losing everything (especially the unsecured lenders)."
There is talk in Malaysia that AirAsia Group is holding out for a merger with Malaysia Airlines. According to a Reuters report, however, Malaysia sovereign wealth fund Khazanah is considering the previously unthinkable move of letting Malaysia Airlines sink if restructuring talks with lessors do not pan out. After spending half a decade in a failed effort to turnaround the flag carrier, Khazanah may not have the appetite for an AirAsia X rescue.
As for the AirAsia Group itself, the AirAsia Japan unit was shut down last week, and reports from the subcontinent suggest AirAsia India is running out of money.
Shukor Yusof, founder of Endau Analytics, is dubious about AirAsia X's prospects.
"Air Asia X's ultimatum to lessors and creditors is premised on the likelihood the parties currently owed money stand to lose more if the carrier goes under," he says. "Group chief executive Tony Fernandes should let Air Asia X go and instead strengthen AirAsia, which has a better chance of survival."
Updated with revised fleet numbers from AirAsia X.

Greg Waldron is the Asia Managing Editor of FlightGlobal, responsible for the team's airline, aerospace, and defence coverage across the region. He has worked at the company since 2009. In the airline space, Waldron has conducted dozens of interviews with airline leaders in the Asia-Pacific. He also covers areas such as MRO and safety. On the defence beat, Waldron has written extensively about the rise of Chinese airpower, as well as broader airpower developments around the region, such as indigenous fighter programmes, and regional acquisitions of foreign equipment. In addition, Waldron writes about commercial helicopters in the region and business aviation. Waldron worked has a freelance journalist with his work appearing in several business publications.
View full Profile