Aircraft upgauging, reducing winter losses and boosting profits from its holiday business are key parts to EasyJet's plan to lift full-year pre-tax profitability to more than £1 billion annually
While EasyJet's end-of-financial-year trading statement underlined the extent to which strong summer travel demand has helped restore profits this year, it is a follow-on commitment for up to 257 Airbus narrowbodies and new mid-term targets that point to an airline aiming ahead.
Yet though the target to exceed annual pre-tax profits of £1 billion ($1.2. billion) is new, the strategy it hopes will achieve it is very much more of the same.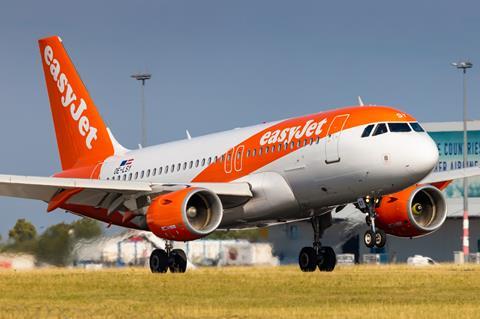 Notably, upgauging its fleet with larger aircraft to lift capacity out of slot-constrained airports, working to reduce winter losses and building up its holiday business are all strategic moves the airline has had in play for a while.
Indeed, the development of its holiday business has already delivered the more than £100 million profit target. EasyJet expects its holiday business to deliver a profit of £120 million this year – and has now set a £250 million medium-term target, which it hopes to achieve through increasing its current market share beyond 5%.
How EasyJet plans to upgauge the fleet
On the one hand plans for an order of 157 firm Airbus narrowbodies – together with purchase rights on another 100 units – are about securing future capacity amid the swathe of aircraft orders placed since the pandemic.
Deliveries from the order, which EasyJet hopes to secure shareholder approval for by the end of the calendar year, would begin in its 2029 financial year and run to 2034. That, together with its existing order backlog, would take its fleet from 336 to 464 – with purchase rights giving it a chance to grow beyond that.
"The aircraft order firms up EasyJet's orderbook for the next 10 years, which is necessary as both OEMs are now sold out until the end of the decade," explained EasyJet chief financial officer Kenton Jarvis during an analysts call on 12 October.
"Alongside certainty of supply, the consistent renewal of our fleet allows EasyJet to replace the ageing aircraft with significant sustainability benefits."
Notably around two-thirds of the fresh order – 101 aircraft – are for the larger A321neo model. That marks a continuation of an upgauging process already under way, but which has been accelerated by switching its existing order backlog from A320neos to the larger type.
"We start the upgauging journey next year," says Jarvis. "Thirteen of the A319s are going back, and 16 Neos will come in."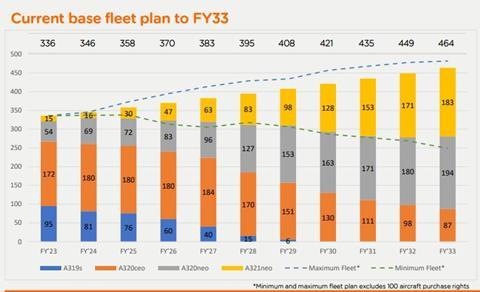 EasyJet currently has 15 A321neos, representing about 5% of its fleet today. On top of its existing commitments for the type, the airline also yesterday disclosed it has agreed to switch another 35 of its existing orderbook to A321neos.
"That takes that [A321neo share] to just over 20% in 2028 and we have plenty of thick routes at slot-constrained airports we can use that on," says Jarvis. "This will significantly move our average seat gauge from 179 today to the low 190s, an opportunity no other airline has in this time period.
"And as you journey to 2034, that 20% gets to about 40% of the fleet," he adds. "So disciplined, controlled increase in those A321s."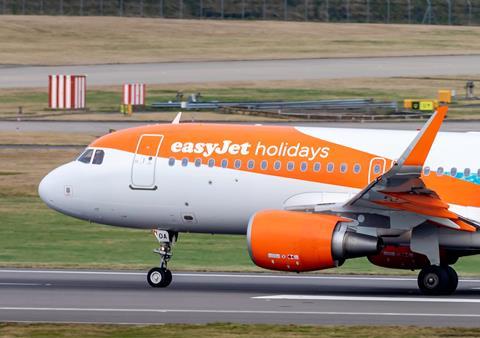 The airline plans to phase out is smallest fleet type, the 95 A319s it operates today, by 2030 and replace some of its older A320s with the additional batch of A321s. "This represents a further upgrade opportunity, which means the average gauge will continue to increase to the low 200s by 2034," says Jarvis.
"It provides a low-risk opportunity for us to grow in our slot-constrained airports and markets, but also provides substantial cost benefits – not just on fuel, but from navigational charges, crew, engineering and maintenance on a per-seat basis. So we get benefits throughout the P&L."
As part of its medium-term targets, the airline expects a more than £3 cost per seat saving from replacing its A319s.
"We didn't build the medium-targets on the back of revenue," adds Jarvis. "We are confident of that cost element, and we are not betting the farm on big yield increases.
"We do want to enhance the network. We can see we can get that in-flight retail up… and we still know there is more we can do on availability of product line, on enhancing things and working on margins. But it's mainly based on cost."
Can EasyJet end its winter blues?
Cutting winter losses also forms a crucial strand to achieving its new profit targets. You have to go back 2015 for the last and only time that EasyJet turned a profit in its first half. Even then it was just a £7 million pre-tax surplus.
The particularly harsh first halves for EasyJet reflect both the seasonal nature of leisure travel and that the first half of its financial year encompasses the full winter season in running from the start of October to the end of March.
Last winter EasyJet posted a loss of £411 million across the six months to March 2023, but at the time airline executives were bullish about significantly reducing losses incurred over the winter and ultimately for the off-season period to become profitable for the carrier.
"Our winter losses were £400 million. With fuel going up 15%, this isn't the easiest winter to kick that down quickly," Jarvis acknowledges.
"But I have no doubt we can halve those and we have ambitions to do better than that. You can see over this time period, that is something you can significantly reduce with productivity gains in pilot, crew, with some network enhancements through a winter or shoulder programme, or more VFR routes – but not saying it relies on us charging X amount more."
Will strong yields continue?
EasyJet's return to profit in its financial year just closed – it is guiding for a pre-tax profit in the range of £440-460 million – was supported by a particularly strong yield environment. Average revenue per seat in its fourth quarter was up 9% over the same period last year, including a 14% rise in ancillaries.
Chief executive Johan Lundgren says: "The increase we have seen on average in the fare from this summer yield versus last summer is £9 – basically the price of two cups of coffee on the High Street. I think it's important that when we are talking about percentage increases that we are seeing in yields, this is still within reach for most people to be able to fly and we believe going forward, because of the actions we are taking.
"So I think it will be a continued pattern that you will see strong demand into the peaks — and that will be reflected in the yields. I think there will be continued stimulation that will be needed in the shoulders and the off-peaks."
He also sees an earlier booking pattern that emerged over the summer having an impact. "There will be also be cases that outside of the shoulders and the peaks, we will have to stimulate the markets in the lates [late bookings]. So it switches from being a very late market. Last year in Q4 was an exceptionally strong lates market, and still we were able to deliver an [RPS increase] of over 9% this year."
Is there a risk to delivery?
Upgauging has long been a central part of the EasyJet strategy, initially moving the focus from an A319 dominated fleet to A320s. That supported a period of solid profitability for EasyJet, but not at the levels it has set out in its medium-term target. The airline's previous highest pre-tax profit was the £686 million it made in 2015.
Lundgren though argues it is the carrier's built-up position at primary airports since then which will reap further benefits now from upgauging.
"There is a big difference between 2014 and where we are today. It's the positions at the constrained airports that is driving higher-than-above returns on the network average.
"What we are seeing right now is moving into the upgauging, where we don't need more slots to grow the capacity, it potentially means it will take a short period of time before that matures, and then that is the market price you can compete on. That is a benefit because of what the constrained airports have done for the yield, which really wasn't there in the early part of the upgauge."
One potential challenge to the carrier's upgauge plans comes from the wider issues the industry has faced in delivering aircraft on time since the pandemic. EasyJet's fleet plan shows it taking 68 more A321neos and 73 A320neos to grow the fleet to 395 in its 2028 financial year.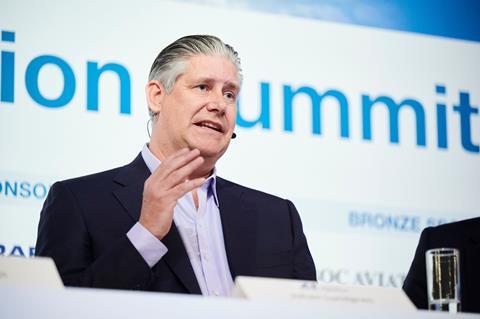 Jarvis though takes encouragement from the airline having taken delivery of two more aircraft from Airbus than originally planned this year.
"We were looking at eight in 2023 and 18 in 2024, so 26 in total. We just got 10 this year and 16 [next]. So everything we need for these two years we are getting.
"After that the numbers in the fleet chart reflect the conversations with Airbus," he adds. "We will see how long this supply constraint will last. Will it last into 26? Maybe. In which case we may see some movements to the right in 2026."
However, Jarvis see the ability to mitigate potential disruption through its existing fleet.
"We have more 'green time' in some of the older aircraft – in fact most of our ceo fleet – because we didn't operate them that hard during the pandemic. Therefore we have a season or two seasons of 'green time', which mean they can extend to 18-19 years – which will bridge any small gaps we have in the delivery."