While Etihad Airways has kept a relatively low profile in terms of aircraft orders at this week's Dubai air show, the long-awaited opening of a new terminal at its Abu Dhabi home and a renewed mandate for growth means the airline is back on the front foot after a period of consolidation.
The Gulf carrier is celebrating its 20th anniversary with a new strategic roadmap, Journey 2030, which envisages doubling the size of the airline by the end of the decade.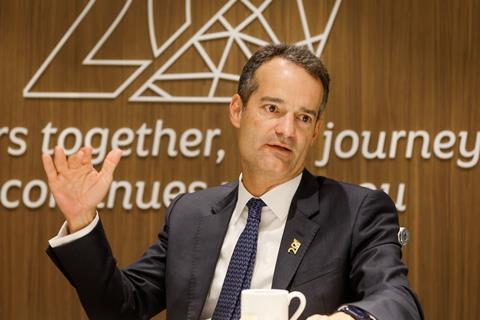 "Twenty years is an important mark for us," Etihad's chief executive Antonoaldo Neves told reporters during a briefing at the show.
"The way I see Etihad is two very different phases. The first 15 years was about setting the aspiration very high – and that's good. You don't get anywhere if you don't set the bar very high. The past five years, with Covid, Etihad restructured itself and downsized.
"And now I think we have the right size and we have an opportunity to grow again."
Etihad's initial expansion was rapid and widespread, both through its own activities and as it bid to fast-track growth through a series of equity investments in partner airlines across Europe, Asia-Pacific and Africa. While that drove scale, it also brought complexity as partner problems increased.
It meant Etihad under Tony Douglas' leadership had began retrenching and unwinding its equity-alliance strategy, even before Covid prompted further downsizing.
Fittingly, as the carrier embarks on its fresh growth course, Etihad has just exited the last of its equity holdings, with Air Serbia returning to full Serbian government ownership. It means Neves, the former TAP Air Portugal chief executive who took the helm a year ago, has a clean slate for the journey ahead.
ETIHAD TO DOUBLE BY 2030
Etihad's Journey 2030 envisages a doubling of the fleet to 160 aircraft and passenger numbers reaching 33 million by 2030.
Expansion is already in motion. Etihad has carried 13 million passengers over the past year, 30% up over the same period a year ago, and expects to pass its previous peak from 2017 by late next year or early in 2025.
"This year we added 16 planes, we grew 35%," says Neves. "Next year we are going to be growing 20% to 25%. So we can deliver growth.
"We are in a region where GDP is growing at least 5% every year, and in [a] region that is growing a lot – aviation usually grows two times [as fast] at least," he says. "So I don't see any reason we cannot grow 10% per annum over the next seven years."
Neither is he concerned by the growth ambitions of its neighbours in the Gulf, which notably include the ambitious Saudi start-up Riyadh Air – ironically led by former Etihad chief Douglas.
Highlighting the number of large operators in close proximity in other regions of the world, Neves asks: "How many mega-airlines do you have in the States? I'm not concerned about it. I think there is demand – enough for everyone."
Neves also flags that the airline's mission is not just about growth. "We are taking a very business-oriented approach to our growth," he says. "We have a clear mandate from the shareholder. And the mandate is very simple. Deliver extraordinary customer service and at the same time, make money.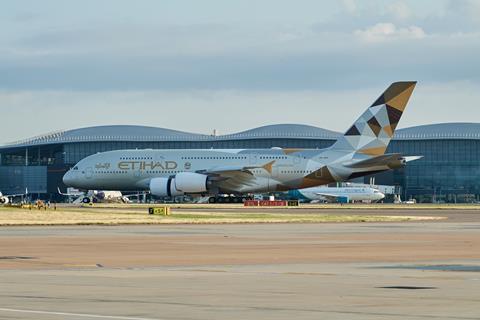 "I am obsessive about customer service," he adds. "So everything that doesn't improve customer service, we have to cut. However, we have to invest a lot in customer service, because it is very competitive. If I don't have the best product, if I don't have a great network, I don't sell.
"There is no other way to deliver profitability," he adds. "You have to be really focused on network. If you don't have a good network, you cannot make money. You have to have a great product, great customer service – not only hard product, but also the soft product is very important. And you have to be mindful of costs."
NETWORK FOCUS
Etihad route additions this winter include flights to Copenhagen, Dusseldorf and Osaka, while next summer it will restore services to Nairobi. Neves says its network growth will be balanced between adding new routes and building frequency.
"You have to add new destinations, but as important as that, you have to strengthen your network. How do you do that? You add frequencies. So we are doing that. A year ago we had almost no double-dailies – only to London," he says, noting it now operates double-daily services to destinations including Jakarta, Milan, Madrid and Rome.
"I think about two-thirds of our capacity is to strengthen the network in current markets that we serve, and one-third more or less is to add new destinations.
"This year we added 12 new destinations, next year we are going to add about 10 new destinations. We have to balance that otherwise the network's not going to be strong enough," he says. "There are many nice markets out there that we don't serve or we can serve differently."
For an airline in expansion mode, the current lack of aircraft availability is a key issue in building back capacity. Neves bemoans, "there are no planes in the market" at the moment and that capacity shortage is what prompted the airline to bring back its A380s – an aircraft that looked to be consigned to Etihad's history.
Now I think we have the right size and we have an opportunity to grow again
The airline is bringing back four of its 10 A380s – the third of which re-entered service at the start of November. "It was great to bring them back. Customers love it and it's important," says Neves. "I need the planes."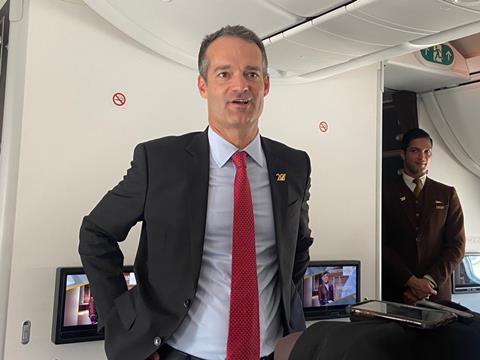 Etihad is deploying all its A380s on its Abu Dhabi-London Heathrow route, enabling it to redeploy Boeing 787s elsewhere on the network. "As of now, the plan is not to bring any additional aircraft, so we will keep only four [A380s]," he says, though acknowledging "things change" and that it is always studying "how to optimise" the network.
The other six A380s remain parked, with Neves saying it has made no long-term decision on disposing of the aircraft. "I don't think these decisions are clear. I have to build optionality," he says. "The way I think about it is if I take decisions which mean I can't leverage assets that I have today, what is the benefit?"
HOME TERMINAL OPENING
This month also sees another part of the plan fall into place with the opening of Abu Dhabi's new Terminal A. Formerly known as the Midfield Terminal, and originally slated to open six years ago in line with Eihad's original growth strategy, the new facility is coming on line just as the airline is expanding. The new terminal will increase Abu Dhabi airport's passenger capacity to 45 million.
Etihad carried out the first commercial flight from Terminal A on 31 October, ahead of this month transferring its full schedule of flights over to the new facility.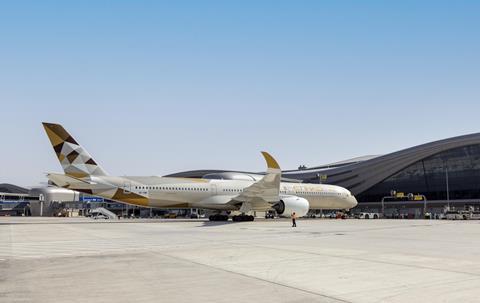 "Terminal A is extremely important for us, not only because it's going to provide a much better customer service," says Neves.
"We are going to do next year 17 million passengers. But in seven years we are going to do 33 million," he says.
"So it's extremely important. It is very efficient. It is going to give us the capacity we need, better customer experience and the efficiency we need, so I'm very happy about that."