A market-by-market guide on how consolidation has changed the shape of the European airline industry over the past decade. It illustrates the extent to which low-cost carriers have taken a grip of European markets, how having two nationally-owned strong domestic carriers is increasingly scarce, and flags some of Europe's carriers that could be on the radar of acquisitive airlines.
Coronavirus has put development of the European airline industry on hold with the grounding of the bulk of fleets, while also raising questions over the shape of the industry that will re-emerge once normal operations resume.
The extent to which balance-sheet strength and government support measures will help alleviate the financial burden of a sustained grounding is unknown, even before uncertainties are considered around how subsequent air travel demand will be impacted by potential financial recession and travel constraints.
Against this backdrop, a fresh round of consolidation – be it through airline collapses or mergers – seems likely.
While the European airline sector has generally enjoyed a period of healthy profitability as a whole, the past three years have seen a high number of carriers collapse – evident once again this year in the shape of Air Italy, Flybe and Turkish carrier AtlasGlobal. That has largely resulted in consolidation through rivals stepping into the gaps left by failing competitors.
A decade ago, many countries could boast two or more significant nationally-owned carriers. But increasingly there is now one major national airline group, albeit often with multiple brands, battling it out with one or more of the pan-European low-cost giants. In some countries the market has been ceded to international players altogether.
In January 2010, of the 30 biggest European airlines in terms of seat capacity, a third were part of wider European airline groups or had a significant airline shareholder. This was chiefly through the growth of Lufthansa Group and Air France-KLM, as it was immediately prior to the formation of IAG.
By January 2020, only nine of these carriers were still independent or without a significant airline shareholder – and one of them, Norwegian, was subject to an aborted takeover move by IAG.
Germany
Population: 83.1m
Seat capacity Jan 2020: 19.7m (up 25% from Jan 2010)
Biggest carriers 2020: Lufthansa (34%), Eurowings (11%), Ryanair (7%)
Biggest carriers 2010: Lufthansa (38%), Air Berlin (14%), Ryanair (7%)
The biggest country in the European Union by population, Germany is a prime example of how a second national carrier has disappeared in the past decade. In 2010, Germany's second biggest carrier was Air Berlin. It had created scope through a series of acquisitions, but failed to find sustainability.
It was the first major acquisition under Etihad's equity-alliance strategy. While this gave the carrier a fresh lease of life, in terms of fleet and network, its losses persisted. When Etihad baulked at further investment, Air Berlin collapsed. Its assets were redistributed across a number of players in the German market, most notably Eurowings and EasyJet.
Air Berlin had accounted for 14% of German seat capacity in January 2010. Its demise leaves Lufthansa – and its Eurowings low-cost arm – as the primary German airline. Cirium schedules data shows that while the mainline operator has seen its seat capacity market share narrow from 38% a decade ago to 34% in January, its low-cost unit Eurowings (then branded Germanwings) has more than doubled its share to be the second biggest player on German routes with 11% of seat capacity.
Ryanair has lifted its German capacity a third over the last decade and EasyJet has almost trebled its seats in the market, making them the third and fourth biggest operators respectively.
The next two biggest German airlines are both in the leisure market: Condor and Lufthansa's Turkish joint venture SunExpress Germany.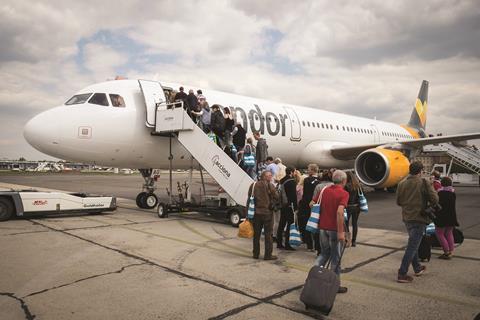 Lufthansa had in 2009 sold the last of its shareholding in Condor to Thomas Cook. It had shown interest in bidding for the carrier last year when Thomas Cook was looking at selling assets to help it through its wider financial challenges – though had flagged likely competition barriers that made such a move difficult to achieve.
Ultimately, after the collapse of the Thomas Cook Group in the autumn of 2019 made finding a new investor for Condor more urgent, a deal was struck in January for the airline to be acquired by LOT Polish Airlines' parent Polska Grupa Lotnicza (PGL). This marks the first major acquisition move by the Polish firm, establishing greater scale for the operator.
France
Population: 67.0m
Seat capacity Jan 2020: 14.2m (up 22% from Jan 2010)
Biggest carriers 2020: Air France (35%), EasyJet (11%) Ryanair (7%)
Biggest carriers 2010: Air France (46%), EasyJet (7%), Ryanair (5%)
France was already an outlier in 2010 in terms of the extent to which Air France, including its various regional units, was the major dominant French operator. It held a 46% share of seat capacity in January 2010. That share has gone down to around 35%, owing to a 6% reduction in seat capacity – though that has effectively been replaced by growth at its low-cost unit Transavia France over the same period.
EasyJet and Ryanair have made the most ground over the period to retain their position as the second and third biggest players in the market by seat capacity respectively. IAG's Spanish low-cost unit Vueling has also grown steadily over this period – and is the fourth biggest carrier by seat capacity in January 2020.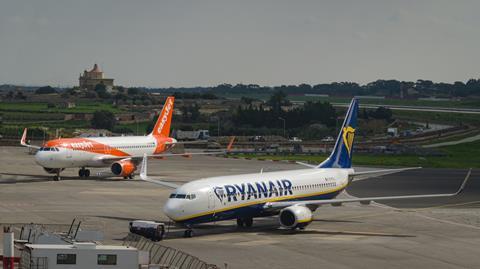 A notable casualty over this period was Aigle Azur, which collapsed in late 2019. The Paris Orly carrier had been the sixth biggest operator in terms of seat capacity in January 2010. It collapsed in the autumn, around the same time as leisure carrier XL Airways France.
United Kingdom
Population: 66.7m
Seat capacity Jan 2020: 22.9m (up 24% from Jan 2010)
Biggest carriers 2020: British Airways (20%), Ryanair (16%), EasyJet (15%)
Biggest carriers 2010: British Airways (19%), Ryanair (15%), EasyJet (14%)
The seat capacity share among operators in the UK market has remained relatively unchanged over the past decade, as British Airways, Ryanair and EasyJet all retain double-digit shares. All three raised their capacity on UK routes by around a third over the period – EasyJet increasing at the fastest pace.
British Airways has been part of IAG since its creation in 2010, and acquired the assets of BMI when the struggling UK carrier was sold by Lufthansa. IAG is itself part-owned by Qatar Airways, which in February lifted its stake in the airline group to 25%.
The bigger movement in the past decade has centred around the intermediate-sized carriers. Flybe was the fourth-biggest carrier by seat capacity and Virgin Atlantic was ranked the same by ASK capacity, reflecting the respective regional and long-haul focuses of these businesses. The two became linked after Flybe was acquired last year by the Connect consortium, which includes Virgin Atlantic.
But a myriad of challenges, the last straw of which was the coronavirus-fuelled collapse in air travel demand, ultimately proved too much for Flybe – which called a halt to operations in early March. Existing regional operators largely moved to fill the gap, prior to the coronavirus outbreak taking hold.
The UK market has seen several casualties over recent years, most notably BMI, Monarch Airlines and Thomas Cook Airlines. During this period leisure carrier Jet2 has expanded rapidly – more than quadrupling its capacity – while TUI Airways remains a strong player in the leisure market. It means, even with the UK airline failures over the past decade, six of the 10 biggest operators by seat capacity in January 2020 are UK airlines.
Some of the most notable growth in the UK market has come from budget carriers Wizz Air and Norwegian, which as of January 2020 held 4% and 2% shares of UK seats respectively. Both have created UK-based entities to facilitate this growth.
Central European carrier Wizz has focused its growth at London Luton – its largest base, where it is the second biggest carrier behind EasyJet.
Norwegian has grown sharply at London Gatwick, where it is the third biggest operator. The carrier though is cutting back capacity as part of attempts to secure profits.
Italy
Population: 60.4m
Seat capacity Jan 2020: 13.3m (up 21% from Jan 2010)
Biggest carriers in 2020: Ryanair (27%), Alitalia (17%), EasyJet (9%)
Biggest carriers in 2010: Alitalia (27%), Ryanair (15%), EasyJet (8%)
A succession of carrier failures and mergers has seen a series of Italian airline brands exit the market over the years. All the while it has been Europe's expanding low-cost carriers, rather than Italian national carrier Alitalia, that have capitalised on the rationalisation.
At the turn of the last decade there were a handful of Italian operators led by Alitialia, Meridiana, Wind Jet, Air Italy and Blue Panorama among the 20 biggest operators on Italian routes.
Over the following years the likes of Wind Jet, Livingston and Air Vallee fell by the wayside, while Air Italy merged with Meridiana in 2011.
It was not to be until the revamp in 2018 of Meridiana following Qatar Airways' acquisition of a 49% stake in the operator that the Air Italy name was to resurface.
But this was to prove short-lived following the decision by its shareholders on 11 February this year to liquidate the carrier and cease operations.
The collapse of Air Italy, on top of start-up Ernest Airlines suspending operations in January, means that just two months into the new decade, Alitalia is by a distance the most significant Italian carrier in operation. Cirium schedules data shows only four of the 30 biggest operators across Italian routes by seat capacity are from Italy now that Air Italy has ceased flights.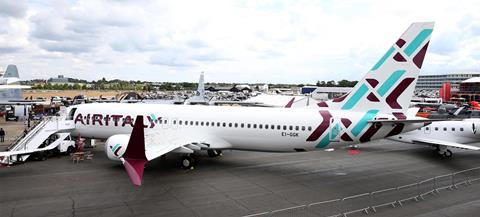 Even then, the second biggest is the Lufthansa-owned Italian regional carrier Air Dolomiti, while leisure carriers Blue Panorama and Neos complete the list.
And mention of Alitalia comes with the caveat that Italy's biggest carrier has been in administration for almost three years in an as-yet fruitless search for new investment. Air France-KLM and Etihad have both invested in the carrier and walked away. Delta Air Lines, a partner of Alitalia through SkyTeam, has indicated a willingness to to invest but only as part of a wider group of investors.
That was prior to the coronavirus crisis, which ultimately prompted an Italian emergency decree under which Alitalia is to be renationalised.
What is notable is not just the extent to which Italian carriers do not dominate the market, but to which the big pan-European low-cost carriers do. Four of the five biggest airlines by seat capacity on Italian routes are Ryanair, EasyJet, Wizz Air and Vueling. Between them they accounted for 43% of seat capacity on Italian routes in January.
Ryanair has more than doubled its seat capacity on Italian routes over the past decade, whilst EasyJet has lifted its capacity by nearly 40%.
Spain
Population: 46.9m
Seat capacity in Jan 2020: 16.4m (up 29% from Jan 2010)
Biggest carriers in 2020: Ryanair (18%), Vueling (13%) Iberia (13%)
Biggest carriers in 2010: Iberia (22%), Ryanair (15%), Vueling (8%)
Spain has seen the highest increase in collective capacity over the past decade of the five biggest EU markets. Overall seat capacity has been lifted 29% since January 2010, Cirium schedules data shows.
Over the past decade Ryanair has overtaken Iberia as the biggest operator on Spanish routes by seat capacity. That reflects the strong growth at the budget carrier, which has lifted its Spanish capacity 60% since January 2010. But it also reflects the major restructuring at Iberia in 2013, which was to be a precursor to the Spanish's carrier much improved financial performance. After several years of losses, Iberia has been profitable since 2015 and returned to network growth.
At the same time, Iberia has established its Madrid-based short-haul operation, Iberia Express. That unit was the sixth biggest operator on Spanish routes in January 2020, holding a 4% market share. Combined with Iberia's operation, it brings it close to Ryanair's level of seats in the market.
Iberia sister carrier Vueling is the country's second biggest by seat capacity, having added roughly the same amount of capacity in the market as Ryanair over the past 10 years. The airline has largely thrived since its merger with fellow Barcelona budget operator Clickair in 2009 and is back in expansion mode having paused growth after overcoming some operational problems.
Air Europa has also grown steadily over the period – having moved into some of the international markets vacated by Iberia during its retrenchment. Air Europa, owned by the Globalia Group, boosted capacity 40% over the last 10 years. While it was widely linked with seeking a buyer, IAG surprised by striking a deal to acquire the operator in late 2019.
IAG will be hoping that deal, which is still to close, is more palatable to regulators because of the weakening of its presence on routes between Spain and Latin America after the ending of its co-operation with former partner LATAM Airlines Group.
That would leave four of Spain's five biggest operators in the hands of IAG. The latter has moved to ease potential competition concerns on overlapping routes by provisionally agreeing a deal to hand some Iberia and Air Europa slots to Volotea.
While Volotea, which launched in 2012, was established by the former backers of Vueling, its growth has largely been in the Italian and French markets and it still has a relatively small network footprint in Spain.
One notable player in the Spanish market a decade ago that is no longer around today is former Star Alliance member Spanair, which collapsed in early 2012.
Poland
Population: 38.0m
Seat capacity in Jan 2020: 4.1m (up 139% from Jan 2010)
Biggest carriers in 2020: Ryanair (28%), LOT Polish Airlines (27%), Wizz Air (22%)
Biggest carriers in 2010: LOT Polish Airlines (26%), Wizz Air (22%), Ryanair (20%)
While Ryanair has usurped LOT Polish Airlines as the biggest carrier by seat capacity on routes touching Poland, that in part reflects the major restructuring LOT undertook in the middle of the last decade. The carrier was forced to cut and cap capacity as part of state-backed restructuring. Since returning to growth in 2016, LOT has been expanding steadily.
LOT's parent PGL has also now expanded into the adjacent German market through the acquisition of Condor.
But state-owned regional carrier Eurolot did not survive the decade, ceasing operations in 2015.
Ryanair, which has the Polish leisure arm Buzz among its units, has more than trebled its seat capacity over the period, while Wizz has doubled its seat capacity.
Belgium, Netherlands and Luxembourg
Netherlands population: 17.3m
Netherlands Seat capacity in Jan 2020: 6.9m (up 50% from Jan 2010)
Biggest carriers in 2020: KLM (46%), Transavia Airlines (8%), EasyJet (7%)
Biggest carriers in 2010: KLM (50%), Transavia Airlines (5%), EasyJet (4%)
Seat capacity over the past decade has increased 50% on routes to, from and within the Netherlands. Over that period KLM remains the prime operator, holding a 46% share.
Air France and KLM were the first of the European major carriers to consolidate with the formation of Air France-KLM in 2004, but the partnership has been strained at times – a tension that most notably surfaced last spring when the Dutch government increased its stake in Air France-KLM to match the French state to ensure it could "exercise direct influence" over future developments.
There has been faster growth in the Dutch market among low-cost brands, including Air France-KLM's Transavia unit. EasyJet, Transavia and Ryanair have all more than doubled their respective seat capacity.
Belgium retains a strong national player in the form of Brussels Airlines, but the private carrier – established in part out of Sabena successor carrier SN Brussels Airlines – is now fully-owned by Lufthansa.
The latter has grouped Brussels Airlines, since taking full control of the carrier in 2016, under its Eurowings umbrella. But last year Lufthansa said further integration of Brussels Airlines into Eurowings would not be pursued, and that the Belgium carrier would undertake long-haul operations for Eurowings.
In October Brussels Airlines outlined it would undertake a downsizing plan aimed at restoring profitability.
Over the course of the last decade Belgian regional operator VLM ceased, restarted and then stopped operations again. But CityJet, which was merged into VLM – while both were owned by Air France-KLM – last year co-launched Air Antwerp. CityJet has a 75% stake in the regional carrier, which launched on the London City-Antwerp route formerly served by VLM, while KLM holds the remaining 25%.
In Luxembourg, Luxair has found itself facing heightened competition in passenger markets, which hit its profitability in 2018. It remains the biggest operator, though Ryanair – which had no Luxembourg services a decade ago – is now the second biggest carrier by seat share.
Gulf carrier Qatar Airways briefly held a 35% stake in freight carrier Cargolux in 2012, before China's Henan Civil Aviation and Investment acquired the same stake a year later.
Nordic states
While Norwegian has closed the gap on SAS in terms of seat capacity on Scandinavian routes, the latter remains the biggest operator. That in part reflects Norwegian focusing much of its expansion to other markets in Europe – notably from London Gatwick. Ryanair, the third biggest operator of Scandinavian routes, has cut its seat capacity in this market by 6% over the period.
SAS remains part-owned by the Danish and Swedish governments, though the Norwegian state sold its stake in the carrier in 2018, leaving 70% of the carrier in private hands
SAS had in the previous decade been an active investor in airlines – acquiring interests in Air Baltic, Air Greenland, BMI, Estonian Air, Spanair and Norwegian carrier Wideroe. These interests have all since been sold, though it only disposed of its remaining Air Greenland holding in 2019.
At various points over the years it has been linked as a potential target for its Star Alliance partner Lufthansa, with speculation reigniting most recently in 2016.
For all the pressure Norwegian has exerted on SAS, it remains an acquisition candidate itself. Norwegian's strong expansion, notably into long-haul markets and at London Gatwick, and its sizeable order book gave it plenty of assets, while its increasingly challenging financial position appeared to make it open to a bid.
IAG made a move for the carrier two years ago. Two offers were rejected and IAG walked away. Norwegian has since pulled back its capacity, focusing on a profits drive. But the fundamentals that attracted interest could resurface, for all or parts of its business. The carrier has already off-loaded its Argentinian operation to Chilean carrier JetSmart.
In Finland, Finnair has established a strong presence in the Asia market. That connection into Asia has made it seem like an attractive acquisition target for IAG, whose carriers it already co-operates with in Oneworld and via a joint venture on Asian routes. But Finnair remains majority state-owned and legislation would be required before any sale could be made.
Austria and Switzerland
Austria population: 8.9m
Austrian seat capacity in Jan 2020: 3.6m (up 47% from Jan 2010)
Biggest carriers in 2020: Austrian (46%), Lauda (9%), Wizz (7%)
Biggest carriers in 2010: Austrian (36%), Transavia Airlines (10%), EasyJet (7%)
The leading carriers in both these countries, Austrian and Swiss, have long been part of the Lufthansa Group.
The key change Austria was the insolvency of first Air Berlin and then Niki in 2017, which set a scramble for share in the market.
Cirium schedules data shows that seat capacity touching the Austrian market increased by almost the same amount in the last 12 months as it had over the first eight years of the decade.
Airline seat capacity on Austrian routes jumped 11.7% in 2019. That followed a 7.7% increase in 2018. That capacity growth rate compares with a peak of 4% in the previous eight years.
The assets of Niki were acquired by Niki Lauda through the Laudamotion vehicle, in which Ryanir acquired an initial stake. The Irish carrier ultimately took full control of the carrier last year, shortly before Niki Lauda's death.
The Laudamotion unit has quickly grown to become the second largest carrier on Austrian routes, though it has struggled for profit, partly because of the intensified competition in its markets since the fall of Niki.
Wizz and IAG low-cost unit Level both launched Vienna-based operations – and as early as January 2019 Wizz Air chief Jozsef Varadi was describing the level of competition as causing a "bit of a bloodbath" for airlines at the Austrian capital.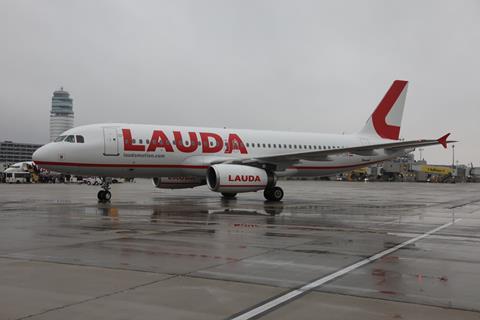 January schedules data shows both Lauda and Wizz have kept the foot on the accelerator, while EasyJet, Eurowings and Level have pulled back some of their capacity from the Austrian capital.
Lufthansa unit Austrian has also been forced into action, planning to cut costs and refocus on its Vienna hub as a result of intensive low-cost competition in its home market.
"We have to reposition ourselves in order to survive the brutal competition of the low-cost airlines," Austrian chief executive Alexis von Hoensbroech said last November. The carrier plans to maintain passenger growth by stationing its entire fleet in Vienna, with its links from regional airports to Germany gradually being taken over by parent Lufthansa.
In Switzerland, Swiss International Air Lines remains the biggest carrier. EasyJet, which has had a Swiss operation almost from the outset, is by a distance the second biggest operator in the market.
Switzerland remains one of the few European markets Ryanair has little penetration in – operating less than a handful of routes.
Despite a strong history of regional operations from Switzerland, carriers in this sector have faltered of late. Most notably Darwin Airline, which was acquired by Etihad and briefly operated as Etihad Regional during the Gulf carrier's acquisition spree, ceased operations in 2017. Fellow regional carrier, Skywork Airlines, collapsed the following year.
The Balkan states
Romania population: 19.4m
Romania seat capacity in Jan 2020: 1.9m (up 91% from Jan 2010)
Biggest carriers in 2020: Wizz Air (39%), Tarom (14%), Blue Air (12%)
Biggest carriers in 2010: Tarom (28%), Wizz Air (19%), Blue Air (15%)
Seat capacity has almost doubled in the biggest of the Balkan states Romania over the past decade, much of which has been driven by low-cost operators. Wizz Air has overtaken Romanian flag carrier Tarom as the biggest operator. Wizz, together with Blue Air and Ryanair – the latter having grown from virtually no Romanian presence to an 11% seat share – account for 62% of seat capacity on Romanian routes.
While Wizz dominates the market, Romania does have two significant domestic players in the shape of Blue Air and Tarom. Romania though has just had to approve a state-aid rescue package for Tarom. The repayable loan is aimed overcoming a liquidity crisis. If the loan is not repaid, Tarom faces "extensive restructuring".
Air Serbia, the revitalised JAT operation in which Etihad acquired a 49% stake in 2014, is one of the most prominent players in the Balkans. While it unwound its other European airline investments, Etihad recommitted to Air Serbia in the summer of 2018 as a shareholder – though the management element of its agreement was not renewed.
Croatia was in the midst of another effort to privatise state-owned Croatia Airlines. Greek carrier Aegean Airlines had emerged as a potential bidder, before the process was put on pause.
Slovenia's biggest carrier Adria Airways lost is battle for survival last September. The loss-making carrier was sold to German investor 4K Invest in 2016, but its fortunes failed to improve.
In Bulgaria, both Wizz Air and Ryanair have overtaken Bulgaria Air in terms of seat capacity on Bulgarian routes. Bulgaria Air – the successor to collapsed former state carrier Balkan Bulgarian, which is owned by holding company Chimimport – is the third biggest operator in the market.
Cyprus, Greece and Malta
Aegean Airlines has continued to grow and post profits since its merger with former flag carrier Olympic Air was approved in late 2013, establishing a single Greek carrier.
That also coincided with the start of the recovery for the Greek economy, aided by an EU bailout which concluded in 2018. After several years of plummeting traffic in Greece, passenger numbers climbed sharply – aided by Ryanair stepping up its presence in the country. The Irish carrier is now the second biggest carrier by seat capacity on Greek routes – having had no Greek operations a decade ago.
Aegean has shown tentative interest in bidding for potential airline assets in the region. In addition to its current interest in Croatia Airlines, it previously submitted a non-binding bid for Cyprus Airways.
National carrier Cyprus Airways collapsed at the art of 2015. Several carriers moved to fill the gap, most notably a part-S7 Airlines-backed project, which took the former flag carrier's branding. Despite talk of interest, other carriers moved did not move for the airline.
State-owned Air Malta has been through several restructurings – including one state-aid backed rescue – and an aborted deal under which it was to be acquired by Alitalia. The Italian carrier was overtaken by its own financial challenges before a deal was completed.
Ryanair has established a presence in Malta, having acquired the AOC of Malta Air last year. There has been a five-fold increase in the Irish carrier's Maltese seat capacity over the past decade, during which it surpassed Air Malta as the biggest operator in the market.
The Baltic states
Latvian carrier Air Baltic is the success story of the Baltic states during a period in which several carriers faltered. Estonian Air and Air Lituanica were among the casualties, whilst Estonian successor operation Nordica in October stopped flying under its own brand to focus on charter operations.
The state still owns 80% of Air Baltic, with Danish entrepreneur Lars Thuesen having acquired 20% of the business in 2017. Air Baltic chief executive Martin Gauss recently told FlightGlobal that the state is open to reducing its holding, but only to a suitor who would continue offering the existing level of connectivity to and from Air Baltic's three bases.
Central Europe
The collapse of Malev in early 2012 left Hungary without a national carrier, though central European operator Wizz is based in Hungary. The latter has emerged as the biggest operator on routes in the country.
Czechia's two biggest operators, national carrier Czech Airlines and Travel Service, ultimately moved under single ownership after Travel Service in 2017 acquired full control of Czech Airlines. It had taken a 34% stake in Czech Airlines in 2013. That followed Korean Air's acquisition of a stake in Czech Airlines, before it sold its shares in the carrier to Travel Service. The latter has since rebranded under the Smartwings brand, its low-cost unit.
There remains no national carrier in Slovakia. Low-cost carrier SkyEurope lost its battle with Wizz Air for dominance in the region, collapsing in 2009, while AIr Slovakia ceased operations in 2010.
Portugal
Population: 10.3m
Seat capacity in Jan 2020: 4.3m (up 93% from Jan 2010)
Biggest carriers in 2020: TAP Portugal (41%), Ryanair (18%), Easyjet (10%)
Biggest carriers in 2010: TAP Portugal (45%), Ryanair (9%), EasyJet (9%)
Portugal's two biggest operators TAP Portugal and regional carrier Portugalia had already merged in 2006. TAP has grown strongly over the past decade, adding more seats than any other carrier. Over the same period, Ryanair has almost quadrupled its seats in the Portuguese market.
Portugal, after a failed attempt to privatise TAP in 2012, ultimately succeeded in finding a private investor for the airline in 2015 when the Atlantic Gateway consortium led by Azul founder David Neeleman acquired a stake in the airline. Chinese carrier HNA Group subsequently bought a stake in the Atlantic Gateway consortium, but sold this back – accounting for around 9% of TAP – amid the Chinese group's wider liquidity challenges.
More recently, Portuguese media have reported Neeleman is looking to sell his stake in TAP, and Star Alliance partners United Airlines and Lufthansa have been linked as potential bidders.
Iceland
Iceland appeared to be another country where their biggest operators would ultimately merge when a deal was hatched in 2018 for Icelandair to acquire Wow Air. The latter had expanded rapidly, but when conditions turned against the Icelandic carrier it turned to Icelandair for rescue. When that deal broke down, it appeared as though Bill Franke's IndiGo Partners investment group may step in. But ultimately Wow collapsed before an investor could be found, leaving just Icelandair in operation.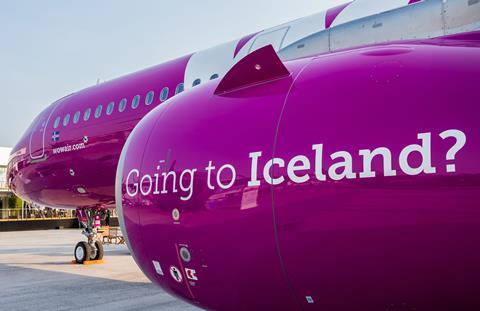 Russia and Turkey
The Turkish and Russian markets remain dominated by local carriers, in part reflecting their large respective domestic sectors. More than half the seats deployed on Russian services are on domestic routes, while intra-Turkish sectors account for more than a third of capacity on seats touching Turkey.
Strong domestic growth has contributed to an overall 170% increase in seat capacity on all Turkish routes over the past decade - though this notably faltered in 2019.
Turkey population: 82m
Turkey seat capacity in Jan 2020: 12.3m (up 170% from Jan 2010)
Biggest carriers in 2020: Turkish Airlines (58%), Pegasus (23%), SunExpress (4%)
Biggest carriers in 2010: Turkish Airlines (66%), Pegasus (8%), SunExpress (5%)
Cirium schedules data shows the five biggest operators on Turkish routes in January 2020 were all Turkish carriers. That though did include troubled local carrier AtlasGlobal, which ceased operations in February.
Privately-owned low-cost carrier Pegasus made the biggest gains in terms of share over the past decade – though national carrier Turkish Airlines added more seats over the same period. Turkish Airlines joint venture SunExpress is the third largest carrier in terms of seat capacity, while Turkish Airlines is also building up its low-cost unit Anadolu Jet at Istanbul's Sabiha Gokcen airport this year.
In Russia, seat capacity has more than doubled over the past decade. Aeroflot remains the biggest carrier, but with an increased amount of seat capacity delivered by its low-cost unit Pobeda.
Consolidation has been ongoing in the Russian market, with the notable change over the past decade being the collapse of Transaero in late 2016 amid the Russian financial crisis. Many of Transaero's assets were picked up by the Aeroflot Group.
Editor's note: This analysis is based on Cirium schedules data comparing seat capacity for January 2020 to January 2010. Seat capacity places greater emphasis on the presence of low-cost carriers in these markets as it does not take account for those operating in higher-yielding long-haul markets. But for most of these markets, low-cost carriers remain among the top three players even when measured in ASK capacity. Populations figures based on Eurostat data for 2018.