Japan Airlines (JAL) is focused on long-term survival as it weighs its network, finances, and fleet, amid the coronavirus pandemic.
JAL sees sharply diverging trends for its domestic and international network, says the carrier in an email interview with FlightGlobal.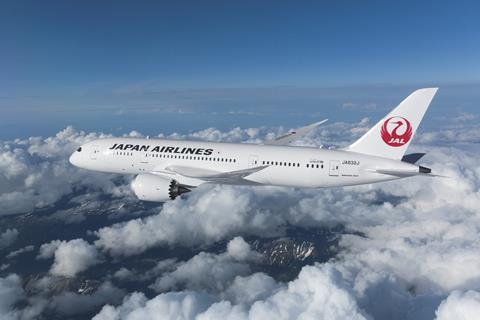 At the peak of Japan's first wave of coronavirus cases in March, the airline was cancelling up to 72% of scheduled services, amounting to over 600 flights daily. The airline's international operations were particularly hard hit, operating just 4% of scheduled services in June.
Similar to other airlines, JAL has imposed major changes on the flying experience. Crews wear goggles, gloves and facemasks. At the airport, the focus is on minimising human-to-human contact and plenty of hand sanitiser is available. Aircraft are disinfected between flights, and passengers are only allowed to board in groups of 10 to 20.
"Although passenger flights have been hit hard, JAL found new ways to help Japan cope with the crisis by operating repatriation flights, as well as cargo flights to transport much needed medical supplies/face masks from China during the first wave," it says.
"Since then, the carrier has been operating several hundred cargo-only flights per month to help keep businesses moving forward throughout the world. This includes flights to the Americas, Europe, Southeast Asia, Oceania, as well as within East Asia countries."
The JAL Group's challenges were reflected in its first quarter for the fiscal year ending 31 March 2021. The airline swung to a Y93.7 billion ($855 million) net loss in the April-June timeframe, with revenues falling 78.1% year on year to Y76.3 billion.
JAL shares the consensus view that domestic markets will pick up before international markets. In the Japanese domestic market for July, it estimates that demand was 30% of that in July 2019, but forecasts domestic demand in August will be 50% of August 2019's number. These forecasts, however, could change given Japan's recent spike in Covid-19 cases.
As for JAL's fleet, big widebodies such as Boeing 777s configured for international passenger service were reassigned to cargo duties. In the domestic passenger market, it relied on smaller types such as the 737-800, Embraer E190, and 767s. JAL's 777s configured for domestic services were placed in storage, but will return to the fleet when demand returns.
JAL has also made some challenging decisions around its orderbook of 12 A350-900s and 13 A350-1000s. Prior to the coronavirus outbreak this year, it had planned for new aircraft to help it fill slots it had been awarded at Tokyo Haneda International Airport.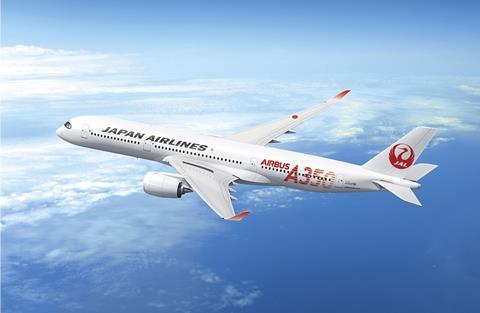 The airline now expects to receive aircraft in the "single digits per year." It is in talks for delivery deferrals, with hopes of saving about Y30 billion in the current fiscal year, which ends on 31 March 2021.
This reflects JAL's broader effort to carefully manage its cash position.
"The JAL Group has taken steps to raise capital backed by its strong financial position, and has borrowed, as of date, an additional approximately Y300 billion from financial institutions since February 2020 when the spread of COVID-19 became apparent, in several countries," said the company in its first quarter results statement.
"We have also secured a Y200 billion credit line that remains unused as of today. As result, we have flexibly raised capital totalling approximately Y500 billion yen since February 2020 and will have necessary liquidity at hand for the time being."
Among the many plans coronavirus disrupted was JAL's launch of a new long-haul, low-cost carrier, Zipair Tokyo in May. For the time being the new airline, which operates a pair of 787-8s, will focus on cargo services. When travel restrictions are lifted, it is likely to service Seoul, Bangkok, and Hawaii.
JAL states that it will take years for the international market to recover, and cites IATA's estimates that international traffic will only reach 2019's levels in 2024. In the interim, domestic markets will lead what is likely to be a gradual recovery.
"There may be challenges ahead for both full service carriers and [low-cost carriers] to sustain their business for the short term," says JAL.
"But based on history, air travel is a necessity for the global economy to continue expanding and therefore, although it may take a number of years, JAL will be prepared to be a leader in the aviation industry in providing a clean and safe travel experience on both the international and domestic front."