JetBlue Airways is pitching its proposed acquisition of ultra-discounter Spirit Airlines as a means to compete better against the four largest US airlines – carriers that through their own mergers now control some 80% of the US market.
For that reason, JetBlue executives say they are confident the US government will not oppose the deal on competitive grounds – even though the Department of Justice (DOJ) is suing to block JetBlue's separate alliance with American Airlines.
JetBlue on 5 April joined Frontier Airlines when it bid to purchase Spirit. The duelling offers leave Spirit with a decision that could reshape the US airline industry.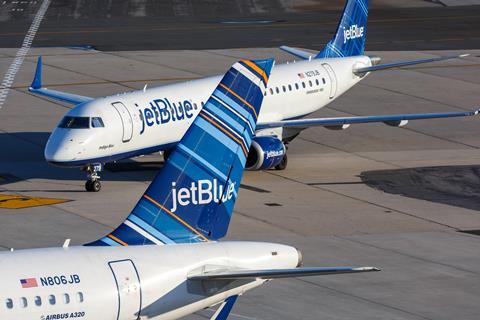 Will Spirit join Frontier, and in doing so create a massive ultra-low-cost discounter? Or, will Spirit align with JetBlue, helping make that carrier a national powerhouse.
Whichever path Miramar, Florida-based Spirit takes, it will need blessing from the DOJ, which under President Joe Biden has eyed airline alliances with suspicion.
"Together, JetBlue and Spirit will be better positioned to counter the Big Four," JetBlue chief executive Robin Hayes says on 6 April. He was referring to US giants American Airlines, Delta Air Lines, Southwest Airlines and United Airlines, which, Hayes correctly notes, control about 80% of US airline seats.
"The proposed combination accelerates JetBlue's strategic plan, turbo-charging our focus-city strategy, securing valuable access to aircraft and airport infrastructure for future growth, and further diversifying our network," Hayes adds.
New York-based JetBlue proposed to acquire Spirit by purchasing its shares for $33 each, equating to $3.6 billion. Executives do not specify a proposed close date, but Hayes says, "There's no fixed timeline".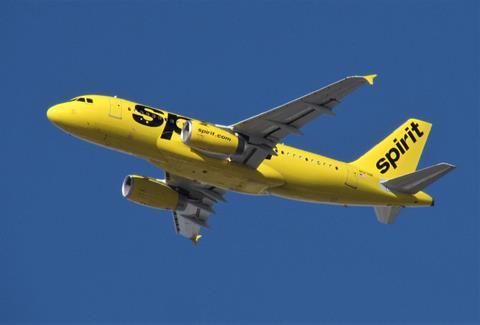 JetBlue's offer trumped a proposal in February from Frontier to buy Spirit for what equates to $25.83 per share. On 5 April, Frontier slammed JetBlue's plan as being detrimental to competition and Spirit shareholders.
Frontier and Spirit are both ultra-low-cost carriers (ULCCS), and Frontier pitched its proposal as creating a mega ULCC.
But JetBlue is different. It fills a unique market niche, being more upscale than Spirit and Frontier but having lower costs than the four largest US airlines. JetBlue's aircraft have more legroom. It offers lie-flat seats on some routes, including new routes to London – factors that have made JetBlue appealing to both business and leisure travellers.
CEO Hayes makes clear JetBlue intends to dismantle Spirit as an ultra-low-cost carrier, using its assets to create what he calls "a larger JetBlue".
The combined entity would retain JetBlue's name and operate some 1,700 flights to more than 130 destinations, says JetBlue. That carrier is now the sixth largest US airline by available seats, and Spirit is seventh. Combined, they would leapfrog Alaska Airlines to be fifth, Cirium data shows. JetBlue had $6 billion in 2021 revenue, and Spirit had $3.2 billion, securities filings show.
JetBlue says it would remain based in New York and would outfit Spirit's aircraft with what Hayes calls a "superior onboard experience". JetBlue chief financial officer Ursula Hurley says the plan calls for Spirit's jets having the same seat density as JetBlue's. While Spirit stuffs 182 seats in A320s, JetBlue opts for a more-spacious 150-162 seats, according to Cirium data.
Hayes calls JetBlue's offer "clearly superior" to Frontier's, noting the price premium. Frontier, in striking first, "created a window of opportunity", he adds. "If you don't act on it, it's gone."
COMBINED FLEETS
Synergies include the carriers' Airbus A320-heavy fleets. Spirit operates only A320-family jets, having 176 in service, while JetBlue operates 279 aircraft, including 211 A320-family jets, eight A220s and 60 Embraer 190s, according to Cirium data. (JetBlue intends by 2026 to retire all its E190s, which have proven expensive to operate.) Spirit and JetBlue have both chosen Pratt & Whitney turbofans to power their A320s.
Hayes also views Spirit as a means to acquire more aircraft orders – no small bonus amid a period of limited availability. Airbus and Boeing have been working to boost production of narrowbody jets but face supply-chain-wide challenges, including labour and parts shortages and financial pressure stemming from inflation.
Spirit holds outstanding orders for 154 A320-family jets, while JetBlue has orders for 92 A220s and 64 A320s, Cirium shows.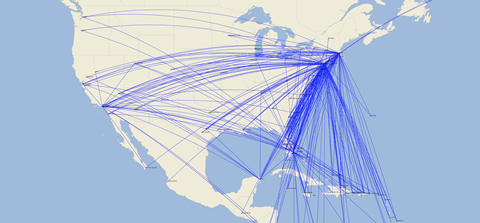 Hayes specifically says the combination would help JetBlue strengthen its position in Fort Lauderdale, Los Angeles and San Juan
JetBlue could also expand in the central USA, where Spirit has a much larger presence, including in cities like Chicago, Cleveland, Detroit, Kansas City, Milwaukee and Minneapolis, Cirium data shows.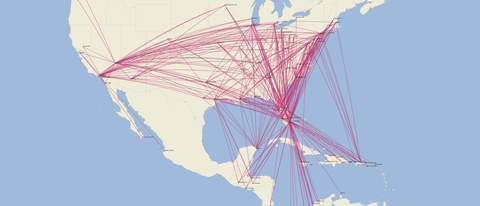 JetBlue says acquiring Spirit would double both its US market share and revenue growth. It predicts the merger would generate $600-700 million in annually "synergies".
One financial analyst is unconvinced in the benefits.
"The merits of a potential JetBlue-Spirit merger are not as abundantly clear to us as are those that could stem from other combinations," says a 5 April JPMorgan research note.
How employee unions will view a JetBlue-Spirit merger remains unclear also, but JPMorgan suspects Spirit's pilots will favour joining JetBlue, noting Spirit's pilot pay tops out at $252 hourly, while JetBlue's rate hits $275. In other words, Spirit pilots could see a bump.
Spirit says it is reviewing both offers and will pursue a path most advantageous to its shareholders.
The outcome will also depend on approval from the US government, which has proven hesitant to rubber-stamp such combinations. The DOJ did not respond to a request for comment. But, the enforcement agency is already battling JetBlue and American in court, seeking to force those airlines to scuttle their "Northeast Alliance" – a collaboration in Boston and New York.
"Given our conviction in securing the necessary antitrust approvals, we are highly confident the proposed transaction can be completed", JetBlue says.