In early February 2020 news of a novel coronavirus from the Chinese city of Wuhan began gaining prominence. At the Seoul headquarters of Korean Air, a meeting was called and a decision was made: the airline would shift its focus to cargo, and start the process of converting passenger aircraft into temporary freighters.
The airline's chief of cargo division Jae Dong Eum, speaking to FlightGlobal at the recent IATA annual general meeting, says that at the time, there was uncertainty over how long the newly-discovered virus would last, or if the cargo move would pay off financially.
"Nobody was sure, but we made that decision," Eum, a company veteran of 34 years, adds.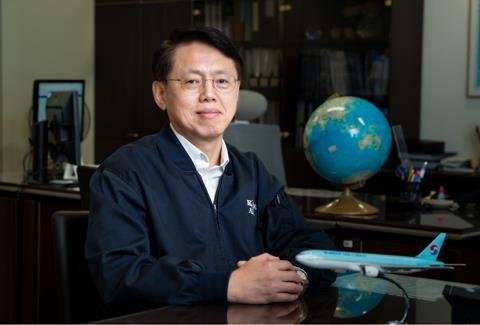 In hindsight, being an "early adopter" of the freighter conversion concept paid off handsomely for the carrier, says Eum, who is also a senior vice president at the airline.
Cargo revenue shattered quarterly records through the pandemic, helping to keep Korean Air afloat even amid a collapse in passenger travel demand.
In fact, Korean Air was in the black for eight consecutive quarters through the pandemic, thanks largely to the cargo division's strong performance.
In the quarter to 31 March, Korean Air was W788 billion ($607 million) in the black at the operating level, up six-fold year on year, with revenue climbing 60% to W2.8 trillion.
Cargo revenue, meanwhile, jumped 59% year on year to W2.1 trillion.
In the fourth quarter of 2021, cargo takings hit a record high of W2.2 trillion, helping make up for a slow recovery in passenger travel demand.
Recounting the early days of the pandemic, Eum tells FlightGlobal that the idea of a 'temporary freighter' was so novel at the time that company outsiders viewed it with disbelief.
So began months of discussions and meetings – virutally, Eum points out – with South Korea's aviation regulators, as well as airframers and other regulators in the European Union and USA.
By the third quarter of 2020, the airline was ready with a fleet of temporary freighters to expand its cargo operations.
But as discussions were ongoing to get temporary freighters flying, Korean Air was already making use of the bellyhold in empty aircraft to carry cargo.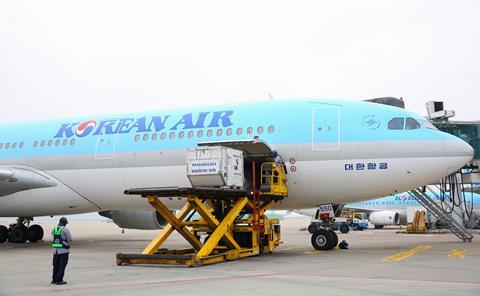 Says Eum: "We had to convince ourselves that we have the potential…ability [and] the necessary experience to overcome the changes of our business environment. We are very proud of [our work]."
To help drive the airline's cargo focus, a special taskforce was set up with representatives from various divisions.
Eum says weekly virtual meetings were held as the pandemic situation evolved. The taskforce still meets weekly - but now the meetings take place in person.
Despite the division's strong performance through the pandemic, Eum is acutely aware of the challenges confronting the cargo market.
For one, the ongoing war in Ukraine means the airline has stopped operating both passenger and cargo flights into Russia.
It also means flights to Europe can no longer fly through trans-Siberian airspace, instead opting for a more circuitous flight path taking up to two hours more. Eum says this will definitely drive up operating costs for cargo operations into Europe.
And then there was China: the country's continued closure is "impacting" the cargo business, Eum says who notes that China in pre-pandemic times made up about a quarter of the airline's cargo volume.
At a separate media roundtable also at the IATA annual general meeting, airline chief Walter Cho said is considering a move for the new widebody freighters launched by Airbus and Boeing, but said it would wait and see for now, citing the ongoing acquisition of compatriot Asiana Airlines.
Eum echoes the same view, adding that Korean Air is in discussions with the two airframers to see which new-generation freighter "would better fit into our long-term strategy".
He ruled out narrowbody freighters, stressing that the airline's strength was in trans-Pacific cargo operations. For shorter-haul operations, the airline is already tapping into bellyhold space, which Eum says is sufficient to meet demand for now. It is also working with affiliate company Hanjin on inter-modal freight arrangements.
With passenger travel coming back – particularly with South Korea now easing entry restrictions – Eum has a delicate task at hand: balancing a focus on cargo with a rebound of passenger travel.
He says the airline is slowly converting its temporary freighters back to passenger configurations. This month, the last of six A330s will return to passenger operations, while the last three 777s are scheduled to be switched back by September.
As the airline prepares for passenger travel to return, Eum remains confident cargo will continue to perform. In prepared comments to FlightGlobal, he says: "Our post-pandemic cargo performance can be seen as an achievement resulting from a combination of aggressive investments, thorough preparations, and accumulated cargo service know-how. Korean Air will continue to lead the industry by utilising its advantages."