For airlines in Latin America, the coronavirus pandemic not only posed a sudden, monumental operational challenge, but also interrupted the region's long overdue growth trajectory.
When the World Health Organisation declared a global pandemic in mid-March 2020 and many countries effectively sealed their borders, airline executives say, the worst part was not knowing how long the pause would last, or what far-reaching effects it would have – on their companies, employees, industry and the continent's economies.
Speaking during the ALTA Airline Leaders Forum on 25 October, executives from four of the region's largest airlines reflected on those first chaotic days, and what they and their airlines learned from the experience.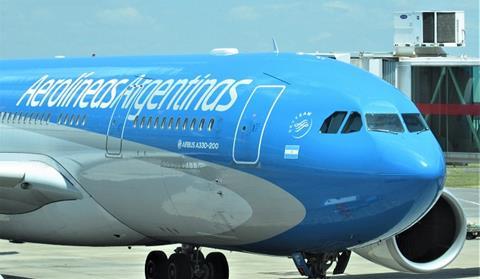 "Very few things are worse than uncertainty, especially for those who need certainty to plan their work," Copa Airlines chief executive Pedro Heilbron says. "From one day to the next, we all had to go home, park our planes and close our doors."
After those first scary days, "It was like running a marathon without a finish line," adds Heilbron, speaking on a panel with three other Latin American airline chiefs.
LATAM Airlines chief executive Roberto Alvo, who took on the job in April 2020, recalls that in the early days of the pandemic the primary goal was to be "frank and transparent" with the company's employees, and ensure customers were kept informed of the Chilean airline's capabilities.
"We realised that trying to forecast didn't make any sense," he says. "Our priorities changed. We asked: how can we try to take care of our passengers, who have no ability to plan, but also take care of our employees and protect the company?"
In Colombia, meantime, Adrian Neuhauser, who was Avianca's chief financial officer at the time, was wondering how the airline was going to remain afloat, having just completed a restructuring the year before – and used up most of its assets.
"Our two main hubs had closed down, we had no airspace to fly in, we couldn't continue to transport passengers and our fleet was grounded for five months," says Neuhauser, who has in the meantime risen to the CEO role.
Avianca was the first of three carriers in the region to voluntarily seek Chapter 11 bankruptcy protection with US courts. LATAM followed later in the month, and Aeromexico in early June.
But Avianca also found some find creative measures for the benefit of its staff, and to protect as much of the firm's structure as it could.
"We were reducing the size of the airline, and pilots didn't want to be suspended, so they designed a system of rotation that allowed us to retain all the pilots within our network," he says. "We hope that will be a strength for future years."
Argentine carrier Aerolineas Argentinas chief executive Pablo Ceriani says it was a "hectic and chaotic day-to-day process" of finding ways to manage what would become the biggest global crisis in the history of commercial aviation.
"One way we were able to face the situation was to try to control what we could, and that meant accepting there were a bunch of things we could not," he says. Stemming the cash bleed was his main goal, and "suppliers quickly understood that we were all in this together".
"Unions also showed flexibility, so that we could find solutions together," he adds.
That said, the airline accomplished something that it likely would not have been able to do earlier – merging with smaller Argentine carrier Austral. That deal was sealed in December 2020.
PAINFUL MOMENTS
The four CEOs cited particularly painful moments that will remain with them.
For Neuhauser, it was killing off a subsidiary the Colombian airline had had high hopes for, Avianca Peru, the day after declaring bankruptcy.
"The most difficult decision for me was to close down the entire operation after we spent a whole year investing in it," he says.
Copa's Heilbron remembers the gruelling conversations about releasing employees. In some cases, both partners of a couple were let go as the crisis dragged on.
"I knew that no matter what we did, it would be even more difficult for our people," he says. "I hope never to have to go through that again."
TECH HEROES
As large swaths of the populations began working from home, airlines turned to digital transformation to keep their companies functioning.
"We justifiably talk about medical staff who are heroes through this pandemic," says Copa's Heilbron. "But another group of heroes is the technology staff. We are all at home and being productive as if we were at the office."
"They have done magic."
Avianca, LATAM and Copa executives say their employees have now become accustomed to work-from-home set ups; they will continue to have the possibility of at least a hybrid work model. Ceriani says Aerolineas Argentinas' employees will be expected to return to the office.
"We are looking at technological solutions, but we don't really know what they will be, what the norms will be," says Ceriani. "But for now, we need people to go back to the office."
SUSTAINABLE FUTURE
The CEOs agree that in the post-pandemic environment, modernisation must include activities that take climate change into account, and the industry's sustainability must be a major priority as they build back. They are looking to governments for help.
"This crisis has offered all of us an opportunity to reconsider what we have to do to move forward," LATAM's Alvo says. "I'm less concerned about frequent traveller programmes and more in understanding the importance of climate change to the future of our industry."
The carriers are looking for "policies that are clear, concrete, precise, simple and affordable" he adds.

Pilar Wolfsteller, Americas Air Transport Editor, is based in Las Vegas and brings a pilot's perspective to her beat. She covers airlines across the hemisphere and her interests also include future-oriented sustainable aviation technology and urban air mobility projects. Pilar began her journalism career at the global news agencies Bloomberg and Reuters, and has reported from more than 50 countries.