Passenger numbers are back to pre-pandemic levels in Latin America and financial restructurings are complete. Now attention is turning to consolidation and partnerships to help airlines in the region better weather challenges ahead, be they familiar local issues like high taxes and inflation, or mounting global economic headwinds.
LATAM Airlines Group's emergence at the start of November from the Chapter 11 bankruptcy process it entered two and a half years ago was the latest sign of a return to normality for a Latin American airline sector hard hit by the pandemic.
The carrier is the largest and last of three Latin American airlines to complete the process, following Colombia's Avianca and Aeromexico. All three voluntarily filed for protection under the US Chapter 11 bankruptcy scheme in mid-2020, having turned to formal restructuring in the absence of the state funding carriers in other regions where able to access when the pandemic struck.
Avianca emerged from Chapter 11 last December, and Aeromexico in March this year.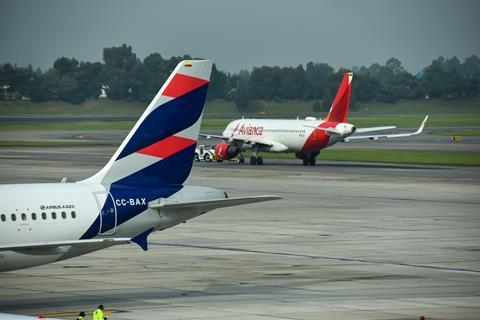 LATAM subsequently disclosed its most positive quarterly results since the crisis. Revenues were just 3% shy of 2019 and the airline posted an adjusted operating profit for the third quarter. Though restructuring costs kept it in the red at a net level, it more than halved losses on the same period last year.
The positive results were in keeping with the strong demand and yield environment in which the region's carriers have enjoyed bighter fortunes, despite spiralling fuel costs. All reported revenue rises outstripping additional capacity, as yields grew strongly.
Snapshot: Latin American airline Q3 revenue/capacity vs 2019
Airline
Revenue ($m)
Change v 2019
Capacity v 2019
Source: FlightGlobal analysis of company results; *change in local currency
LATAM Airlines Group
$2,587m
-3%
-19%
Aeromexico
$1,099m
17%*
-4%
Azul
$848m
44%
6.50%
Volaris
$769m
59%*
48%
Gol
$750m
8%
-23%
VivaAerobus
$410m
102%
79%
Aeromexico reported a net profit for the third quarter on revenues 17% higher than 2019, while record revenues and yields helped Brazlian carrier Gol to an operating profit for the quarter. Another Brazlian carrier Azul posted an operating profit Rs404 million ($78 million) on revenues 44% above the same period three years ago.
Mexican low-cost pair VivaAerobus and Volaris, which have grown rapidly amid the country's less restrictive Covid travel policies, continue to see activities far outstrip 2019 levels. Volaris' revenues were 59% higher, and doubled at VivaAerobus in the third quarter. However, higher fuel costs took the gloss off the perfomance as the two carriers, which had already returned to black a year ago, both saw profits drop in the quarter.
CHALLENGING MARKET
While cargo is playing a stronger part for many carriers in the region, it is the sharp recovery in passenger demand that has driven the brighter third-quarter performance.
Latin American and Caribbean airline association ALTA reported the region was the first to surpass pre-pandemic passenger numbers in September – carrying 28.6 million passengers collectively. That is 1% more than in September 2019. Traffic in terms of RPKs remains 3% below pre-pandemic peaks, reflecting the greater focus in short-haul flights.
Avianca chief executive Adrian Neuhauser, the new chairman of ALTA, speaking at a press conference opening the recent ALTA Airline Leaders Forum in Buenos Aires, said that returning to pre-crisis activity should not be the end-goal for the region — especially one whose airlines were loss-making as a whole going into the crisis and are projected to lose around $3 billion this year.
"It will not be enough for airlines in Latin America to recover to 100% of 2019 levels," he says. "Latin America is still a region where it is difficult to travel, there is a low level of per-capita trips in this region, but it is no longer a luxury, it is a need. And we need to make it more accessible to a larger group of the population."
Efforts to achieve this, though, are complicated by surging inflation, high fuel prices and wider recessionary fears, which threaten to derail the recovery.
Aerolineas Argentinas chief executive Pablo Ceriani says: "What keeps me awake at night is the uncertainty that we all face. What is going to happen with the world economy? At what point will this 'revenge travel' be destroyed?"
The airline, which will surpass pre-pandemic activity levels next year, is planning to add three more Boeing 737 Max aircraft in 2023 and seven more by the end of 2025.
"We will see how demand evolves," Ceriani says. "If everything goes just as well as now, and fares stay high and growth continues to be strong, probably we will have to revise that. If we have problems with oil prices and world recession, we will just stay the way we are. But we are planning to have growth of 5% a year from next year onwards."
Argentina's transport and tourism ministers, who both addressed ALTA delegates in Buenos Aires, flagged their desire to develop tourism in the country – having in April lifted all Covid travel restrictions, one of eight countries in the region to have done so according to ALTA, as of September.
However, within days the country came under fire from airlines over a new security tax of ARS250 ($1.60), which was approved by the lower house of the country's legislature on 25 October.
In contrast to Colombia and Peru, which are already well above pre-pandemic passenger levels, ALTA notes Argentina, along with Brazil, Chile and Peru, is still to pass that milestone. It attributes the slower recovery to the level of taxes – estimating a ticket of $110 will incur another $198 in taxes, fees and contributions.
ALTA director general Jose Ricardo Bothelo says: "Despite the efforts that operators in the region have been making for years to make their operating costs more efficient to pass those efficiencies on to users, we see a complex reality, which is the multiple taxes, fees, and charges that increase the final fare that passengers see and must assume."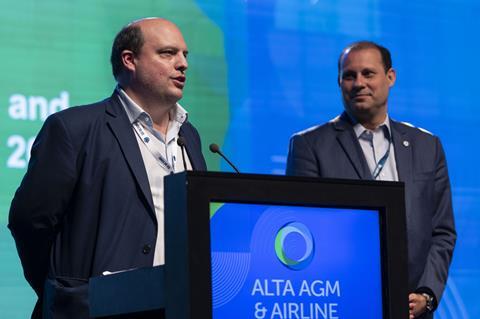 MERGING PICTURE
Meantime, the sense of economic uncertainty ahead is giving further impetus to consolidation and partnership efforts in the region. Avianca is setting the pace with its Abra Group structure, under which it is linking up under a joint holding structure with carriers including Gol.
Speaking during a panel debate during ALTA, Neuhauser said the Abra project will help bring cost efficiency and more integration to the region. "We believe in it very much from a strategic point of view. It's a very important leveller of the map, so that we can play in a more equal way in the region.
"Our message should go more to the consumer, and the consumers benefits, rather than the authorities. They are looking for a balance, we believe that while trying to integrate the region it makes all the sense in the world to create a network like this."
Bringing the networks of Avianca and Gol together would make it clearly the second largest operator in the region – and if other carriers slated to come under joint ownership with Avianca come to fruition, it would rival LATAM Airlines in size.
However, in early November, Colombian regulators served a reminder as to how to integration in the fragmented Latin American market cannot be taken for granted when it rejected a planned tie up between Avianca and financially strapped low-cost carrier Viva Air. Announced in April, it would have seen Viva's Colombian and Peruvian operations move under the joint holding company.
"We are concerned about the direction of the decision, as it goes against the needs of the country and ignores the potential effect that the disappearance of Viva would have on users and the market," says Avianca's Neuhauser, having flagged Viva's "complex financial situation" that had prompted it to accelerate its move bring the carrier under joint ownership.
"At Avianca, we reiterate our willingness to actively participate in rescuing Viva, seeking to maintain connectivity for travellers, strengthen tourism and preserve formal employment."
Avianca says it will analyse the decision by the Colombian CAA, also known as Aerocivil, and will evaluate legal alternatives to secure the necessary approvals.
The Abra Group would also hold a loan that is convertible into a minority stake in Chile's Sky Airlines.
Meanwhile, Neuhauser confirmed Avianca will still pursue a long-awaited a three-way joint venture agreement with Star Alliance partners Copa Airlines and United Airlines, even though the framework and market conditions have dramatically changed since the pandemic.
"One of the commitments we had with United, which supported us during our Chapter 11 [bankruptcy protection] process, is to once again analyse the joint venture issue with Copa," he says. The three carriers announced joint venture plans in November 2018, but four years on, they have still not come to fruition.
Elsewhere in the region, LATAM Airlines had already in September been boosted when US regulators approved its joint venture with partner and shareholder Delta Air Lines.
Additional reporting by Pilar Wolfsteller