Lufthansa Group has agreed on options to potentially acquire the remainder of ITA Airways after striking a deal today to purchase 41% of the Italian carrier.
Group chief executive Carsten Spohr signed a deal in Rome today with Italian finance minister Giancarlo Giorgetti covering the acquisition. Lufthansa says it will acquire a 41% stake in ITA through a €325 million ($350 million) capital increase. The deal will also see Italy's finance ministry commit to a €250 million capital increase of its own in ITA.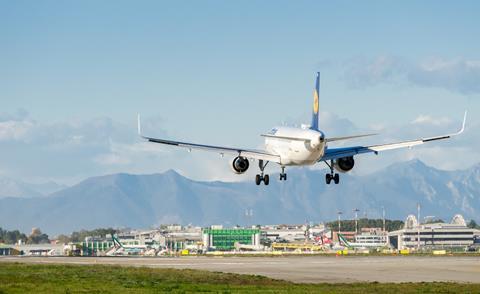 Lufthansa says that it has also agreed with the finance ministry on options "to enable a potential acquisition of the remaining shares by Lufthansa at a later date". It says the purchase price for the remaining shares will be based on the business development of ITA.
"The contractual finalisation of the agreement is expected to be completed shortly," it says. "The acquisition of the minority stake is subject to approval by the relevant authorities. Upon closing of this transaction, ITA Airways and Lufthansa Group are expected to immediately start their cooperation at a commercial and operational level. As a network airline, ITA will closely cooperate with Lufthansa Group to benefit from group synergies."
The addition of ITA marks the fifth network carrier and sixth hub into the Lufthansa Group. Alongside the German carrier's Frankfurt and Munich hubs, the group includes the Brussels, Vienna and Zurich hubs of Brussels Airlines, Austrian Airlines and Swiss International Air Lines respectively.
Discussing the rationale for its interest in ITA during a wide-ranging interview with FlightGlobal earlier this year, Spohr noted a market like Italy "speaks for itself". He said: "It's our most important European market outside of our home markets and globally its number two for us after the US."
It also serves as an opportunity to develop in the southern hemisphere, given Lufthansa's five existing European hubs are more northerly located. "Any new hub needs to bring some advantages to the group," says Spohr. "It needs to be a brand that fits into our multi-brand system. And it needs to be a hub that that brings along advantages that our existing hubs don't have.
"Brussels, the latest hub we added, added a huge competence and network in terms of Africa. Now looking at a southern European hub, we are looking at a hub perfectly located for our planned expansion into Africa and Latin America."
LUFTHANSA FULFILS ITALIAN AMBITION
The history of foreign investments in Italian carriers is, though, chequered to say the least. Air France-KLM and Etihad Airways both got their fingers burnt after investing in ITA's predecessor Alitalia. Qatar Airways' investment in Air Italy, meanwhile, was not enough to the save the rebranded Meridiana operation.
However that history has not dissuaded Lufthansa – nor indeed Air France-KLM, which was a non-equity contributing partner of the consortium initially picked for exclusive, but ultimately unsuccessful, talks on ITA's privatisation last year.
Etihad and Qatar were both hindered by their inability to acquire more than a minority stake in Alitalia and Air Italy respectively due to foreign ownership rules. That restriction is not an issue for Lufthansa, even though it is only acquiring 41% in ITA to begin with – echoing a similar two-stage investment it used when acquiring Brussels Airlines.
And alongside the strategic importance of Italy to Lufthansa, it is this experience in integrating carriers within a multi-hub system which Spohr cited earlier this year for why the carrier believes it could make an ITA investment work.
"Nobody could turn ITA into a success as long as it stands alone, it only works as part of a larger group," he told FlightGlobal. "We have proven in the last years, looking at Swiss, looking at Austrian, and Brussels Airlines, that we know how to integrate another brand, how to integrate hubs, how to integrate another airline into a success story, while at the same time allowing that airline to retain its identity. Those who take decisions in Italy have looked at our track record in the last 10 years very carefully."
HOW HAS ITA DEVELOPED
ITA Airways launched as a successor carrier to the beleaguered Alitalia in October in 2021. While it launched operations using several Alitalia assets, notably aircraft and slots, acquired from the latter's administrator, it quickly embarked on a major fleet overhaul of its own. That was built around Airbus aircraft and has already seen ITA debut three new types over the past 12 months. Its first A350-900 entered service in summer 2022, followed by its first A220-300 in October, then its first A320neo in February this year. The carrier will shortly introduce a fourth new type, its first A330neo.
That was in support of a business plan which had targeted a return to break-even by the third quarter of 2023 and a €209 million profit by 2025. The airline later cited high fuel costs and ongoing effects of the pandemic for its €486 million ($527 million) full-year net loss in 2022, it's first full-year of operations.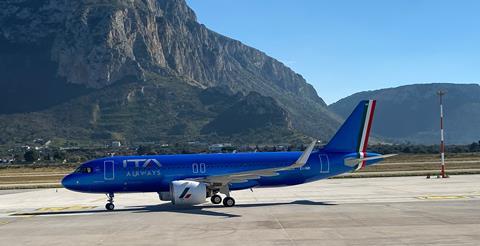 At the end of March, ITA's board approved a business plan that had been shared with Lufthansa. No details of this business plan were disclosed at the time, and there are no projections on ITA profitability targets in either Lufthansa or the Italian financial ministry's initial statements about the deal. The finance ministry though does highlight the aim to lift ITA revenues from a projected €2.5 billion this year to €4.1 billion in 2027, and to increase staff levels by 1,200 to 5,500 and the fleet from 71 to 94 over the same period.
The deal also raises questions over the likely future of ITA within the SkyTeam alliance, in which it essentially took Alitalia's place. Lufthansa is a founding member of Star Alliance, and while an alliance move is not a given following an acquisition – Aer Lingus for example has not joined the Oneworld alliance of its IAG sister carriers British Airways and Iberia – it is notable that Lufthansa's other group network carriers Austrian, Brussels Airlines and Swiss are all Star Alliance members.
LUFTHANSA BACK IN GROWTH MODE
While Lufthansa acquired some assets from the collapsed Air Berlin operation, the ITA deal marks its first international network carrier acquisition since Brussels Airlines - the initial deal for which was struck in 2009.
Lufthansa's repayment of state aid it received during the pandemic, lifting restrictions around acquisition activity, has cleared the path to the move. This enables it to target a step change in growth.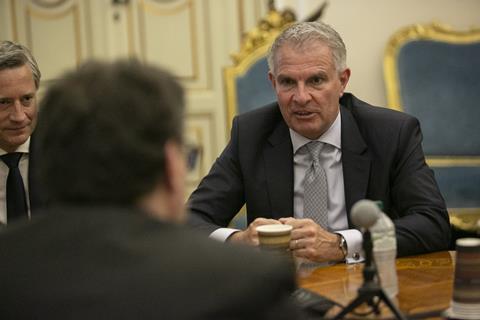 "Lufthansa is currently number four in the world. If we want to stay in that global league, we need to grow. And that growth will to a certain degree have to come from consolidation, it will not come from our current home markets alone," Spohr said earlier this year.
It is not alone in looking south within Europe for growth opportunities. IAG has launched a fresh attempt to complete its on-again-off-again acquisition – originally launched before Covid hit – for Spanish carrier Air Europa. Air France-KLM, which itself now has a freer M&A hand after repaying its own Covid state support, has flagged its interest in the planned privatisation of TAP Portugal. The latter is set to go ahead later this summer. Both IAG and Lufthansa had similarly expressed interest, though the German carrier's interest may diminish now with the ITA agreement sealed.
This fresh wave of consolidation among European network carriers remains contingent on regulatory approval. And as IAG has already previously discovered in its move for Air Europa – and regulatory interventions around the world impacting JetBlue's move for Spirit Airlines, Korean Air's merger with Asiana Airlines, and Avianca's deal for Colombian compatriot Viva Air further illustrate – agreeing deals is one thing, completing them another altogether.