Much of the attention on airlines in the Middle East during the coronavirus crisis has focused on the big three Gulf operators and the struggles of Israeli carrier El Al.
Qatar Airways has been one of the most active operators through the crisis, while the two big UAE carriers have been keen to restore services as restrictions are lifted.
Though lockdowns among Middle East states started being lifted in May, it has taken time before travel restrictions have enabled the region's carriers to restore services fully. Etihad Aviation Group chief executive Tony Douglas was recently quoted as saying the airline hopes to return to "meaningful" flying in mid-July.
But in a key development on 4 June the UAE government cleared the country's carriers to resume transit flights. Etihad has already announced that from 10 June it will its expand transfer connections through Abu Dhabi to 20 destinatons.
Alongside the impact of the health emergency, carriers in the region also face a challenge from the hit on local economies from the falling oil price The barrel price of Brent Crude dropped to as low as $20 during the crisis, and only climbed past the $30 level in mid-May. While this provides some savings on airline costs, the impact on demand makes for a difficult economic picture.
Airlines though will hope those states that have looked to diversify their oil-dependent economies through tourism will be keen to reinvigorate this sector. This was evident, for example, in the early announcement by Dubai's government that it would inject fresh capital into Emirates.
Having rapidly grown their fleets in recent years, all eyes are on the extent to which Middle East carriers may now cut back. Particular attention focuses on Emirates, as the biggest operator of Airbus A380s. While the type has been an early casualty at Air France, long-serving Emirates president Tim Clark sees the A380 remaining central to the carrier.
In an interview with the Financial Times, Clark said the A380 had a "place in the Emirates international network on the scale it has before. Albeit not today or fully next year, but the year after I think there will be a place for it and I think it is going to be extremely popular". Cirum fleet data shows Emirates has 115 A380s.
Etihad also operates 10 of the double-deck type and moved to distance itself from reports that it was considering keeping its A380s permanently grounded. Akbar Al Baker, chief executive of Qatar Airways, which also operates 10 A380s, was quoted during a mid-May press conference saying its parked A380s may not return for a year, or maybe never.
Middle East pre-crisis fleet and current backlog
Fleet on 31 Jan 2020
May 2020
May 2020-Dec 2021
Operator
In-service
Stored
TOTAL
Backlog
Planned deliveries
1
Emirates Airline
256
3
259
203
21
2
Qatar Airways
202
12
214
165
64
3
Saudia
157
23
180
38
3
4
Etihad Airways
96
30
126
100
9
5
Oman Air
47
6
53
24
8
6
El Al
43
2
45
0
0
7
Air Arabia
42
42
122
2
8
Flydubai
41
16
57
237
33
9
Gulf Air
33
1
34
39
7
10
Flynas
30
4
34
87
8
Source: Cirium fleets data, Qatar Airways excludes aircraft placed at Air Italy in Jan 2020
Emirates
Emirates Airline president Tim Clark says the airline industry will have to "tough it out" for the remainder of this year as it reels from the coronavirus pandemic, but is optimistic that business will begin to improve gradually during 2021. However, a full recovery could be several years away and will likely be driven by the availability of a vaccine, he warns.
The airline effectively ceased passenger operations on 25 March, and has grounded all of its 115 Airbus A380s. However, a large part of its Boeing 777 fleet has remained operational by virtue of a switch to cargo-only flights. This move - in response to the urgent global need for freight capacity - has helped stave off the cash-flow crisis caused by collapse in passenger demand, says Clark.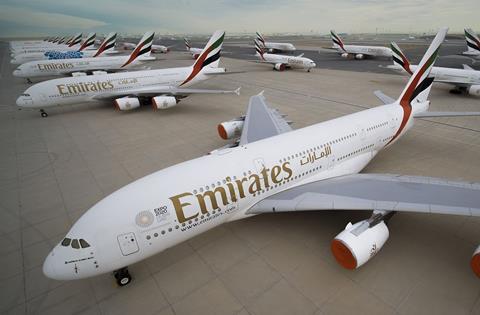 "We converted ourselves into a mini UPS – today we have 85 -300ERs flying, and 11 777Fs on top of that, so 96 of our fleet of 153 777s are operating," Clark said during a recent Arabian Travel Market webinar. "That's not going to deal with the loss of passenger income but it keeps the wolf from the cash door, which is the real bugbear of the airline industry at the moment."
Clark says that the pace of recovery in passenger demand has been slower than hoped so Emirates is having to evaluate adjusting the size of the carrier.
"We had targeted that the second half of May, believing things would start moving. But clearly they haven't. So we've had to consider what the sizing of the airline was going to be."
Emirates at the end of May confirmed it plans to cut an unspecified number of jobs. "We continuously are reassessing the situation and will have to adapt to this transitional period. We do not view this lightly, and the company is doing everything possible to protect jobs wherever we can," it says.
Qatar Airways
Qatar Airways has remained one of the most active carriers during the crisis, claiming to have to flown to more destinations than other airline over the past three months.
Chief executive Akbar Al Baker says: "We have become the largest global carrier, flying over 50 million kilometres to repatriate over 1.8 million passengers on over 15,000 flights. This has enabled us to accumulate unrivalled experience of how to safely and reliably carry passengers during these uncertain times."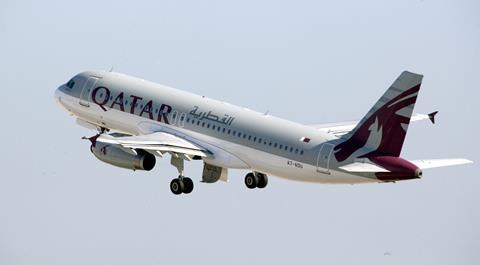 By the end of June, the airline plans to expand its network to 80 destinations, with more to be added by the end of the summer season.
The airline's cargo division has also significantly increased activity, operating around 180 flights a day using passenger aircraft to carry freight only, in addition to the airline's fleet of 28 freighters.
However, the crisis has not left the airline unscathed. At the start of May, Al Baker told employes it is to cut a "substantial number" of jobs as the global aviation industry faces a "grim" global outlook with no foreseeable improvement.
Later in May Al Baker told the BBC that the airline is set to retire around 50 aircraft and cut almost a fifth of its staff in the wake of the pandemic.
"Unfortunately, we will have to cut nearly 20% of our workforce – nearly equal to the amount of aeroplanes we will never fly again over the next three years," he said.
El Al
Israeli carrier El Al has spent much of the crisis trying to secure crucial state support to ensure its survival.
In March, El Al disclosed that it would suspend all remaining passenger flights while it awaited potential government financial support. It has also put 5,500 of its 6,350 employees on unpaid leave until the end of May.
After being turned down for an assistance package from the ministry of finance in April, El Al has since been in talks over a commercial loan with a state-backed guarantee. In May, it said it has received a preliminary indication that the government is prepared to provide support to the airline but with conditions attached.
In its belated full-year financial statement released on 14 May, El Al said a loan is "essential" and that the are "significant doubts" about the continued existence of the company as a going concern.
El Al's auditor Deloitte states that the collapse of demand and disruption caused by the coronavirus outbreak has prompted the airline to adjust its cash outflow and negotiate with lenders over a loan of around $400 million.
"Negotiations with the state and lender are continuing and uncertainty exists regarding completion," it said in a 'going concern' note.
The carrier in April reached a sale-and-leaseback agreement with an unidentified foreign company covering three Boeing 737-800s, while it has also cancelled leases for two more Boeing 737-800s.
Snapshot of other Middle East carrier developments
Etihad and Air Arabia secured the AOC for their new Abu Dhabi-based low-cost joint venture, which the partners say will launch "as market conditions improve";
Air Arabia net profits fell 45% for the three months to 31 March 2020 on revenue down 12%, as the coronavirus began to have an impact;
Kuwait Airways at the end of May announced it is to shed 1,500 foreign personnel in response to the problems presented by the coronavirus crisis;
Saudi Arabia, which suspended all flight operations in the country on 21 March, lifted restrictions to allow domestic flights to resume at the end of May.
Additonal reporting David Kaminski-Morrow and Max Kingsley-Jones
How the airline industry has been hit by the crisis
1

2

3

4

5

6

7

Currently reading

Middle East carriers aim to get back on track