LATAM and Avianca are Latin America's first carriers to file for bankruptcy protection amid the pandemic, but are unlikely to be last considering the slow pace at which the region's governments have implemented financial assistance programmes.
Colombia's Avianca, which filed for Chapter 11 bankruptcy protection earlier this month, and Santiago, Chile-based LATAM, which filed in the early hours of 26 May, say their virus-reduced operations will continue amid the bankruptcy protection process. Bankruptcy, they add, will allow them to restructure debt and prepare for the day when air travel across South America returns to some semblance of normalcy.
Avianca Holdings is one of 39 companies named in a joint bankruptcy filing with the US Bankruptcy Court for the Southern District of New York on 10 May. Others included Avianca Ecuador, Avianca Costa Rica, Tampa Cargo and Taca International Airlines.
In LATAM's case, 29 entities are included in the filing. Affiliates in Chile, Peru, Colombia, Ecuador and the USA are among them, but those in Argentina, Brazil and Paraguay are not.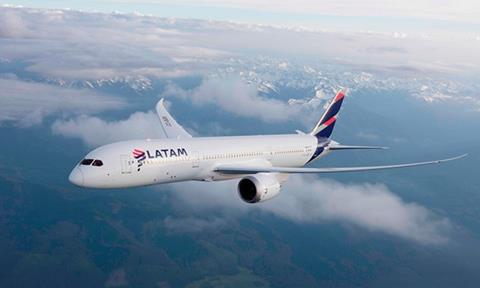 Airlines in Latin America face broader macroeconomic issues than many peers in Europe, North America and Asia. Some countries in those regions have implemented financial relief packages to help ease airlines' liquidity challenges. The USA and Canada have supported airlines in recent months, as have countries like France, the Netherlands and Germany.
In Latin America, several governments have considered offering aid to struggling air carriers but have not approved packages, leaving some carriers facing a liquidity crisis. Lack of financial support will be a considerable roadblock when carriers want to reinstate previously suspended routes.
"All the governments understand the importance of giving support to the industry, but Latin America is a poor region, and it's very hard to explain to the population that they are giving support to a private company despite this company providing a public service," says Eliseo Llamazares, head of the South American aviation and tourism practice at KPMG. "That is a very difficult conversation to have. And if there is any support coming, it will come very late."
In late April, air transport industry body IATA called on Latin American countries to harmonise plans to restart air service and reopen borders, saying an uncoordinated effort would hinder the sector's recovery. Just last week, the group predicted the region's air travel industry will recover "more slowly" than most of its economies.
"If the grounding continues beyond June we are going to see many airlines financially unable to restart their operations," IATA vice-president for the region, Peter Cerda, said in a webinar.
About 80% of the region's air traffic has come to a standstill in a place where, due to vast distances between population centers and the dearth of ground-based infrastructure networks, the sector is an essential part of everyday life and the economic well-being of the countries. Most South American countries have said they will begin to expand their aviation connections and open airspace restrictions in June and July, with Argentina being an outlier – having suspended most air travel until September.
Avianca said two weeks ago that it the process is "not an insolvency or liquidation procedure".
"We intend to pay providers in a timely manner for goods and services provided," said Avianca, which has shuttered its Peruvian division and cut its fleet as part of a reshaping.
Avianca added it is engaging with the Colombian government over financing structures that would provide additional liquidity through the Chapter 11 process. It said it hopes to exit reorganisation as a "highly-competitive and successful" airline.
Avianca operated a 156-jet fleet – including 143 passenger and 13 cargo aircraft – plus 15 turboprops, at the end of 2019. The company says it has started a comprehensive review of the fleet and the suitability of individual aircraft to its Bogota hub. While still underway, this effort is likely to result in Avianca returning aircraft to lessors and lenders. The leases will become "burdensome" as it proceeds with its reorganisation, the airline said.
In its filing with the Southern District of New York, LATAM says its 320-strong fleet includes nine unencumbered aircraft, 213 aircraft financed under finance leases and 98 leased under operating leases. With passenger demand falling to record lows as the coronavirus pandemic spread, LATAM was left to continue paying debts without income to support those payments. Through Chapter 11, the airline hopes to keep lessors and other creditors from impounding aircraft it will need when operations ramp back up.
That could also be a while, says KPMG's Llamazares. He thinks governments should assist airlines via liquidity infusions and support demand by reducing taxes.
"The total price of a ticket must come down if we want to recover and generate new demand," Llamazares says.
At the time of the filing, LATAM said it had around $1.3 billion in cash and is in talks with governments of its South American home states to source further funds, to protect jobs and minimise disruption.
Together, the 29 debtors in the filing hold an aggregate $22.2 billion in assets and approximately $14.9 billion in liabilities as indicated in their most-recent consolidated balance sheet, the document reads. The debtors say they have more than 100,000 creditors combined. LATAM had aircraft-related debt of $2.2 billion from five of its top creditors. At the end of 2019, LATAM had debt of $18 billion and assets of $21 billion.
"Despite undertaking meaningful cost saving and liquidity preserving measures, the company's liquidity position has continued to deteriorate in the wake of the [coronavirus] pandemic," LATAM Airlines Group's filing says. "This reorganisation process provides LATAM with an opportunity to work with the group's creditors and other stakeholders to reduce its debt, access new sources of financing and continue operating."
"The lessors are not the bad guys here," Llamazares says. "However, they do play an important role in how the airline can restart operations."
"Chapter 11 is a beautiful tool for the companies to navigate this difficult situation, which could remain for the next two years," he adds.
Delta Air Lines, which in December purchased 20% of LATAM for $1.9 billion, says on 26 May that it remains "firmly committed" to the partnership. "Airlines globally have been devastated by the COVID-19 pandemic, for which no business plan could have adequately prepared," chief executive Ed Bastian says in a statement.