The mid-sized metro of Lincoln, Nebraska in the Midwestern USA has long struggled to attract air service from major US airlines, forcing many air travellers to drive to airports in bigger cities such as Omaha and Kansas City to catch flights.
"We know because we tracked it – five [people] woke up in the morning, and four of them drove to another airport to travel," Nickolas Wangler tells FlightGlobal during a recent interview. "We have a ton of folks going to other airports, and the leisure component has been missing, really, forever."
Wangler is chief executive of Red Way, a new ultra-low-cost carrier (ULCC) that launched In June with a unique business model focused on flying leisure travellers. Red Way handles the customer-facing aspects of the business – such as marketing, ticket sales and checking baggage – while flights are operated by Miami-based charter carrier Global Crossing Airlines (GlobalX).
"This isn't a model that is going to appeal to any of the legacy guys," he says.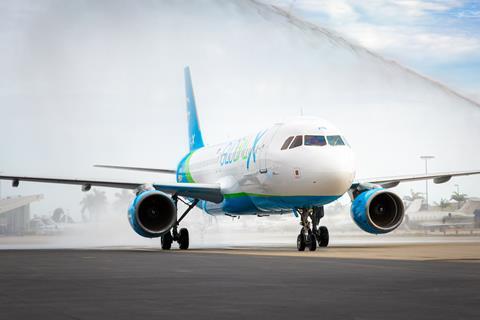 Red Way is betting that its model will revitalise air service in Lincoln and prove itself worth replicating in other parts of the USA.
Whether Red Way survives its early growing pains remains to be seen. The carrier has already dropped three of its original destinations – Atlanta, Austin and Minneapolis – as markets for those cities did not develop as expected following the airline's launch.
The carrier is currently operating flights from Lincoln to six US cities – Dallas, Las Vegas, Nashville, Orlando, Phoenix and Tampa.
Prior to the Covid-19 pandemic, United Airlines operated from Lincoln to Denver and Chicago, and Delta Air Lines flew from Lincoln to Atlanta and Minneapolis.
"Then Covid happened and Delta pulled out almost immediately," Wangler says. "We said, 'Well, what if we try to do this on our own?'"
TARGETING PEAK TRAVEL
More than three years in the making, the start-up's strategy is to "fly to peak markets during peak times of year", Wangler says, accounting for seasonal changes in demand. "People in Lincoln don't want to go to the desert in the middle of summer when it's 120 degrees – they want to go there in December and January."
Red Way's current schedule runs through 29 November, at which point some of the airline's markets destinations will change for the season, Wangler says.
Through GlobalX, Red Way is currently operating twice-weekly flights to and from cities in its network – a flight frequency the market "definitely supports", Wangler says.
Wangler has been "blown away" by the community's reception of Red Way's air service in the early going. "The assumption was that 50% of anybody getting on the airplane would be somebody in Lincoln, and that's what's happening," he says. "And we're capturing from the surrounding communities like we thought we would."
The carrier has strong community backing, as Red Way's launch is supported by $3 million in American Rescue Plan Act funding through a partnership with the city of Lincoln and Lancaster County.
Increasingly, mid-sized cities are looking to low-cost narrowbody operators such as start-ups Avelo Airlines and Breeze Airways to boost local business and connect residents to the rest of the country.
Established ULCCs such as Allegiant Air, Frontier Airlines, Spirit Airlines and Sun Country Airlines have proven that the low-cost model works, Wangler says. He cites Allegiant as following a similar strategy of starting with a focus city – Las Vegas – before expanding operations to other hubs like Orlando and Phoenix.
"Lincoln is a little different, but it's starting with a dot on the map and then taking the service into places that people want to go," he says.
NARROWBODY MINDED
GlobalX operates a fleet of Airbus A320-family aircraft, and keeps one jet stationed in Lincoln at all times, Wangler says. Flying passengers with narrowbody aircraft versus regional jets or turboprops is appealing to Red Way for several reasons.
"With a turboprop, you're talking about markets that are 300, 400, 500mi in range, and you're now competing with cars," Wangler says.
The ongoing shortage of qualified flight crews also means it "makes more sense to fly bigger airplanes than it does to fly [aircraft with] 50 seats," he says.
Plus, there are few cities within that distance from Lincoln that are considered leisure destinations. "The narrowbody jet affords us nonstop [flights] to places that are six hours away," he says. "We can reach anywhere in the [continental] US and even the Caribbean if we want to dip our toes in that water."
"It's also the right scale," he continues. "The math seems to work really well… We are really happy with the economics of the A320 for what we're trying to do right now."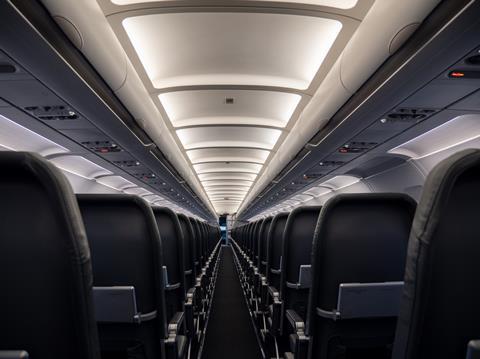 Red Way has no long-term plan to operate its own aircraft, Wangler says. "The concept behind this is, 'Hey, let's focus on one thing and not get too big'. This is never going to be 10 aircraft flying in and out of Lincoln… We don't have to worry about the pilots and flight attendants and maintaining the airplanes."
Rather, the new carrier plans to stay nimble, reacting to changes in market demand as needed. The carrier may eventually customise a GlobalX aircraft with a Red Way-branded livery, but for now, Wangler says, "We've got bigger fish to fry in terms of figuring out the model before we decide to go and paint the side of an airplane."
'CRAWL, WALK, RUN'
Red Way is keeping an eye on network expansion opportunities, but is following a measured strategy of "crawl, walk, run", Wangler says.
"We want to make sure what we're doing works, that all facets of the business work from a customer-service standpoint," he says. "Does that mean more dots on the map beyond what we're doing in the future? Sure. But I want to make sure what we're doing now will be sustainable."
Wangler stresses that Red Way is not competing with existing carriers, but rather with "the alternative of doing nothing".
"Do I have to go to Orlando next week? I don't, but if I have a hassle-free, affordable way to do it, then maybe it makes some sense to pick up and just go do that," he says.
Wangler believes Red Way's model could potentially catch on in other markets, he says: "If you can get the math to work, I think there lots of other places that have similar demographics and similar catchment areas where this could be deployed."
But first Red Way must prove that the concept is economically viable. Several years from now, Wangler says, he hopes to look back and say, "Hey, we built something that works, and we did it by not having to irritate a 900lb gorilla somewhere."