Adam Scott travels often for business between Bermuda and the East Coast of the USA, and sometimes the journey is more difficult than others. Late last year, he was forced to purchase passage on a cruise ship to make a Monday morning meeting in Bermuda.
Admitting that his experience was an "extreme example", the founder and chief executive of soon-to-launch regional airline Bermudair uses the episode to illustrate how air service to the British overseas territory has suffered in recent years – particularly for business travellers.
Scott believes that Bermudair will help reverse that trend, capitalise on a niche market and become the "first genuine business-class short-haul airline", he tells FlightGlobal.
The carrier received an air operator certificate on 26 July from the Bermuda Civil Aviation Authority (BCAA), and on 7 August received approval of its foreign air carrier permit from the US Department of Transportation, clearing it to begin flights to the USA.
"They are now one step closer to becoming a scheduled operator based in Bermuda, the likes of which we have not seen since 1968," the BCAA said on social media.
Bermudair will fly a pair of mid-life Embraer 175s that will eventually be modified for all-premium seating. Until then, the carrier is "selling 44 of the available 88 seats on our aircraft to maintain a premium, spacious experience", it says.
Originally set for 25 August, Bermudair's launch has been held up by supply chain issues that have delayed delivery of its single-seat business-class suites.
Now, the carrier's first flights from its base at Bermuda's LF Wade International airport to Boston and New York's Westchester County airport are scheduled for 31 August, followed by flights to Florida's Fort Lauderdale-Hollywood International airport starting on 22 September.
Westchester represents Bermudair's "core demographic" and offers a simpler alternative for air travellers who would prefer to avoid New York's congested hubs, Scott says, while flying to Fort Lauderdale will provide the carrier access to the broader market of South Florida.
The carrier is betting that Bermuda's sizeable business community and high-end leisure market will sustain its planned flight frequencies, and allow for future network and fleet expansions.
START-UP ODYSSEY
The Bermudair project is a spin-off from Scott's long-running effort to launch another business-oriented carrier, Odyssey Airlines, which would operate transatlantic flights with Airbus A220s between London City airport and the East Coast of the USA. The carrier has yet to get off the ground.
"You might call it a painful voyage of working on the Odyssey concept and trying to bring that to fruition," Scott says. "It is still very much a work in progress; we have put it on hold for the time being."
He describes focusing on Bermudair rather than Odyssey as "a near-term pivot that is enabled by readily available aircraft and a much shorter lead time for entry to service".
"My view is that if you have the right-sized aircraft and go after the right market – which is not discretionary leisure traffic but a robust business, high-end leisure and returning-resident market – you're bound to succeed, especially if what you're offering is truly differentiated and is something that affords people [more] time," he adds.
Scott is eager to prove that this concept applies to Bermuda, hoping to help the island's air service rebound from the Covid-19 pandemic and overcome being "a peripheral place for mainline carriers".
"What we have seen with the lack of airlift to the island, the degradation of those services over the last number of years for a multitude of reasons – the limited number of beds on the island, Covid restrictions – have made it increasingly difficult for the incumbent carriers to fill the back of the aircraft on a year-round basis," he says.
This shift has been particularly detrimental to businesspeople who frequently commute between Bermuda and major cities on the East Coast, he adds.
Bermudair will compete with mainline carriers, private jet companies and "people that would otherwise come on a cruise ship", Scott jokes. But he believes the start-up faces relatively scarce competition: "Frankly, there just isn't another service out there that has the natural capability… or inclination to make itself quite as relevant for this specific market."
BACK TO THE GOLDEN AGE
Both of Bermudair's E-Jets are about 10 years old and were originally operated by failed UK regional carrier Flybe. The aircraft cabins will be converted from 88 seats to 30 all-premium seats in 1-and-1 configurations designed to give passengers a sense of privacy.
The cabin configuration change is anticipated to be completed by 1 November but could be held up by further supply chain-related delays. "We're already seeing a contraction of air service for fall and winter and are proceeding with a modified seating configuration that enables us to fill the service gaps now and establish frequency of service ahead of our full-scale, aisle class launch in November," Bermudair says.
The carrier's single-suite pods will be "very similar to what you might expect on a transatlantic flight without the fully lie-flat feature, because we don't need that on [segments] that average two hours or so", Scott says.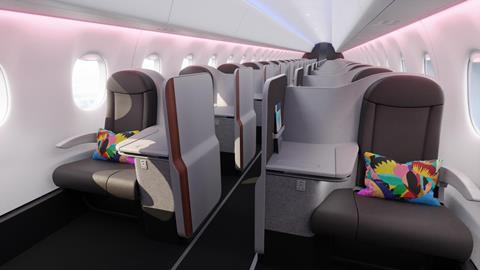 Introductory fares are set to start at $199, including taxes, the carrier says.
The in-flight food and drink service is intended to be "reminiscent of the golden age" of air travel, Scott says – "nothing over the top but nothing that looks sad and disappointing, which I think is the status quo".
Reducing the number of seats on Bermudair's E175s by nearly two-thirds may seem like a bold bet on the market for business travellers, but the start-up specifically targeted aircraft that could accommodate 30 premium seats.
"It is my belief that this market… supports an elevated product more akin to a private jet than a traditional mainline carrier," Scott says. "At the same time, we have got to make sure that we got [the right] number of seats and, of course, underlying economics that work."
The carrier considered targeting smaller regional aircraft, but ultimately decided that the E-Jets provide the most flexibility in terms of range and "a much better platform for us to evolve this business".
Bermudair will likely add further aircraft, but Scott says that the island territory's limited market means Bermudair will never operate a sizeable fleet.
"If the business performs as well as we expect it to, we'd like to see this become at least a four-aircraft operation," Scott says. "We could built this up to maybe five or six aircraft, but that is still a small market in the grander scheme of things."
Adding more East Coast cities to its network is another likelihood once Bermudair is up and running, as Scott notes a number of "very attractive markets" have low or no air service from the island.
For now, the new business-class carrier is focused on launching its first commercial flights to the USA, it says: "Our initial launch plans were impacted by supply chain issues… but our decision to launch is driven by our steadfast commitment to Bermuda."