The severing of regional US carrier Mesa Airline's contract to operate on behalf of American Airlines in favour of a tentative five-year deal with United Airlines represents a significant shake-up in the regional airline industry.
The Phoenix-based carrier has said that it is still "finalising" the United deal. But, in March, it plans to begin transitioning to United aircraft it now flies for American. Mesa plans for its transition to United to be complete by 3 April. Mesa already flies for both American and United, operating 60 Embraer 175s, 37 Bombardier CRJ-900s and three Boeing 737-400Fs for DHL Express, according to Cirium fleets data.
But accounts differ on how the relationship soured between Mesa and American. In a 17 December memo to employees, Derek Kerr, American's chief financial officer and president of American Eagle, told employees that his company was concerned about "various financial and operational difficulties this year".
"As a result, we have concerns about Mesa's ability to be a reliable partner for American going forward," Kerr says. "American and Mesa agree the best way to address these concerns is to wind down our agreement."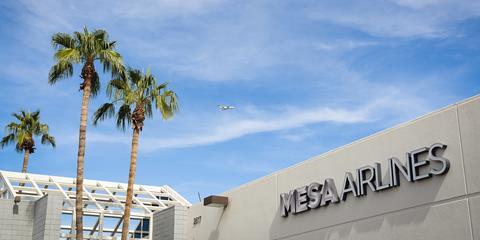 Jonathan Ornstein, Mesa's longtime chief executive, bristled at the suggestion that American initiated the breakup due to Mesa's struggles during a 23 December interview with FlightGlobal.
"While the pilot shortage has created significant challenges recently, I would suggest that our operational performance over the last 10 years has certainly been no worse than mainline American," he says.
American Airlines did not comment on Orntstein's remarks.
In an internal memo to Mesa employees, Ornstein says the carrier's operation with American was losing about $5 million monthly due to higher pilot pay rates and penalties for not meeting contracted block-hour requirements – meaning it wasn't flying enough.
"We would have been happy to maintain a relationship with American. We just couldn't afford to do it," he tells FlightGlobal. "We can't afford to lose $5 million a month. That's a lot of money for us. We're losing 50 to 60 pilots a month, watching our block hour production collapse. What else could we do? We had to get out from under this."
Mesa reported a third-quarter loss of $10 million on 8 August as its block hours fell and it continued feeling the effects of the pilot shortage. Parent company Mesa Air Group postponed its 12 December fourth-quarter earnings call and has yet to set a new date.
Ornstein believes the national pilot shortage was "masked" by the downturn in demand for air travel caused by the Covid-19 pandemic and exacerbated by early retirements during the slowdown. But the root problem is the expensive, years-long process of accruing enough time in the cockpit to become a commercial pilot, he says. With airlines recovering from the Covid-19 pandemic and travel demand surging, US majors boosted wages, drawing captains and first officers away from the regionals.
American, for example, has "aggressively" recruited Mesa's pilots, Ornstein says, without helping cover the cost of rising pilot wages. Then it penalised Mesa for not flying enough under its block hour requirements because it doesn't have pilots to fly its aircraft. He declined to tell FlightGlobal how many Mesa aircraft are parked due to the pilot shortage.
"You raise regional pilot pay almost 100% and then refuse to support pilot pay increases at not-wholly-owned carriers, and then you heavily recruited our pilots and then you penalise us to the brink of bankruptcy," Ornstein summarises.
Mesa was forced to make a change, Ornstein says. By his account, American agreed to match whatever United offered. United agreed to waive block hour penalties, pay a block hour rate and fund new pilot wages – and American did not. Ultimately, American did not provide what it would take for Mesa to fly out its contract, according to Ornstein.
"They offered a little more money, but a little bit wasn't enough," he says. "I mean, we are not going to drown in an inch of water."
"We had to plead to be let out of this contract," he continues. "Any inference that anything other than that occurred is a fabrication. Not only did American ask us to fly out the contract, at one point they offered us an extension if we would continue."
Filing for bankruptcy could have wiped out all of Mesa's equity, Ornstein acknowledges. The airline may have been forced to sell its aircraft, though he believes the airline would have survived even if it hadn't reached a new agreement with United. The deal gives Mesa a clear path forward, however.
Ornstein spoke glowingly of Scott Kirby, United's chief executive, with whom he's had a personal relationship since the early 1990s, and he is "delighted" by Mesa's new deal with United: "We're going to start moving our aircraft over to United, and it will be a smooth transition."