Low-cost carrier Pegasus Airlines is about to take delivery of its 100th aircraft. The passing of the landmark is not only illustrative of how far it has come since launching scheduled services in 2005, but of the rapid growth seen in the Turkish market – both before and since the pandemic. Now the challenge it is to continue this expansion.
"Of course it's a milestone for us," Pegasus Airlines chief commercial officer Onur Dedekoylu said, speaking to FlightGlobal during the World Aviation Festival in Lisbon on 28 September, as management prepared to take delivery of the aircraft from Airbus in Hamburg.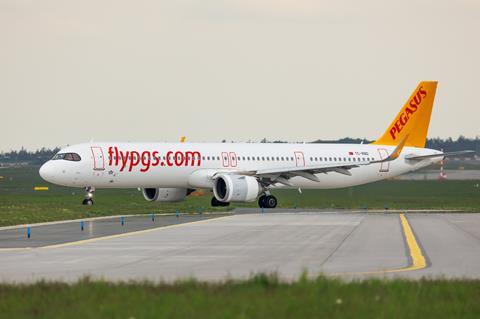 The Airbus A321neo will be the latest delivery from a commitment for Airbus narrowbodies that, after it in July firmed a commitment for 36 more units, covers a total of 150 Neos. Receipt of the latest aircraft will see if halfway through its deliveries. All the remaining [deliveries] will be A321s," says Dedekoylu.
The carrier has already taken delivery of all 42 A320neos as part of the order and its focus is now to capitalise on the additional range and seating the A321neos provide.
"It does grow the range. Now with the A321s, we can cover 500 airports," says Dedekoylu. "We are flying to 93 of these international airports, so that gives us another 400 airports [to choose from].
"It is providing us fuel efficiency and during the peak times, we can go up to 239 passengers instead of 186 passengers with A320. So it is really working well for us."
Three-quarters of its fleet are Airbus Neos – the remainder comprising some older A320s and Boeing 737-800s – and its fleet plan is to operate an all-Neo fleet by the end of the decade. "Our deliveries take us up to 2029. So from 2030 onwards, we need to have a new order soon. We are discussing this internally," he says.
STRONG RECOVERY SINCE PANDEMIC
Arguably no aviation market in world has rebounded as strongly from the pandemic than Turkey, driven by its strong tourism industry. International visitors to the country had already returned pre-pandemic levels by the summer of 2022, as overseas tourists flocked to Turkey. Its carriers have also been able to continue to serve Russia since the latters invasion of Ukraine.
Pegasus sees that strong demand continuing, even if the nature of it is changing slightly "This year, that revenge travel is softening," says Dedekoylu, referring to the phenomenon of people flying to make up for travel cancelled during the pandemic. "I can't say it has gone away, because many people are back to frequently travelling only this year.
"There is strong demand, but not so much because of the revenge travel, but because things are going back to normal."
In this strong demand environment all Turkish carriers have enjoyed good growth and Pegasus, the country's second biggest operator, has continued to take its share.
Passenger numbers are up a fifth over the first eight months of the year at 20.7 million – putting it just ahead of pre-pandemic levels.
Capacity had already long since passed 2019 levels, reflecting the increased portion of international traffic in its business. While passenger levels up are up 7% on domestic routes over the first eight months of this year, international passenger numbers are 30% higher. It means that while the passenger mix pre-pandemic was broadly even between domestic and international activities, now almost two-thirds of Pegasus passengers are on international routes.
"We are sourcing the demand from different segments and geographies," Dedekoylu says. "Only 20% of the international, which is the big chunk of our revenue, is sourced from Turkish passengers. 80% is coming from abroad. We are flying to 48 countries. So we have the chance to diversify the risk."
This also reflects that, unusually for a low-cost carrier, Pegasus has a significant portion of transit traffic. "About 25% of our total passengers are transit. It is even higher for international; 32% so far this year came from transit," he explains.
"That is not in the low-cost model," he acknowledges, but says it has been able to retain its low-cost principles while also exploiting the connectivity opportunities Turkey's natural location provides.
"We are a network low-cost model and this is unique to us and it is working for us without compromising on the cost structure. It is helping us a lot in terms of load factors, in terms of diversifying the risks and sourcing incremental passenger traffic. So that is the big difference between the classic European or US low-cost carriers and ourselves."
CAPITALISING ON TOURISM OPPORTUNITIES
The weakness of the Turkish lira has also added to the attractiveness of the country for tourism, making it more affordable for foreign visitors.
But Dedekoylu insists Turkey's appeal extends beyond the weak currency, pointing to the country's tourism fundamentals and believes there opportunities to do more. "Turkish international aviation always grew by double-digit [rates] between 2010-16, and during those times the Turkish lira was very strong," he says. "There could be a transition period, but the attractiveness of Turkey…. its geographic location is never going to go away."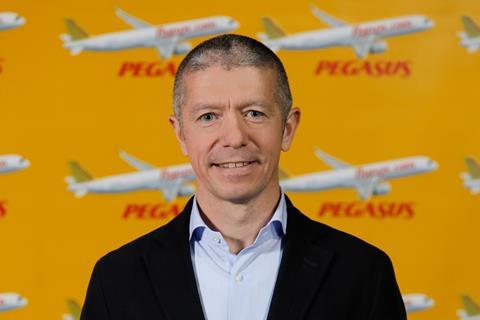 Notably he sees an opportunity for the country to boost tourism by capitalising on its connecting traffic. "The transit passengers are only using the airport as a transit location.
"The dream would be for a traveller to come to Istanbul for a few days, and then connect. The same thing for Antalya for instance. I think that is an opportunity that will be exploited in the future."
Similarly, he notes a lot of its point-to-point traffic is single-destination tourism, rather than travellers visiting multiple points in the country. "I think it will push us, and all stakeholders in the tourism industry, to go after opportunities elsewhere," he says.
AIRPORT CAPACITY CRUNCH POINTS
Developing airport infrastructure remains one of the key challenges to meeting this tourism potential. Pegasus will be boosted by the opening next month of a second runway at its main Sabiha Gokcen hub in Istanbul.
"With the opening of the second runway, some extra capacity will be released," says Dedokoylu. "However terminal capacity is now restricted at Sabiha Gokcen, especially in the peak summer days. So now we are talking to the authorities, to the terminal management company, in terms of building a second terminal, which is very necessary to utilise the runway capacity," he says.
"Antalya has two runways, but is now restricted with terminal capacity – which will be resolved, as far as we know, in 2025. But then in the near future, there will be runway capacity restrictions. So some optimisation needs to be done," he says, suggesting efforts to increase movements from 60 an hour. "Why can't we increase it to 70 or 80?" he asks.
"There are some restrictions at Istanbul airport too - not in the terminal but more on the runway. These three airports are very crucial for Turkish aviation and tourism. We can do so much with the other bases and airports, but if we don't have the growth capacity in these three airports, there won't be enough growth."
Pegasus takes 100th aircraft
Pegasus Airlines took delivery of its 100th aircraft, an Airbus A321neo, on 30 September. It marks the airline's 75th out of 150 Airbus narrowbodies it has ordered and is the ninth of 16 set for delivery this year.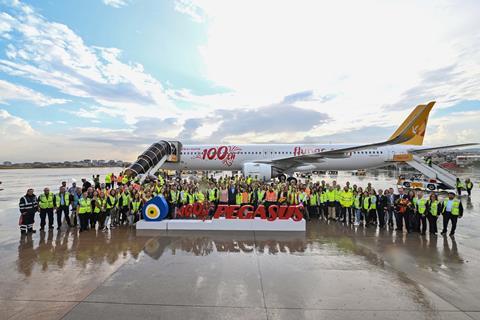 "We've now reached our 100-aircraft milestone with our new A321neo aircraft," says Pegasus chief executive Guliz Ozturk.
"These aircraft offer more capacity through a longer fuselage while maintaining an operational process that aligns well with our current structure. In essence, this allows us to provide higher-capacity services without complicating our operational set-up. In this regard, we are yielding high value efficiencies."
The delivery of the airline's 100th aircraft comes as this October marks the centenary of the Turkish Republic, and the new aircraft features the silhouette and signature of it's first president, Mustafa Kemal Ataturk, on its tail.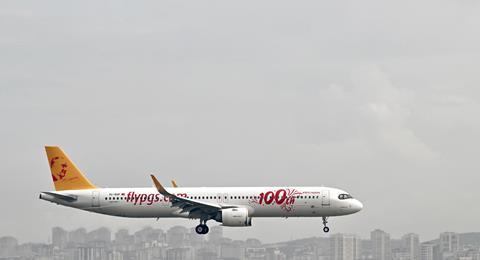 Story updated on 2 October to add details of 100th aircraft delivery