A resurgence of the coronavirus pandemic in the Asia-Pacific, as well as tougher quarantine rules at home, appear at odds with the Singapore Airlines Group's steady ratcheting up of capacity.
Bad news has come thick and fast in Singapore. Hours after the perennially-delayed Hong Kong travel bubble was again pushed back — this time owing to a sharp rise in Covid-19 cases in Singapore — the World Economic Forum cancelled its Singapore meeting in August. The event had been anticipated as a stage for the Southeast Asian country to showcase its ability to conduct major events safely.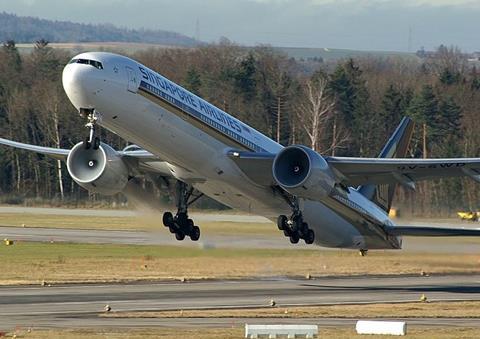 And despite Singapore's having one of Asia's leading vaccination drives, the rise in Covid-19 cases locally — a significant number of them with no known links — has seen the government impose a number of restrictions: schools are closed, dining-in at restaurants prohibited, and group sizes limited to two individuals.
Amid all the gloom, the SIA Group — comprising Singapore Airlines, Scoot, and Silkair — released somewhat more upbeat news with its traffic figures for April. The group declared another month of capacity growth, stating that it operated nearly one quarter of pre-pandemic passenger capacity during the month.
Capacity as measured by ASKs climbed eightfold from a year earlier, and passengers carried rose more than tenfold to just over 110,000.
According to its regular traffic updates, SIA has consistently beefed up group ASKs in 2021, rising 16% from January to April.
Cargo capacity was up over the last 12 months, growing 49.9 % year on year — impressive, but far off the pace of passenger capacity growth. FTKs rose 82.7% and freight carried doubled.
"Despite growing optimism due to the increased pace of vaccinations around the world, border controls and travel restrictions remained largely in place following new waves of Covid-19 infections and the emergence of more virulent strains of the virus," says SIA.
Indeed, Asia-Pacific international travel remains as closed as ever. The appearance of the new B.1.617 strain in India — and its spread to other countries — has seen international travel restrictions tightened.
Singapore itself remains largely shut to international travellers. Citizens and permanent residents arriving from most countries are now required to serve (and pay for) a full 21 days in hotel quarantine.
Despite the challenges, the group actually enjoyed a year-on-year load factor bump in April 2021, with the metric rising 4.6 percentage points year on year to 13.7%.
But there is evidence that the SIA Group's capacity growth is outpacing demand. From January to April, SIA Group load factors were consistently below regional peer Cathay Pacific Airways. In April, Cathay's load factor of 24.2% was nearly double that of the SIA Group – although the Hong Kong group flew just 22,400 passengers, less than a quarter of those flown by SIA carriers.
In addition, SIA's load factors have been well below the Asia-Pacific average. For March, the Association of Asia-Pacific Airlines reported an average load factor of 23.8%, nearly double SIA's 12.8%.
The discrepancy with IATA was even starker: in March, it recorded average international load factors of 43.7%.
SIA Group load factors compared with international carriers
January
February
March
April
Singapore Airlines Group
11.3%
9.7%
12.8%
13.7%
Cathay Pacific
13.3%
13.9%
21.2%
24.2%
International average (via IATA)
44.9%
40.8%
43.7%
N/A
International Asia-Pacific (AAPA, 40 airlines)
27%
24.8%
23.8%
N/A
The bubble arrangement with Hong Kong was never going to be a panacea for SIA (or Cathay, for that matter), given that it restricted the carriers to operating 200 seats on alternating days. Still, its successful implementation and growth would have signalled a small degree of normalcy.
Further, it would have set a useful format for the setting up of other possible bubble arrangements. Given Singapore's Covid-19 outbreak, however, walled-off countries such as Australia and New Zealand will be even more wary of receiving international travellers.
Taiwan, another possible bubble partner that largely escaped the first wave of the virus, is also battling a fresh wave of Covid-19. China is unlikely to open to international travel anytime soon, and India's Covid-19 catastrophe will indefinitely delay any sort of opening with this key market.
Singapore is also likely to remain cautious of receiving visitors in large numbers from the Europe and the USA.
Amid this dismal environment, the SIA Group could well decide to reassess the pace of passenger capacity growth. After all, Covid-19 has the final vote on how many seats are filled.

Greg Waldron is the Asia Managing Editor of FlightGlobal, responsible for the team's airline, aerospace, and defence coverage across the region. He has worked at the company since 2009. In the airline space, Waldron has conducted dozens of interviews with airline leaders in the Asia-Pacific. He also covers areas such as MRO and safety. On the defence beat, Waldron has written extensively about the rise of Chinese airpower, as well as broader airpower developments around the region, such as indigenous fighter programmes, and regional acquisitions of foreign equipment. In addition, Waldron writes about commercial helicopters in the region and business aviation. Waldron worked has a freelance journalist with his work appearing in several business publications.
View full Profile