Passenger traffic among leading global carriers sharply recovered last year, outpacing the additional capacity they restored and helping load factors climb back above 80%. FlightGlobal's analysis of the airline industry traffic performance in 2022 based on the top 100 airline groups by revenue passenger kilometre (RPKs).
While overall passenger traffic among the world biggest carriers remains well down on pre-crisis levels, the combination of strong demand set against constrained capacity delivered a welcome boost in load factors which helped underpin the industry's improved revenue performance.
FlightGlobal analysis of passenger traffic across the 100 biggest airline groups last year shows a 64% increase in passenger traffic as measured in RPKs compared with the same carriers in 2021.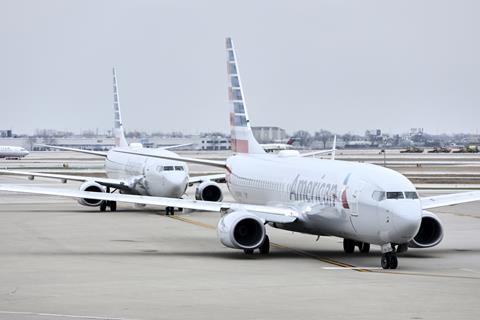 The same airlines increased their capacity 40% in 2022 versus the previous year, reflecting the reopening of borders as travel restrictions were gradually lifted. Capacity levels were, relative to demand, kept higher during 2021 in part reflecting that services could be made profitable by increased cargo contributions or to retain a presence in key markets during the pandemic.
This, combined with supply chain caps to the speed at which airlines could return capacity even once restrictions were lifted, helped drive a more than 10 percentage point jump in collective load factors among leading carriers from under 70% in 2021 to just over 80% last year. That is less than three percentage points down on load factor for the same airlines pre-pandemic in 2019.
The top 100 airline groups carried a little over 3 billion passengers in 2022. That is up 42% on 2021, though still almost a billion short of the 3.9 billion the same airlines flew in 2019.
The higher rate of RPK growth over passenger volumes last year reflects the opening of long-haul international markets for passenger travel. Passenger activities were heavily concentrated around domestic and short-haul markets during the pandemic, meaning lower RPK levels.
The bigger gap of passenger traffic to pre-pandemic levels, compared with revenues – 27% down compared with a 6% shortfall in revenues – illustrates the extent to which higher yields supported the industry's stronger financial performance last year.
REGIONAL SPLIT CONTINUES
The various dynamics of markets and government strategies for dealing with the pandemic – or more specifically the unwinding of travel restrictions – is clearly evident in the differing fortunes of US and Chinese carriers.
In the early stages of the pandemic, Chinese carriers – buoyed by a large domestic market – were among the first to restore a semblance of traffic. The big three Chinese carriers featured among the eight biggest airlines in the world by traffic in 2020; China Southern Airlines ranking as the largest airline by that metric that year.
However as China remained largely closed to international travel and doubled down on its zero-Covid strategy, last year was to prove the toughest for Chinese carriers. No Chinese operator featured among the 10 biggest by traffic last year, China Southern the highest ranked at 14th.
US carriers had also benefited from a large domestic market to fall back in the early part of the pandemic, and then were among the first to reap the benefits of rebounding international travel when the USA eased restrictions for a string of countries in November 2021.
American Airlines was the biggest airline gropup last year as measured by RPKs, just ahead of United Airlines and Delta Air Lines. All of the 10 biggest carriers last year enjoyed a double-digit increase in traffic – and more than doubled in the case of Emirates and the three big European network carriers groups Air France-KLM, IAG and Lufthansa.
Top 10 airline/groups by traffic (2022)
Airline/Group
Traffic 2022 (RPKs m)
Change v 2021
Change v 2019
Source: FlightGlobal analysis; Ryanair/Qatar Airways RPK estimated based on ASK/Pax data *March 2023 year-end
American Airlines Group
346,939
33%
-11%
United Airlines Holdings
332,736
60%
-14%
Delta Air Lines Group
314,527
45%
-18%
Air France-KLM
237,567
105%
-19%
Emirates Airline*
225,867
141%
-22%
IAG
215,749
174%
-24%
Lufthansa Group
207,035
132%
-30%
Ryanair* (est)
207,000
72%
14%
Southwest Airlines
199,263
20%
-6%
Qatar Airways* (est)
168,000
77%
-1%
In terms of passenger numbers, Southwest Airlines and Ryanair both carried more than United Airlines last year – though Ryanair's figures are for the March year-end so do a cover a more favourable operating period.
Top 10 airline/groups by passenger (2022)
Airline/Group
Passengers 2022
Change v 2021
Change v 2019
Source: FlightGlobal analysis; * Pax number estimate, ** March 2023 year-end, *** scheduled only
American Airlines Group
199.3m
21%
-7%
Delta Air Lines Group*
175.0m
35%
-14%
Ryanair**
168.6m
74%
14%
Southwest Airlines
157.0m
27%
-4%
United Airlines Holdings
144.3m
38%
-11%
Lufthansa Group
101.7m
117%
-30%
IAG
94.7m
144%
-20%
Air France-KLM
83.3m
87%
-20%
IndiGo***
75.3m
64%
0%
Turkish Airlines
71.8m
60%
-3%
The strong US carrier performance helped bring leading North American carrier traffic to within 14% of pre-pandemic levels for 2022 – only bettered by Latin American airlines which were within 9% of 2019 levels.
It was European and Middle East carriers that enjoyed the biggest pick-up in demand, traffic doubling in both regions last year.
Chinese carrier traffic falls dragged growth down among Asia-Pacific airlines as a whole last year. While traffic covering 37 leading carriers in this region did rise 39%, it remains at only half pre-pandemic levels – the region with the most ground to recover on 2019.
Notably Singapore Airlines Group enjoyed the biggest upturn in traffic of any carrier in the top 20 with a more than five-fold rise in 2022. That reflected both a low base figure during the crisis, given its lack of domestic market to fall back on, as well as the carrier's early response to add back capacity as restrictions eased.
Regional split of passenger traffic data for top 100 airline groups (2022)
Region
Traffic (RPK bn)
Capacity (ASK bn)
Load factor
Passengers (m)
Source: FlightGlobal analysis, data based on 100 biggest airline groups; data for most recent financial year closed used where calendar year unavailable
2022
v 2021
v 2019
2022
v 2021
v 2019
2022
2022
v 2021
v 2019
North America
1,713
43%
-14%
2,068
27%
-11%
82.8%
960
31%
-10%
Europe
1,737
104%
-18%
2,086
70%
-15%
82.8%
889
88%
-15%
Asia-Pacific
1,262
39%
-51%
1,691
19%
-46%
74.6%
746
19%
-45%
Middle East
612
112%
-19%
786
63%
-21%
77.9%
164
98%
-18%
Latin America
351
58%
-9%
426
51%
-8%
82.4%
236
44%
-4%
Africa
65
71%
-15%
92
35%
-20%
70.6%
20
100%
-5%
World
5,739
64%
-27%
7,150
40%
-24%
80.1%
3,014
42%
-29%
Unsurprisingly, given that both short-haul travel and leisure demand were the first markets to open up post-pandemic, low-cost sectors carriers are more advanced in their traffic recovery.
Analysis of low-cost carrier traffic data, including for those among airline groups where RPK data is available by carrier unit, shows traffic for budget operators closed to within 10% of 2019 levels last year. Traffic among network carriers remained almost a third down on pre-pandemic levels last year.
Editor's note: FlightGlobal analysis of airline statements, results and annual reports, as well as regulatory, industry and government data. Figures for 2022 calendar year where available or latest financial year unless stated. Estimates based on historic/industry data have been used for carriers likely to be among the top 100 by RPKs where partial or full traffic figures are unavailable.
Supporting documents
Click link to download and view these files

Based in London, Graham has been with FlightGlobal for over 20 years predominantly working across its online news platforms and Airline Business. With a focus on developments across the airline industry as a whole, and within Europe in particular, Graham has also edited FlightGlobal daily papers from events such as the IATA AGM, moderates industry panels and co-presents the Airline Business podcast.
View full Profile