A mixed picture in which tourism grew strongly but domestic traffic was sharply down lay behind the first year in a decade in which annual passenger numbers fell at Turkey's two biggest carriers in 2019.
Turkish Airlines' passenger numbers fell 1.1% in 2019 in carrying 74.3 million, while Pegasus Airlines passenger levels dipped 0.3% to just under 30 million.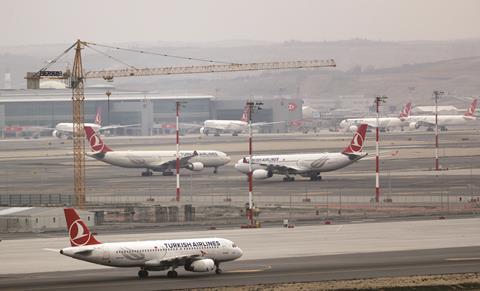 The lower.overall levels reflected much reduced capacity and traffic in the domestic market.
Turkish Airlines' domestic passenger numbers fell 7.5% to 30.4 million. Load factor though increased almost a point as traffic measured in RPKs fell less sharply than the 6.9% cut in domestic capacity. By contrast the Star Alliance carrier's international passenger numbers climbed 3.8% to 43.8 million during the year.
Pegasus Airlines' domestic passenger numbers were down 11.5% to 15.7 million in 2019. The carrier's load factor on domestic routes climbed more than a point as it cut capacity more than 14%.
Pegasus' international traffic, including the contribution of Air Manas, increased 17% to 13.7 million.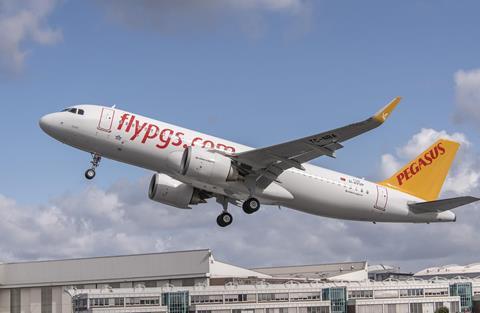 Both Pegasus Airlines and Turkish Airlines had continued to increase passenger levels, even through the challenging political uncertainty - including a terror attack at Istanbul Ataturk airport - which hit air travel demand to Turkey in 2016.
Turkish Airlines and Pegasus Airlines 10-year traffic trend
Turkish Airlines
Pegasus Airlines
Year
Passenger (m)
Change
Passenger (m)
Change
2019
74.3
-1.1%
29.9
-0.3%
2018
75.1
9.5%
30.0
7.7%
2017
68.6
9.3%
27.8
15.3%
2016
61.3
2.5%
24.1
8.1%
2015
62.2
11.8%
22.3
13.2%
2014
54.8
13.5%
19.7
17.4%
2013
48.3
23.6%
16.8
23.9%
2012
39.0
19.6%
13.6
19.8%
2011
32.7
12.2%
11.3
31.8%
2010
29.1
15.9%
8.6
77.5%
Source: Cirium
A similar picture was reported by Turkish airports operator TAV for the year, where strong international traffic offset reduced numbers from the domestic market to enable it boost revenues and profits.
"With strong growth in arrivals from European markets and Russia, the number of tourists visiting turkey increased 14% in 2019 and reached 45 million," TAV says. "Owing mostly to supply cuts by the airlines, domestic traffic in Turkey continued to be soft throughout 2019."
Turkish economic challenges
The challenges impacting domestic demand can be traced back to the Turkish Lire depreciation and the related recession which hit Turkey in the second half of 2018.
However, the IMF notes though that expansionary fiscal policy and more favourable market sentiment enabled growth to resume in Turkey last year, albeit at a lower pace. "Growth should be slightly positive for 2019 as a whole – about a quarter of a percent – despite the large negative carryover effects from the 2018 recession," the IMF said in a November analysis.
It is projecting GDP growth of around 3% for Turkey this and next year. But it notes: "Turkey remains susceptible to external and domestic risks, however, and prospects for strong and sustainable growth over the medium term look challenging without reforms to address vulnerabilities, strengthen policy credibility, and boost productivity."
For its part Turkish Airlines foresees a return to steady passenger growth this year.
In a projection shared on 24 January – before the scale of the coronavirus outbreak became clear – Turkish Airlines said it expected higher passenger levels on both domestic and international routes in 2020. The carrier sees domestic passenger numbers increasing from 30.4 million to 31.5-33 million while international numbers rise from 43.8 million to 46-47 million.
How the year is playing out so far?
The start to 2020 however has not suggested the picture has dramatically changed just yet, at least on the domestic front.
January traffic figures do show a return to growth for Pegasus Airlines. The low-cost carrier's overall passenger numbers were 9.4% higher in carrying 2.57 million in January. That includes 2.9% more domestic passengers at 1.43 million.
Turkish Airlines passenger numbers were still down. January traffic shows a 0.4% reduction to 5.65 million. Crucially domestic passenger levels were down 13% at 2.24 million - roughly in line with the 11% reduction in capacity.
January traffic figures released by Turkey's General Directorate of State Airports Authority show domestic traffic was down 9.1% in January. across all Turkish airports. This is in contrast to the 12% jump in international passenger levels. Overall passenger levels across Turkish airports were fractionally down for January.
Notably domestic traffic was down 18% at Turkey's third largest airport Ankara and 15% at the fourth biggest Izmir.
Direct comparison at Turkey's main hub, the new Istanbul airport which fully opened last year, is complicated by it being in the transitional phasing of switching flights from the old Ataturk airport in January 2019. But combining figures for both Istanbul airports shows a similar trend of lower domestic passenger levels but higher international passenger numbers.
Looking further ahead, Cirium schedules data for April shows a pick-up in Turkish domestic capacity compared with the same month last year. But domestic seat capacity will not yet return to the level of two years ago. Overall seat capacity remains 11% down on April 2018.
Leading carriers by seat capacity on Turkish domestic routes:2018-20
Airline
Seats Apr 2018
Seats Apr 2019
Change v Apr 18
Seats Apr 2020
Change v Apr 19
Turkish Airlines
3,304,610
2,873,143
(13.1%)
3,303,942
15.0%
Pegasus Airlines
1,660,638
1,281,483
(22.8%)
1,356,019
5.8%
SunExpress
281,610
224,343
(20.3%)
234,360
4.5%
Onur Air
200,549
80,614
(59.8%)
22,160
(72.5%)
AtlasGlobal
97,822
77,476
(20.8%)
0
100.0%
Total
5,545,229
4,537,248
(18.2%)
4,920,261
8.4%
Source: Cirium schedules data; AtlasGlobal April 2020 figures adjusted to reflect airline's grounding in February 2020
There was a further reminder of the challenging conditions when in February Turkish operator AtlasGlobal pulled the plug on its flights for the second time in three months. The airline, which had launched as AtlasJet in 2001, had originally been forced to temporarily suspend its flights in November 2019 citing challenging conditions. Executives from the carrier had previously told FlightGlobal it was struggling as result of the currency and economic problems of late 2018.
The loss of AtlasGlobal takes away a relatively small player on domestic services. The airline last summer operated on five Turkish routes including Istanbul-Antalya, though it had a far wider international network. That had already been pared back when AtlasGlobal resumed flights before Christmas.
Against the backdrop of a challenging home market, efforts to further fuel international growth from tourism become ever more important to Turkey. Carriers have been steadily building back capacity to Turkish tourism points over the last two years. A further boost could come this summer as Turkey is relaxing from the start of March visa requirements for six European countries, including the UK.
"This step aims at increasing our tourism potential with these countries as well as further developing our trade, economic and cultural relations," a foreign ministry spokesperson says.
As part of a tourism push Turkish Airlines says it is lifting its flights to tourism points like Antalya, Bodrum, Dalaman and Izmir by almost a fifth this summer.
Turkish Airlines chairman Ilker Ayci says: "The demand for these flights has been steadily increasing over the course of last two years. With the contributions of our new strategy, our country hosted a record number of tourists last year. We are committed to continue and increase our contributions to our country's tourism sector and its economy."
Turkish Airlines is also expanding its low-cost unit Anadolu Jet, which is picking up a string of international routes out of Istanbul's Sabiha Gokcen airport. Turkish Airlines, which has the bulk of its operations at Istanbul Airport, began operating out of the airport located in the Asian part of the city amid capacity constraints at its then Istanbul Ataturk hub and to counter the rapid growth of Pegasus at the airport.
Anadolu Jet, predominantly a domestic operator, will take on 26 international routes from the summer - a move which Turkish Airlines says will result in a 22% increase in capacity.
Other factors that may influence capacity during the year include the status of the grounded Boeing 737 Max.
Turkish Airlines had a dozen of the jets in service at the time of the Max's grounding. While this is a relatively small share of its overall fleet of almost 300 in-service aircraft, the timing of the Max's return to operations – and of further deliveries – could impact the pace of Turkish Airlines growth.