Transat AT, parent of Canadian holiday-focused airline Air Transat, is working on a "plan B" in case its planned acquisition by Air Canada falls through.
The Montreal-based low-cost carrier, which has suspended operations due to Canada's coronavirus mitigation measures, on 11 March says it has developed plans that will allow it to stand alone if the European Commission (EC), the last regulatory body to decide on the transaction, declines to green-light its deal with Air Canada.
The deal could also collapse if either company decides to back out.
The marriage of Canada's number one and number three airlines, announced the transaction in 2019 and delayed several times due to the coronavirus pandemic, is currently in a state of limbo after a deadline expired on 15 February. Since that date has now passed, it can be terminated by either party at any time.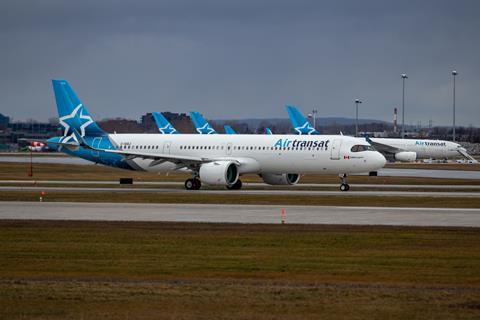 "The agreement lives on with each party being able to walk away from the deal at any time as long as the EC approval has not been obtained," says Transat's chief executive Jean-Marc Eustache during the carrier's fiscal first-quarter earnings call. "The clock on the Commission's investigation has been stopped for a while but we expect it to restart very soon."
"A decision will come before the first half of the year is over," he adds. "We are fast approaching a resolution, whichever it is."
The airlines had initially expected the deal to close by mid-2020. But the coronavirus pandemic and ensuing industry crisis threw that plan off track and forced a rework of terms.
The precipitous decline in air travel demand prompted Air Canada last October to slash the price it was willing to pay for its Montreal-based competitor to C$5 ($3.98) per share from its original offer of C$18 per share. Transat's shareholders overwhelmingly approved the new offer in December, seeing it as a lifeline for the ailing company.
The Canadian government approved the merger in early February, subject to several conditions, including job assurances, a commitment to maintain the airline's aircraft in Canada (preferably in Quebec), the launch of new destinations within five years and what the government called "a price-monitoring mechanism".
In January, Canadian billionaire investor Pierre Karl Peladeau made another takeover bid for Transat, allegedly for more than Air Canada's offer. At the time, Transat rejected it outright, calling it a public relations ploy.
"The transaction with Air Canada is still active, and prevents us from having discussion with any other parties. But should the agreement with Air Canada come to an end, we will actively consider all other options," Eustache says.
"There is no need to worry about the plan B, a lot of work is being done in the background and all of it will come into the foreground if and when the time is right," he adds.
'LEANER AND MEANER'
Executives did not disclose details about Transat's contingency plan, but chief operations officer Annick Guerard says the company is reviewing its long-term strategy, to "fix what might have hindered us in the past".
"We are constantly updating and fine-tuning a restart plan for a leaner and meaner Transat that will be in a position to play its best cards in a post-pandemic world," Eustache says. "There is still no certainty as to exactly when and how fast this recovery will happen, but it will. The vaccine is there, we can now expect to have hit the bottom and we can move up now."
Eustache adds that Transat has used the pandemic-driven pause to improve operations and processes, and to streamline its fleet to reduce cost and complexity.
The airline retired its six widebody Airbus A310s last year and accelerated retirement of Boeing 737s, as it transitions to an all-Airbus fleet.
Transat is acquiring A321neos, a type Guerard calls efficient and well-suited to Transat's network. A321neos have "spectacular performance" on long-haul routes, she adds.
The airline anticipates accepting seven of those jets this year. Transat has 17 A321neos on order with Airbus and may order more, Guerard says.
"This choice of aircraft is by far the best fleet decision we have made in years," she adds.
CANADIAN RESTRICTIONS
Transat's recovery – and that of Canada's broader air transport industry – has been severely hampered by Canadian travel restrictions imposed to mitigate the spread of the highly-contagious virus. Travellers inbound to Canada must test negative for Covid-19 and, upon arrival, are subject to 14-day quarantines. Those, and province-specific rules, have made domestic and international travel difficult and complicated.
Canada's federal government has not offered sector-specific pandemic-relief aid to airlines. In response to the pandemic, airlines have shed thousands of jobs and repeatedly trimmed their networks.
In January, the government asked all major carriers to suspend operations to so-called "sun destinations" through 30 April, meaning airlines have been unable to capitalise on demand for flights to warm winter holiday destinations.
Transat is unsure if those routes will resume at the end of next month, making long-term planning difficult.
"We expect to restart our operations in mid-June, which marks the start of summer demand," says Guerard. Depending on travel restrictions, Transat plans to ramp up a "modest" operation that would include domestic routes, flights to some US cities and routes to "a few medium-haul sun destinations and some key European destinations".
"We are ready to increase capacity in a short period of time," she adds.
Transat's revenue during the fiscal-year first quarter (which ended on 31 January) fell 94% year-on-year to C$41.9 million, down from C$692.8 million one year earlier. The company posted a first-quarter loss of C$109 million.
"These results are for a quarter where it was once again impossible to operate our business in a sustainable manner," Eustache says.
"Our priority for the current quarter, while continuing to work on obtaining EU approval, is to secure financing, finalise our recovery plan and review all our options in the event the transaction with Air Canada will not take place," Eustache adds.