US airline executives can't contain their excitement.
They are watching their businesses hover on the verge of a sharp rebound in travel demand, with customers beginning to plan trips in numbers not seen for more than a year.
"It feels like the beginning of the end," Southwest Airlines' chief executive Gary Kelly said during a live interview with the Washington Post on 15 March. After recently reporting its first full-year loss in 47 years, Southwest now says it could achieve break-even by June.
And Southwest is not alone.
"We have made some great progress here at the end of March. It's a very different trajectory for forward bookings," Delta Air Lines chief executive Ed Bastian says during a JPMorgan investor conference, also on 15 March. "We are getting really close to 2019 numbers."
While coronavirus case counts in the USA soared in January and February following the end-of-year holidays – dampening hopes that the worst of the crisis was over – cases have declined in March amid widespread vaccination campaigns.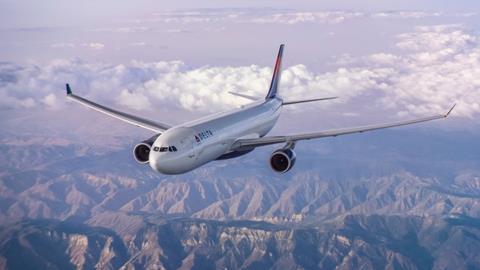 The March travel rebound has been significant enough that airline executives across the board are describing light at the end of the coronavirus tunnel – and not another oncoming train.
The relief and anticipation is palpable.
Speaking during the JPMorgan event, American Airlines' CEO Doug Parker said his airline's bookings for the next three weeks are higher than at any point since lockdowns began a year ago.
JetBlue's vacation business is exploding, in the past week selling "more packages than they ever have", CEO Robin Hayes tells the JPMorgan audience.
Delta's Bastian adds that "glimmers of hope" are apparent across the business. "This seems like it's real. It seems substantive."
LOCKDOWN BLUES
In early 2020, after states and cities scrambled to impose lockdowns and other restrictions to mitigate spread of the highly contagious virus, airlines did all they could to preserve liquidity in the face of a sudden lack of passengers. People were already hunkering down at home before the World Health Organization declared the coronavirus a global pandemic on 11 March 2020.
Airlines responded by cutting costs, shedding old aircraft, asking employees to take voluntary leaves of absence and early retirements, and slashing networks.
A month later, on 14 April 2020, the number of travellers passing through US airport security checkpoints hit a pandemic low of 87,534, or about 4% of normal, according to the US Transportation Security Administration (TSA).
By comparison, that number exceeded 1 million travellers daily on nine of the first 14 days of March, hitting a peak of 1.36 million travellers on 12 March.
Delta's Bastian says the upward trend began about five or six weeks ago, when potential customers began looking earnestly at spring and summer vacation plans. Customers are also starting to book more trips farther in the future.
"For March, we expect our top-line revenues to be 40% higher than what we saw in February, which is a big step up," Bastian says. In a normal year, that number would be "in the 30s".
While US airlines were until recently burning a combined $150 million in cash daily, according to trade group Airlines for America (A4A), carriers now say they are nearing break even.
"We expect in the month of March to be at or pretty darn close to break even for cash burn because of the booking improvements that we have seen over the last few weeks," Bastian says.
United Airlines' CEO Scott Kirby says his airline expects to stop burning cash by the end of March. "If the current rate of improvement in bookings continues, the company expects core cash flow to be positive moving forward," United adds in a regulatory filing.
Key to recovery are increased customer confidence and a broad economic upswing – fuelled by a widespread US vaccination campaign.
About 27% of US adults have been vaccinated, the US Centers for Disease Control and Prevention (CDC) reports on 15 March. US President Joe Biden said last week that all US adults will have the ability to be vaccinated by the beginning of May.
That is months ahead of schedule, and lifting airlines' predictions of what a sustainable recovery looks like.
Still, the more-lucrative business travel segment continues to drag, with many companies prohibiting employees from attending in-person meetings, conferences and other events.
Bastian says Delta has seen percentages of "high teens, low twenties" in the business-travel sector.
Southwest's Kelly expects companies will soon send employees back on the road, but likely in lower numbers than in the past, at least initially.
"I'm not convinced that people want to do business virtually," he adds. "Business travel will come roaring back, but then the question comes, to what level?"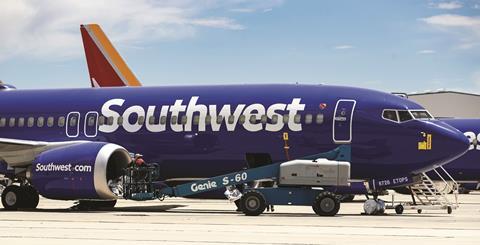 Long-haul international travel will take longer to return, executives say. Some countries' borders remain closed to US citizens, and a wide array of ever-changing restrictions, quarantine rules and documentation requirements continue to make international travel difficult and complex, and subject to last-minute change.
The transatlantic air market is crucial for most US airlines, and in Europe some large countries like Germany are currently experiencing a third wave of virus spread – a development that does not bode well for the summer travel season.
LONG-TERM SHIFTS
On a positive note, executives say the downturn has given them opportunity to make much-needed changes in their business models. Carriers have retired aircraft, leaving them operating larger, modern and more-efficient jets.
Parker says American is now able to fly the same capacity it did in 2019, but with 10% fewer aircraft. It retired 150 aircraft and removed five fleet types over the last year.
United, which unlike peers did not retire aircraft, is looking to modernise its fleet. That airline intends to "accelerate" deliveries of narrowbody jets in the coming years, Kirby notes. United holds orders for 50 Airbus A321neos and 179 Boeing 737 Max, Cirium fleets data shows.
Government assistance since the beginning of the pandemic has also been integral to the industry's survival, executives say.
In March, the US government's CARES Act granted $25 billion to carriers, for use in paying employee wages and benefits. In December, another $15 billion was set aside for the industry, and last week lawmakers injected another $14 billion into the air transport sector.
That relief is a real and substantial help, Southwest's Kelly says. With it, Southwest can maintain enough employees to ramp up quickly when customers return.
"We can't be profitable with our flight activities at this level," he says. "We have to have more customers so that we can add more flights… It's a real balancing act that we have to play in this environment."
With additional reporting by Jon Hemmerdinger.