Brooding storm clouds regularly form along the forested Andes Mountains outside the capital city of Bogota, Colombia, which is near the equator yet has a relatively cool year-round climate thanks to its 2,640m elevation.
High altitude and volatile weather at Bogota El Dorado International airport are the primary foes of Frederico Pedreira, chief operating officer of Avianca, Colombia's national airline. Combined with perpetual infrastructure and air traffic control issues that limit hourly departures, rough weather often delays flights in and out of Bogota, throwing off the airline's hub-and-spoke model before Pedreira even reports to work in the morning.
"It's very complicated, because you base your operation off the crews that rotate in a day and the slots that are formally given to you at certain times," he tells FlightGlobal during a 7 December interview. "When they change everything, we have to reprogramme our crews every single day. When we have weather issues, which is often maybe, like, six-and-a-half days a week, we have to further reduce the capacity of the airport to operate because of low visibility from thunderstorms, and it gets even more complicated."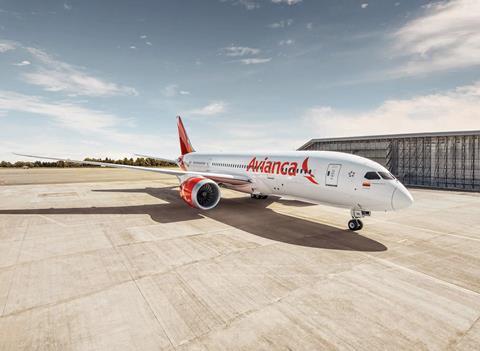 An enduring symbol of Colombian air travel, Avianca would not have become 103 years old if it wasn't accustomed to weathering storms. The airline recently navigated a series of challenges, from Covid-19-related travel bans that grounded aircraft throughout Latin America, to financial restructuring and ultimately embracing the model of a discount airline.
"We like to joke about it, but how can we ensure there will be 100 more years of Avianca?" Pedreira says. "During the Chapter 11 process, it was clear that in order to exist, we would have to compete with Volaris, JetSmart, Spirit, Frontier, Ultra – all the low-cost players in the region."
In May 2020, Avianca and fellow Latin American carriers Aeromexico and LATAM Airlines Group – which all received little pandemic-related financial support from their governments – filed for bankruptcy protection through the Chapter 11 process. Avianca completed its financial restructuring on 1 December 2021 with $1.7 billion in fresh capital and a reorganisation plan approved by the US bankruptcy court for the Southern District of New York.
"It was an existential thing, and inevitable for us," chief executive Adrian Neuhauser had said at the ALTA Leaders' Forum in Buenos Aires 17 October. "Avianca was and is very important for the Colombian economy, society and the customers, so it was important for us to survive."
The airline has emerged from Chapter 11 proceedings with what it hopes is a more adaptive business model. Following a broad trend in the airline industry, Avianca is transitioning to low-cost operations oriented toward the region's growing middle class. The airline has introduced new black-and-red seats and densified its narrowbody aircraft fleet, redesigning cabins to accommodate 20% more seats and reduce fares. Now, extras are booked and paid separately.
"Nothing that we're doing here is new or state-of-the-art," Pedreira says. "We're just using what we're seeing around the industry that works well."
Still, the transition process has been "painful", he acknowledges. Customers accustomed to the way things were – namely, wealthier travellers whose families have flown Avianca for generations – have been vocal about their displeasure to flight attendants and on social media.
"They're saying we're destroying the airline," Pedreira says. "We know that's not true because the world is changing and, unfortunately, it doesn't make any sense to offer the product they're asking for on flights that are 45 minutes."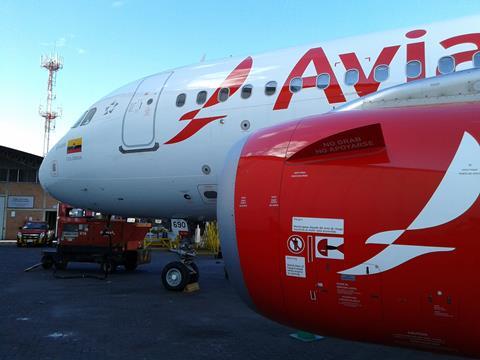 The airline is also streamlining its fleet with a goal of flying passengers exclusively with Airbus A320s and Boeing 787 Dreamliners by June 2023. The carrier is expecting deliveries of 16 A320neos, 11 A320ceos and three 787s in 2023, it said during a press conference at Avianca's corporate headquarters in Bogota on 6 December.
Prior to the Covid-19 pandemic, the airline's fleet also included A319s, A330s and ATR 42s and 72s. Whittling the fleet simplifies Avianca's maintenance operation, based in Medellin. The facility can accommodate five A320s or two 787s simultaneously.
"It made sense for us to maintain our widebody operation because it is profitable," Pedreira says. "Now we have this kind of hybrid model, where we have a hub-and-spoke out of Bogota with widebodies flying to Europe and our narrowbodies being competitive with Volaris, which in the region is our most direct competitor."
Avianca is now attempting to acquire financially struggling low-cost competitor Viva Air, which operates in Colombia and Peru. In April, the companies made a deal to form a joint holding company, for which Avianca requested accelerated regulatory approval over concerns about Viva's ability to compete in the face of increased financial pressure.
On 8 November, Colombia's aviation regulator, Aerocivil, rejected the tie-up, saying it would be a "setback" for competition because Viva would "disappear as an independent competitor".
"We entered requests for integration, and we got an answer saying 'no', but that answer still opens a way for further discussion," Pedreira says. "We asked for a fast-track, to be exact, and they said there are no reasons to give us a fast-track. We disagree with their authority. And now we are starting again the discussion."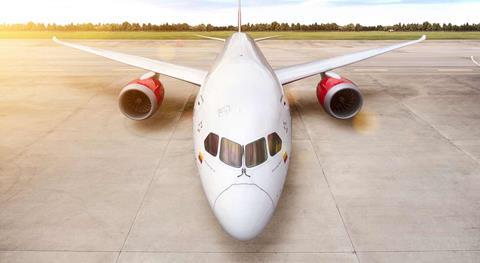 The Colombian carrier is also pursuing a plan to join Brazil's Gol in a holding company called Abra Group. The deal is expected go through in January 2023 and does not need approval from the Colombian government because there is no operational overlap between the two airlines, Avianca said during the 6 December press conference. Under the deal, which has been approved by Brazilian authorities, Avianca and Gol will keep their operations and brands separate, Pedreira says.
Expressing confidence that the Viva deal would still get done, Pedreira acknowledged it is more complex than Avianca's proposed relationship with Gol. "The vision includes Gol and Viva and also an airline we are very close to, Sky Airline in Chile, which is building a very competitive low-cost airline in Latin America," he says. "We want to close Gol and close Viva and then start thinking about how we can address the authorities in Chile."
Complexity comes with the territory, Pedreira says. While concerned with future fuel prices and the global economic environment, he believes recent changes have placed the company in a stronger position to navigate its next 100 years of airline operations in Latin America.