The conventional wisdom in the European airline industry tends to be that inevitable consolidation will be based around growth of the five biggest groups: Air France-KLM, EasyJet, IAG, Lufthansa Group and Ryanair.
The decision by LOT Polish Airlines' parent company to purchase German leisure carrier Condor, announced on 24 January, appears to upset that narrative – one medium-size airline purchasing another.
The deal has been agreed in a European market that is known as a hostile place for smaller carriers with strong connections to a single national market – particularly in the leisure sector. See, for example, the collapses of Aigle Azur, Air Berlin, Germania, Monarch, XL Airways, and, towards the end of 2019, UK-based Thomas Cook Group – of which Condor is a surviving subsidiary.
So what does LOT's purchase of Condor mean for Europe's airline market?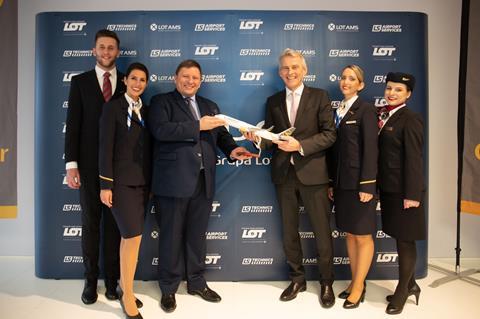 LOT itself is a state-run flag carrier and one of the oldest airline brands in the world. Like many carriers of a similar size and business model, it required state funding to stay operational in the early 2010s.
Since stabilising its business, the Star Alliance carrier has pushed on to become profitable, driven by decent returns on long-haul routes to North America and Asia from its Warsaw Chopin hub.
At the same time, and again like many carriers of its size and business model, it has often talked about the potential advantages of finding a partner to aid its efforts to maintain profitability in a highly competitive market.
NEW PARTNERSHIP
The purchase of Condor by LOT's parent company, state-run Polska Grupa Lotnicza (PGL), is a step down that partnership road. It will create a new airline group – one with both LOT's network model and Condor's leisure brand at its core.
"Condor will become the centre of PGL's leisure strategy with a focus on growth in Germany as well as adjacent markets, building one of the leading European leisure airlines," explains PGL.
The deal means that the short-term future of Condor has likely been assured – the German carrier having needed emergency state funding to continue operations following its parent's collapse in September 2019. Those funds will now be paid back "in full", PGL stated when the deal – which is expected to close in April – was announced.
Combined, LOT and Condor say they service around 20 million passengers per year, split roughly 50:50 between the operators.
Their most recent revenue figures are also similar: LOT parent PGL saying it generated revenues of around €1.9 billion ($2.1 billion) in 2019, while Condor recorded revenues of around €1.7 billion in its 2018-19 financial year.
LUCRATIVE MARKETS
PGL will have seen several strengths in Condor's set-up.
The German carrier's main hub at Frankfurt, and others at Munich and Dusseldorf, give it a presence in several of Germany's most lucrative markets.
Condor is also a strong brand name in Germany, with the potential to resonate into other territories. PGL might, for example, consider a competitive response to Ryanair's establishment of leisure carrier Buzz – the renamed Ryanair Sun – in its home market.
PGL will also have been attracted to Condor by its achievement of profitability, at an operating level, while its now-defunct parent struggled.
It is less clear, however, where the new group might find synergies, given that LOT and Condor have separate route networks in different countries. That is not necessarily an insurmountable weakness – IAG grew by purchasing disparate operators – but for an upstart group it might mean there are few easy wins.
At the same time, PGL will be aware that operating a traditional leisure airline in Europe is a tough task.
Pan-European group TUI, for example, often cites its "content" business – through which it owns cruise ships and hotels, and offers experiences – as its main source of strength, with the consistent performance of that sector offsetting the unpredictably of its airline operations.
And in European short-haul leisure markets, the rise of low-cost competitors and overcapacity have driven down yields on services into many tourism hot spots.
If Condor is to be expanded, it will need to navigate that sometimes hostile environment while keeping a close eye on its cost base.
It will also face pressure when attempting to expand its long-haul network – notably from Lufthansa Group.
In general terms, the German flag carrier's dominance and possession of the best slots at key airports has made its home markets inhospitable even the strongest of competitors, as shown by EasyJet's slow start at Berlin Tegel.
Condor's relationship with one-time shareholder Lufthansa Group is also complicated by the fact that they have an interline agreement in place. The latter might be tempted to review that arrangement, particularly if it chooses to ramp up its own leisure services through its Eurowings subsidiary as a competitive response to a perceived strengthening of Condor.
FLEET DECISIONS
LOT's comments around the need to update Condor's ageing fleet also reflect the scale of work required to position the new group for growth.
Notably, there is little commonality between the two operators – LOT itself having a fleet that it acknowledges could benefit from simplification.
The Polish carrier has 89 aircraft in service, Cirium fleets data shows, made up of 15 Boeing 787s, eight 737s, nine Bombardier CRJ900s, two CRJ700s, 12 De Havilland Canada Dash 8s, 35 aircraft from Embraer's E-Jet family, three Airbus A320s, two A321s and three A340s.
LOT also has five 737 Max 8s in storage as part of the worldwide grounding, which at least partly explains the small number of Airbus narrowbodies that are backfilling in its fleet.
Cirium fleets data indicates Condor's in-service fleet of 55 aircraft has an average age of 18.5 years. Most of its aircraft are older than that average, including its 16 Boeing 767-300ERs and 15 757-300s, and all but one of its 12 A320s.
Condor's 10 A321s bring the average down – all of them being below 10 years of age. It also has two A330s in service.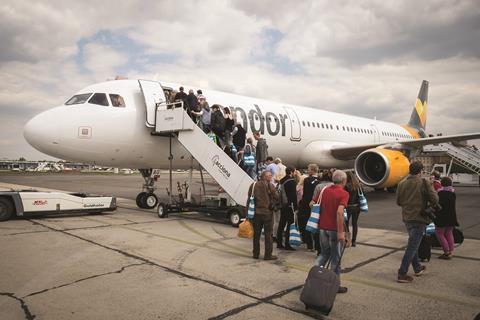 Rafal Milczarski, the chief executive of PGL and LOT, says Condor's fleet renewal will begin by 2024, based on a need for "at least" 20 aircraft for its long-haul operation.
Milczarski notes that LOT's previous 787 purchase – itself to replace 767s – does not necessarily mean the new group would opt for a Boeing option, adding that the Polish operator needs 10 or more new widebodies in a similar timeframe.
As a group, the two carriers will have slightly more purchasing power as they mull Airbus and Boeing options.
STRONGER FOUNDATIONS
Amid the list of challenges that the new tie-up faces, the most likely short-to-medium-term impact will be that LOT and Condor give themselves slightly stronger foundations, from which they will seek to achieve sustained profitability.
But they appear to lack any obvious leverage to significantly shift the region's competitive dynamics, which are still largely beholden to the actions of the five big airline groups.
The new Polish-German business might therefore prove to be a step on the road to further consolidation, rather than an end point.