While the global airline industry took a further step towards tackling its environmental footprint by collectively committing to reaching net-zero C02 emissions by 2050 under a resolution agreed by IATA members at their the recent AGM, Alaska Airlines has a goal of reaching that point 10 years sooner.
The Oneworld carrier detailed its commitment in April to reduce the company's carbon emissions to net-zero by 2040, a stretch ambition also reflecting the acute awareness of environmental issues by partners and customers in its home markets.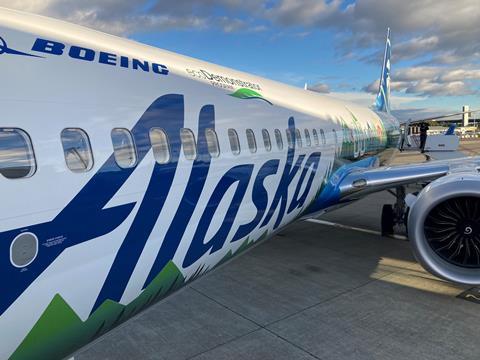 Speaking at a joint ecoDemonstrator briefing with Boeing in Glasgow on 5 October, where an Alaska Airlines-liveried aircraft landed in Scotland for the first time, the airline's vice-president of public affairs and sustainability Diana Birkett Rakow outlined why the carrier had set the more ambitious goal.
"We did feel it was important to push ourselves. 2050 just seems that much further away," says Birkett Rakow. "We take goals that we set really seriously and we debated this one a lot.
"We did take this as an opportunity to think about what is really important to us and not just being able to recover the airline [after Covid], but being able to do so in a way that was responsible. So we set a course to get to net-zero by 2040."
She adds: "We have to think about this as a multi-faceted approach. Everyone is trying to find one thing that can solve this problem. I do agree that sustainable aviation fuel is the biggest thing that can solve this problem, but we have a five-part path."
Alongside SAF, the airline has identified areas of development to help achieve its goal including operational developments, fleet renewal, new propulsion technologies and carbon offsets.
While the longer-term goal is to be net-zero by 2040, Alaska has some nearer-term ambitions. They include an aim to become the most fuel-efficient US airline by 2025.
"We have done that before in regards to fleet renewal and operational approaches, we know that we can do that again," says Birkett Rakow.
Other targets include halving the carbon emissions of its ground services equipment by 2025. "Ground services equipment is a fraction of the overall carbon footprint of an airline, but it is important and is one of the things we can control," she says.
"And maintaining carbon-neutral growth through 2025, and then proceeding on the path to net zero.
"It is changing the fundamentals of the operation," she adds. "So rather than running an airline a certain way and going and purchasing an offset entirely independent from running that airline, everything we are trying to do – except where we close the gap [through carbon offsets] – is fundamentally trying to run the airline differently, with different aircraft, procedures and technology, including different fuel."
BOEING INNOVATIONS
Alaska Airlines and Boeing are highlighting new technologies being tested in the latest iteration of the ecoDemonstrator programme and brought the Boeing 737 Max 9 – which will join the airline's fleet next year – to Glasgow, where the crucial UN Climate Change Conference (COP26) begins at the end of this month.
The ecoDemonstrator is flight-testing 20 new technologies including new cabin sidewalls, 3D-printed cabin air vents, noise-reducing engine nacelles and a new fire-fighting chemical.
One example Birkett Rakor highlights is a new low-profile warning light that is being tested on the aircraft. "If you reduce the profile of the warning light, fuel efficiency improves and if we can integrate into future airplanes we'll get a benefit in fuel efficiency," she says.
The Max aircraft is central to the airline's environmental efforts following fresh orders for the type this year. The airline, which took delivery of its first 737 Max 9 in January, now has seven Max aicraft in service and firm orders for a further 86, Cirium fleets data shows.
"Each one of those [Max aircraft] as we retire other jets are 25% more efficient on a seat-by-seat basis," Birkett Rakow says.
A major part of meeting its environmental targets is envisaged through the development of SAF.
"We worked out a model of what would it take to get us there [to net zero by 2040], and the reason that carbon offsets is there, is in truth we don't know how fast SAF will ramp up, because that is really the major variable part," acknowledges Birkett Rakow.
Notably, the Oneworld alliance, which Alaska joined earlier this year, has just issued its own aspiration for SAF to account for 10% of combined fuel volumes by 2030.
"We cannot do that now, there is simply not enough of it and it's not well-priced enough," she notes. "We need policy, both here and overseas to advance that."
But the airline is proactively working with its corporate partners to help create the necessary demand signals.
"We put together a deal with Microsoft where Microsoft is offsetting with us the carbon footprint of its business travel from Seattle to our hubs in California, using sustainable aviation fuel. And we are looking to expand that programme with a number of companies, particularly tech companies on the west coast, because we are other companies' carbon emissions. So together we can jump-start the market," Birkett Rakow says.
Indeed, one of the factors behind the more ambitious target set by Alaska is its location, which makes sustainability a key issue for the airline's partners, customers and employees.
"There are people who want to move these issues forward everywhere, but we are fortunate to have a particularly forward-looking… business environment up and down the west coast… and also very forward-looking consumers in that regard – and employees," she says. "Ultimately if we are going to be responsible to all those stakeholders – as well as our owners and others – we do feel a pressure to make sure we are moving in the right direction."
She also highlights the importance of environmental issues impacting the airline's home region and the key markets it serves.
"We have a huge amount of service to Hawaii [where] sea level rises as well as the quality of the environment matters a great deal. In Alaska [there is] climate change and the changing of the permafrost matters for food security as well as industry. And up and down the west coast, forest fires have just decimated California, Oregon and Washington in particular.
"So we have acute awareness of both the need as well as the risks unfortunately, because those things have hit home," she observes.
Alaska Airlines recognised for Corporate Social Responsibility
Alaska Airlines' leadership team was recognised in the Corporate Social Responsibility category at the Airline Strategy Awards, the annual event organised by Airline Business together with the aviation practice of Korn Ferry.
The winners were announced in London on 27 September and the CSR award was collected by Diana Birkett Rakow during a media reception at the Glasgow Science Centre on 5 October.
More details on the independently judged awards and other winners can be found here