Air Italy's collapse on 11 February reflects its inability to overcome a number of challenges in an Italian market that continues to be as tantalising for airlines as can be punishingly tough on them.
Among its biggest obstacles, Air Italy's lack of a partner across the Atlantic was significant – a problem exacerbated when the operator became a high-profile focus of a reignited US-Gulf carrier spat last year.
Adding to its struggles, the grounding of the Boeing 737 Max weighed on its attempts to increase services that would feed its long-haul network ambitions, and stymied efforts to introduce Air Italy's tailored onboard product offering.
Even with its full fleet in place, however, the competitive landscape would have been tough.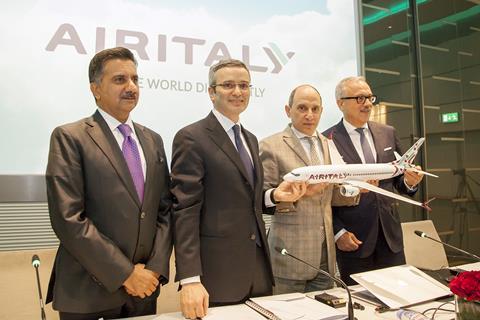 The launch of full-service short-haul operations in Europe put it up against strong competition with a low cost base – notably Ryanair and EasyJet in the Italian market.
At the same time, state-owned rival Alitalia has been in a drawn-out privatisation process since May 2017 after entering administration, but continues to survive and dominate the key Rome market. Therefore, if Air Italy had been expecting to step into markets vacated as a result of the flag carrier's collapse or break-up, it was left disappointed.
Air Italy's financial performance reflects its struggles. In mid-September 2019, Qatar Airways' finances for the year to end-March 2019 showed that Air Italy generated a QR542 million ($149 million) loss for the period.
Even so, Qatar Airways notes in a statement on 11 February that it had been "ready once again to play its part in supporting the growth of the airline, but this would only have been possible with the commitment of all shareholders".
But the implication of that statement is that 51% owner Alisarda may not have been so keen on injecting more cash, and Air Italy's liquidation means the latest iteration of the brand will have lasted less than two years when it operates its last services this month.
REBRANDED MERIDIANA
Plans to launch the rebranded Meridiana were unveiled in February 2018 at a press conference led by the chief executive of shareholder Qatar Airways, Akbar Al Baker.
Qatar Airways had taken a 49% stake in struggling regional carrier Meridiana in September 2017, with the remainder held by previous sole shareholder Alisarda.
Alisarda is the name under which the airline was established in 1961 by the Aga Khan, with the name Meridiana being adopted in 1991.
Under European Union ownership and state-aid rules, Qatar Airways was restricted to that minority stake in the carrier and faced tight rules regarding how much capital it could inject into the business.
Nevertheless, Al Baker pitched the "new airline" as a direct competitor to ailing Alitalia, outlining a rapid expansion programme involving several new domestic and international services.
"Qatar Airways fully supports plans [for Air Italy] to be the flag carrier of Italy," Al Baker said, adding that Air Italy "will establish itself as Italy's top airline and expand to global operation, not just a handful of destinations as [Meridiana] currently operates".
The relaunched full-service carrier's hub-and-spoke base was to be Milan Malpensa airport, while it retained some services at Meridiana's previous base in the Sardinian city of Olbia.
The carrier also planned to develop Rome Fiumicino as a parallel base, but only for "point-to-point widebody operations".
At the time of its rebrand to Air Italy, Meridiana's fleet of 12 aircraft featured seven Boeing 737-800s, one 737-700, three 767-300ERs and one 767-200ER.
Those types were to be phased out as part of rapid fleet expansion over a three-year period.
The plan for Air Italy included it receiving 20 Boeing 737 Max 8s over the three years, plus five Airbus A330s "immediately", all on lease from Qatar Airways "at market rate". From May 2019, the airline was due to begin taking 20 787s, eventually bringing its fleet to 50 aircraft.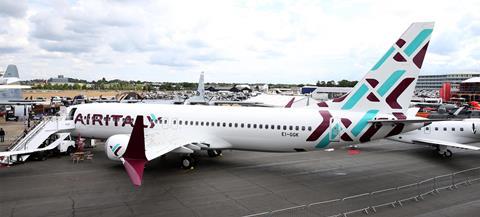 But the Dreamliner was never seen in Air Italy colours, and Air Italy collapsed with a fleet barely larger than the one it had at its launch.
On the day its liquidation was announced, Cirium fleets data shows that Air Italy was operating 15 aircraft, comprising four A330s, one A320, four Boeing 737-800s, three 737-300s, one 737-700 and two Embraer 190s. It had five 737 Max 8s on order and five of the grounded jets in storage.
US-GULF SPAT
In a country that has seen more than its fair share of failed airlines, history is likely to judge Air Italy's biggest impact as its role in the US-Gulf subsidy spat. Even then, however, the carrier was unable to capitalise on an apparently favourable outcome.
Last year, Air Italy became the focus of a years-long campaign backed by three US mainline carriers regarding state subsidies paid to Gulf carriers. They alleged that Air Italy's 49% shareholder Qatar Airways was using the smaller carrier as a proxy to expand into the USA.
The US airlines – American Airlines, Delta Air Lines and United Airlines – were backed by their unions in the lobbying coalition, called The Partnership for Open and Fair Skies.
Things came to a head during a "heated showdown" with US president Donald Trump during a mid-July 2019 White House meeting, at which Al Baker was present. According to NBC News, the chief executives of Atlas Air, FedEx and JetBlue – through the US Airlines for Open Skies group – won Trump's favour with their view that the big US network carriers were not considering the potential wider, negative impact of efforts to restrict Air Italy.
Despite Trump's helpful intervention, the campaign by the three US legacy carriers made it difficult for Air Italy to form interline and codeshare deals across the Atlantic, where it faced formidable competition.
NETWORK CUTS
In April 2019, it had already announced that it would stop flying to Los Angeles, San Francisco and Toronto in the 2019-2020 winter season in favour of serving what it termed "counter-seasonal" destinations: the Maldives, Mombasa, Tenerife and Zanzibar.
It continued to serve Miami and New York JFK year-round, but suffered from the lack of a US partners at airports where the majors are dominate.
Mindful of allegations around its relationship with parent, it was also unable to codeshare with Qatar Airways on US routes, nixing another potential traffic boost.
Asia was similarly challenging, as the carrier struggled to feed its long-haul services. In January 2019, Air Italy announced it was scrapping its services to Delhi and Mumbai from Milan Malpensa, only a few months after they were launched. It had already announced plans to scrap its Bangkok service – the first new long-haul route unveiled when the rebranded airline was launched.
The carrier cited "strategic network consolidation, route prioritisation, aircraft delivery changes and market dynamics" for the decision to end the Delhi and Mumbai flights.
The carrier's list of international services eventually came to be dominated by African destinations as its network-carrier ambitions appeared on increasingly thin ice.
In the month of its demise, Cirium schedules data shows Air Italy was serving Accra, Cairo, Dakar, Lagos, Male, Mombasa, Sharm el-Sheikh and Zanzibar in Africa, alongside its Miami and New York JFK services.
It was also serving Male in the Maldives, and Tenerife in the Canary Islands.
All services – aside from a couple of Olbia flights – were operated from Milan, reflecting the carrier's failed ambitions to establish a Rome base.