Monthly traffic figures for February released by Ryanair and Wizz Air today offer little indication of the damaging impact on air travel demand from the spread of the coronavirus into Europe.
The two budget carriers reported strong growth in passenger numbers for February compared with the same month in 2019. Ryanair group passenger levels, including at its expanding Austrian unit Lauda, climbed 9% to 10.5 million. Passenger levels were up 25% to just over 3 million at central European carrier Wizz. The latter's load factor was though down 0.4 percentage points at 93.8%.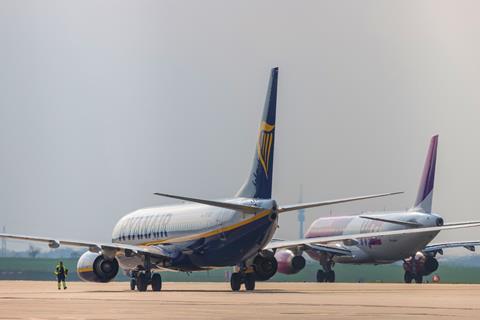 As the first European carriers to report monthly traffic for February, there is heightened interest in the figures given the slew of airline announcements on capacity cuts and counter measures as a result of the continuing spread of coronavirus. But there are a number of caveats that mean little can be drawn in terms of pointers for the wider impact of the outbreak on European carriers.
While the growth rate in February for both carriers is higher than their respective rolling-year averages, direct comparison with 2019 is distorted by the leap year effect, meaning there is an extra day of traffic accounted for in the February 2020 figures.
The 12-month rolling averages for Ryanair and Wizz, 8% and 19.5% respectively, also illustrate that both operators are fast-growing carriers and so it will take a heavy impact for them to move out of growth.
And while both were starting to reduce capacity towards the end of February – particularly around Italian routes – as exclusively short-haul operators neither had been directly impacted by reduced long-haul demand or by suspended Asian services.
For both Ryanair and Wizz, the more telling impact will come in the release of March traffic figures. These will incorporate the capacity cuts already announced by both carriers and any further reductions that may become necessary.
Ryanair, the biggest operator on Italian routes, on 2 March announced it would be cutting its Italian short-haul programme by up to 25% for three weeks from 17 March, following the spike in reported cases of the virus in the Lombardy region.
"Over the past week, Ryanair has seen a significant drop in bookings over that late March/early April period, in response to the Covid-19 Virus," the carrier says. "There has also been a significant step up in passenger no-shows on flights, particularly from and within Italy."
The Irish carrier sees the cancellations having little material impact on its current financial year – which runs to the end of this month. But it notes it is "far too early to speculate" on what impact the outbreak will have on the coming financial year.
Wizz Air had on 28 February detailed plans to cut capacity on routes to northern Italy between 11 March and 2 April, which it says accounts for around 60% of its Italian capacity.
The clearest indicators from European carriers of the tangible impact on demand of the coronavirus so far are likely to come when Air France-KLM – which cancelled China services during February – is due to publish traffic figures for that month on 10 March. IAG, which used to report traffic data early in the month, no longer publishes monthly figures.