The proposed joint venture between Japan Airlines (JAL) and Qantas underlines the horrendous state and uncertain future of the Asia-Pacific's international air travel markets.
The Oneworld partners released a joint statement about the five-year joint venture on 23 December, with an aim to reboot tourism between Australia, Japan, and New Zealand as the world (hopefully) recovers from the coronavirus pandemic in 2021. The carriers have already submitted an application to regulators in Australia and New Zealand and expect a decision in six months, with an aim to starting services in July 2021.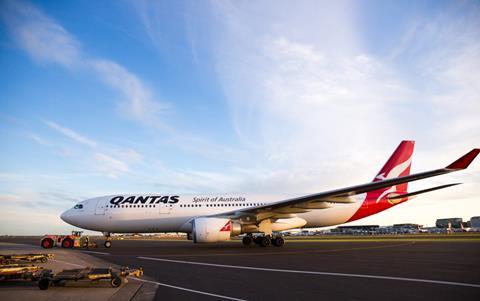 The joint venture will also include Qantas's low-cost unit Jetstar, although the focus will be the two premium carriers. It will cover direct flights between Australia and Japan, codeshares to domestic destinations, and one-stop services between Japan and New Zealand. The two airlines will coordinate both schedules and pricing on a 'metal neutral' basis.
In ordinary times, such an arrangement probably would not fly with the tough Australian Competition & Consumer Commission (ACCC). In July 2019, when global pandemics were still the stuff of science fiction films, Qantas, JAL, and Jetstar utterly dominated traffic between the two countries. Cirium schedules data shows that in July 2019 these three carriers provided 139,000 of the 154,000 seats available on Australia-Japan routes, for a 90% market share.
The fourth airline operating between Australia and Japan, All Nippon Airways (ANA), operated just under 15,000 seats.
Australian cities with direct services to Japan included Brisbane, Cairns, Melbourne, Gold Coast, and Sydney. In Japan, both Osaka and Tokyo enjoyed direct links to Australia.
Australia-Japan capacity in July 2019
Airline
Flights
Seats
ASKs
Source: Cirium schedules data (both directions)
Japan Airlines
124
23,172
184,649,996
Jetstar Airways
148
49,580
310,858,184
All Nippon Airways.
62
14,880
115,831,827
Qantas Airways .
212
66,474
511,489,952
TOTAL
546
154,106
1,122,829,959
In December 2020, however, only 15,548 seats were offered, with JAL providing just 5,228 seats and ANA 10,320 seats. This reflects that both Japan and Australia, as with so many countries in the region, are all but completely shut to visitors. The only city pair in regular service during the month was Tokyo Haneda-Sydney.
Australia-Japan capacity in December 2020
Operating Airline
Flights
Seats
ASKs
Source: Cirium schedules data (both directions)
Japan Airlines
28
5,228
40,903,332
All Nippon Airways
43
10,320
80,334,977
TOTAL
71
15,548
121,238,308
Japanese tourism statistics show that visitor numbers from Australia between May-October 2020 were down an average of 99.8% monthly from the same six months in 2019. Australian tourism statistics are similarly apocalyptic, with visitor arrivals from Japan down 99.8% in October.
In their 41-page submission to the ACCC, the airlines highlight the dire times.
"Air passenger services between Australia and Japan have always been a vital element of the long standing strong political and economic ties between the two countries, yet the airline industry remains in crisis as a result of the coronavirus pandemic," they say.
"The flight, entry and quarantine restrictions imposed by governments globally have impacted the industry with unprecedented severity and caused a precipitous decline in demand. Critically, it has been forecast that it will be at least 2024 by the time global passenger traffic recovers to pre-pandemic levels."
They note that Qantas suffered an A$4 billion ($3 billion) revenue impact in the second half of its 2020 financial year, and that JAL's operating revenue was down 74% from April-September.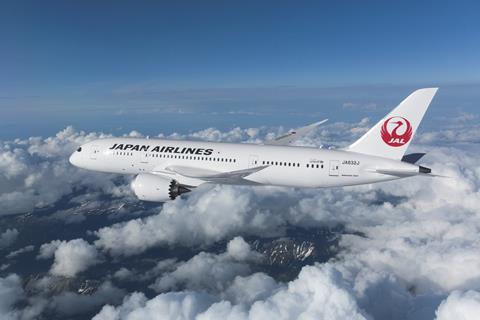 The carriers argue the joint venture will offer several benefits, such as providing connectivity between a more diverse set of city pairs, more sustainable operations on Sydney-Tokyo, and an accelerated reinstatement on direct services to major cities beyond just Tokyo and Sydney.
Independent aviation analyst Brendan Sobie notes that the unprecedented air travel market environment makes approval of the planned joint venture more likely.
"It will still be a hard sell to the Australian regulator, but Covid-19 and the current environment makes approval more likely than otherwise," he says. "There is no doubt competition is limited but in the current environment a JV is also arguably needed to succeed and grow."
Given that passengers will be reluctant to travel far from home in the immediate wake of the pandemic, JAL and Qantas could find regulators back their argument that teaming up is the only way to truly reboot flights between the two countries. But if approved, and should air travel return to the good times in the next few years, competition regulators may take another view of the Qantas-JAL joint venture when it is due for renewal in 2027.
Still, if 2020 proved anything it is the challenge of making predictions. Vaccines will gradually work their way into the populations of both Japan and Australia, but it could still take time before Canberra, Tokyo, and Wellington are willing to throw open their borders. In the bizarre reality of Covid-19, a joint venture that might otherwise fail to clear regulatory hurdles, may just might make sense.

Greg Waldron is the Asia Managing Editor of FlightGlobal, responsible for the team's airline, aerospace, and defence coverage across the region. He has worked at the company since 2009. In the airline space, Waldron has conducted dozens of interviews with airline leaders in the Asia-Pacific. He also covers areas such as MRO and safety. On the defence beat, Waldron has written extensively about the rise of Chinese airpower, as well as broader airpower developments around the region, such as indigenous fighter programmes, and regional acquisitions of foreign equipment. In addition, Waldron writes about commercial helicopters in the region and business aviation. Waldron worked has a freelance journalist with his work appearing in several business publications.