Central European budget carrier Wizz Air has warned the grounding of its full fleet remains "a distinct possibility" as it has now reduced its operations to around 15% of its planned capacity.
Fellow low-cost carriers EasyJet and Ryanair have already said they are grounding the bulk of their capacity as European countries tighten their border controls in response to the coronavirus pandemic, while Lufthansa's Eurowings unit now expects to operate around 10% of its capacity.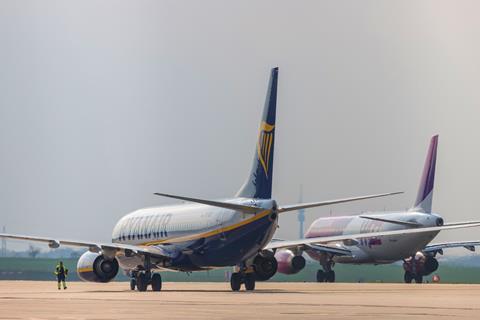 "On average, Wizz Air's capacity is reduced by 30% year-on-year for the month of March," the carrier says in an operational update today. "As of this week, Wizz Air has grounded around 85% of its fleet.
"The company continues to operate 15% of its capacity and remains operational in Romania, Hungary and Bulgaria, but the grounding of the entire fleet remains a distinct possibility over the next period, as potential additional travel restrictions and social distancing policies issued by authorities may make international flying for commercial purposes either untenable or impossible."
It says to further secure its "strong financial position" during the reduction in capacity, Wizz has implemented additional cost-reduction measures in third-party, overhead, and discretionary spending, and non-essential capital expenditure.
"We have rolled out a series of voluntary working hour reduction options and leave options with our employees," says Wizz Air chief executive Jozsef Varadi. "The board and executive leadership team of the company will be foregoing their salaries for five weeks including the month of April."
The company adds it is confident in its ability to survive "even a potential prolonged grounding substantially beyond the current estimates for the impact of Covid-19 in Europe".
Fast-expanding Wizz Air is Europe's third biggest low-cost carrier in terms of passengers carried in 2019, behind Ryanair and EasyJet. While much of its operation is based in central and eastern Europe, Cirium schedules data shows London Luton is the airline's biggest base by capacity.
The pan-European nature of its model has meant Europe's major low-cost carriers have seen a more a gradual impact on their capacity than for some carriers where the closing of national borders to foreign travellers resulted in a sudden suspension of business.
But, equally, the lack of long-haul operations means their services are reliant solely on European and North African markets. Both EasyJet and Ryanair have indicated a majority of their operations will be grounded as the traveling restrictions have become more widespread.
Ryanair previously said it has been operating around 20% of its schedule since 18 March, and that from 24 March it expects "most if not all Ryanair Group flights will be grounded", with the possible exception of a few key routes, mostly between the UK and Ireland. Its Austrian unit Lauda has already suspended all flights.
EasyJet meanwhile will ground the bulk of its fleet from 24 March. It will continue to operate a skeleton schedule of "essential services" on some routes, mainly to and from the UK, but these will represent a maximum of 10% of its usual capacity for this time of the year.
Lufthansa low-cost unit Eurowings is now planning further reduction in its flight capacity from 25 March. "Depending on the further development, the offered program will be temporarily reduced to about ten percent of the previous capacity," the carrier says. It is also temporarily grounding two of its operating units - Germanwings and Eurowings Europe.
Alongside various cost-saving measures, Eurowings says it is engaged in "constructive discussions" with its operating partners and trade unions on short-time working.
Norwegian, has since 21 March been operating around 15% of its schedule. It is primarily operating a reduced schedule domestically in Norway and between the Nordic capitals, as well as some European flights. All its intercontinental flights have been suspended – except flights between Scandinavia and Thailand which will be suspended from the end of March.
While there are no specific figures for the capacity being flown by IAG operator Vueling reports in the Spanish media citing union sources say the airline has put forward a reduced working hour proposal covering 3,800 staff as it is operating less than 25% of its capacity.
This article was updated to add in Eurowings latest capacity cuts