Akbar Al Baker, one the airline industry's most outspoken leaders, delivered his views on its relationship with Airbus, persisting supply chain problems, and the need to bolster the carrier's orderbook in a quickfire media roundtable at the Paris air show today.
Al Baker is 45 minutes late, but that's because one of the industry's most in-demand airline bosses is in constant meetings. "Sorry to keep you waiting so long, I hope my people took good care of you," he says.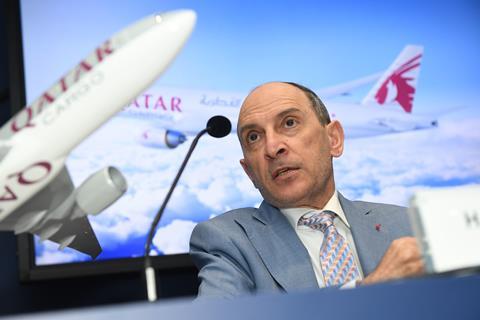 The Qatar Airways chalet is just metres away from the mammoth Airbus one, and the two companies are back on neighbourly terms following a settlement reached in February over an acrimonious legal clash over the airline's A350-1000 fleet. The dispute centred on the deterioration of skin paint on its A350-1000s.
"We are back on very good terms with them," states Al Baker. "We both know that they are an important supplier for us, and they know that we are an important customer of theirs.
"We never questioned the safety of the Airbus airplane," stresses Al Baker. "We wouldn't be flying the remaining A350s if we felt that it was an unsafe aeroplane. What we were concerned about [was] the condition [of the A350-1000] and Airbus had to fix it. We came to an amicable settlement which is win-win for both sides."
With this remarkable feud behind it, Qatar Airways is back in the Airbus orderbook as its remaining 23 A350-1000s and 50 A321neo orders have been reinstated after being cancelled by the manufacturer.
"We lost our original delivery slots on both the A321neo and the A350, and this was of course part of our amicable settlement with Airbus," says Al Baker. The remaining 18 A350s will come from 2025 onwards, he adds.
Qatar Airways has taken some A350-1000s that needed repair back into service, while some with a "longer repair duration are being taken care of by Airbus. We hope that by February next year all the remaining 14 airplanes will be back in the air."
The carrier was a launch customer in 2013 for Boeing's much delayed 777-9 and is hoping to receive its first units in 2025. "If the certification process is expedited, we could get it in the early part of 2025 instead of the second half of 2025, but it's all wait and see," says Al Baker.
With 18 A350-1000s, 60 777-9s, and 18 787-9s still to be delivered, plus 25 737-10s and the A321neos, and considering its existing young fleet, Al Baker has plenty of metal to hand, and does not feel under pressure to boost its orderbook between now and the end of the decade.
"We will see how many of the current firm orders will really be taken up," he says. "The end of the decade is still seven years away and a lot of things change in seven years and there could be a lot of white tails in that period of time.
"I'm not pleased at all," says Al Baker, replying to a question about the response of the aircraft manufacturers to supply chain challenges that are delaying aircraft deliveries.
His dismay is "because there is a lot of pressure on the supply chain, and I think the Covid pandemic really destroyed the supply chain of both the aircraft manufacturers. And I don't see how this will be coming back to what it used to be before Covid in the foreseeable future," he says.
Confidence on promised delivery dates is not high. "At the moment both manufacturers are committed to deliver those aeroplanes to us, and we will just keep our fingers crossed," he says. "But we know they will be under a lot of pressure to deliver us our planes on time."
Al Baker has some sympathy with the supply chain plight of the OEMs. "For us to see one of our main suppliers not getting their supply chain committed to them - what can you do? But they need to know that they will have to then pay us penalties [for late delivery]."
"This stress is going to continue for the foreseeable future for two reasons. One is the raw materials," says Al Baker, with the conflict between Ukraine and Russia affecting the supply of titanium, with Russia one of the main producers of this vital metal. "And second there's the expertise, the professionals that left the job that don't want to come and do the same job again.
"I think that both the manufacturers have taken into consideration the supply chain constraints," says Al Baker. "This is why now if you go to order an aeroplane, they will not give it to you for the next eight years. Normally they would ramp up and promise you an aeroplane earlier. Now they can't because there is no ramp up because there is no supply."
"None," says Al Baker, when asked about threat of new entrants such as Saudi Arabia's Riyadh Air. "We have always been competing with the big airlines, both within the region and outside. I think will continue and I think that there is enough business for everybody to go around."