The problem with forecasting is that the future has a habit of lobbing the unexpected, from co-ordinated terrorist attacks using hijacked airliners as improvised cruise missiles to sub-prime mortgage credit collapses and troublesome Icelandic volcanoes.
As 2020 dawned, the most significant potential for disruption on minds in the aviation sector was how the 737 Max return to service would play out and Boeing's ability to manage deliveries. Only the most potent soothsayer would have predicted that a flu-like virus emerging from China would shut down most of the airline industry.
The sector's response in the four months since the onset of the pandemic has been admirable, with airlines taking rapid, effective steps to preserve precious cash. Revenue has also been secured from unlikely sources, with several turning themselves almost overnight into specialist cargo carriers by converting passenger aircraft to transport medical and personal protective equipment. Governments and institutional shareholders have also played their part by providing liquidity to (though not in all cases) previously healthy operators to see them through the crisis.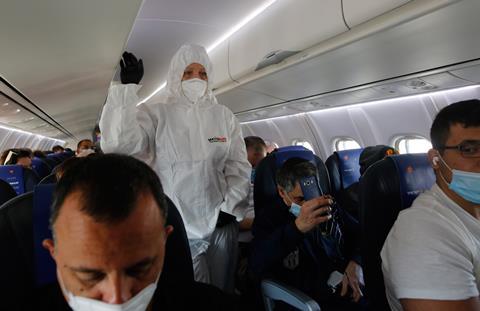 Governments claim to be winning the war on the virus – although only an elusive vaccine will lead to its unconditional surrender. However, with economies creaking back to life, for the airline industry, the recovery from lockdown may be tougher than lockdown itself, as IATA's director general, Alexandre de Juniac, admits.
Huge challenges lie ahead for the second half of 2020 and into next year. Airlines are already establishing new processes in a world where containing the virus is central to everything we do.
For leisure operators in the northern hemisphere in particular, the summer months are critical for generating cash to see them through the long winter. Yet for many airlines – some offering sun-seekers one-way fares equivalent to the price of a few rounds of beers – the already truncated foreign holiday season will be as much about filling capacity and restoring the flying habit among worried consumers as restoring profits.
For full-service airlines so dependent on the long-haul premium market, the prospects are bleaker. They face a triple whammy – a global economy veering into recession cutting the need for business travel, nervousness about sending employees overseas to face possible coronavirus hotspots or quarantines, and a corporate world more comfortable with using video conferencing tools that negate the need for face-to-face meetings.
But there are reasons for guarded optimism. In many parts of the world, lockdown restrictions have been eased substantially and – while that in itself has raised fears of new waves of the virus – flight activity has returned much faster than many dared to hope at the height of the pandemic in April when skies were almost devoid of contrails and normally bustling airport terminals resembled mausoleums.
Secondly, the industry entered 2020 on the back of its most profitable decade in history. For perhaps the first time ever, airline balance sheets – at least for some – were healthy. Until Covid-19, the global economy was fundamentally strong, barring concerns about trade wars, levels of debt, and softer consumer demand in China. With the virus vanquished, activity could bounce back more quickly than pessimists believe.
Finally, the human race firmly has the air travel bug. Skype, Teams and Zoom meetings have seen us through lockdown, but the technology has its drawbacks and many of us are desperate for the personal touch again. Coronavirus might put a very different complexion on work travel, with socially distanced, handshake-banned conferences, trade shows and drinks receptions the norm until a vaccine arrives. However, doing business face to face still has a value that conducting a conversation over the ether will never replace, and that social instinct will eventually begin filling premium cabins again.