When Finnair chief executive Topi Manner makes his recently announced departure from the Oneworld carrier by March 2024, he will step away from the airline industry with a whole new appreciation of crisis management and business transformation.
"During the past three and a half years we have been going through what we call a double crisis," he said on 19 September during an event in London to mark Finnair's centenary. "The pandemic hit everybody hard in aviation but our key markets in Japan, China and South Korea were the slowest ones to reopen.
"And then, obviously, the Russian invasion of Ukraine and the subsequent Russian airspace closure hit right into the middle of our strategy of connecting Europe and Asia via the short northern route – a strategy we had been successfully following for 20 years, carving out a niche in global aviation."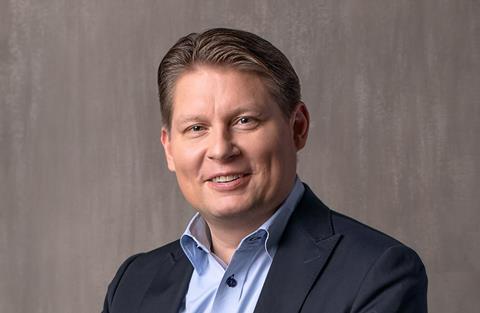 Those outside shocks have made for a busy and challenging few years, by any chief executive's standards. But what leadership lessons will Manner take with him when he leaves Finnair to become chief executive of Finnish telecom and digital services firm Elisa?
Time will bring more clarity on that question, Manner says. But he asserts that "humility" is a vital attribute for a leader.
"Executives are sometimes trained to think that you can make your own circumstances," he says. "The past couple of years have shown that that doesn't always hold true."
A culture of trust is also crucial, he continues: "When you look at the transformation we have done – radical transformation like we have needed to do – to adapt to these external shocks, I would say that trust is the hardest currency that you can have.
"It boils down to trust between people in the company and with various stakeholders surrounding the company."
Expanding on what that means in a practical sense, Manner explains: "That needs communication, that needs dialogue in the company, and that needs people understanding the specific circumstances of the company; why certain decisions are taken and why certain decisions are beneficial for the company at large."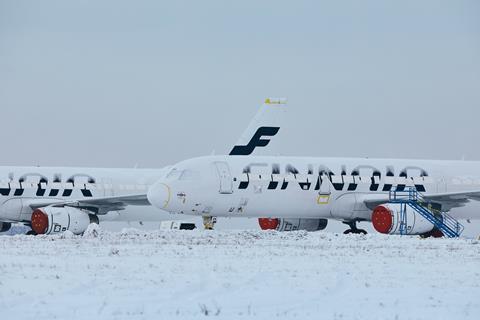 He cites aligned incentives as an effective way of fostering that trust, including employees and the management team having the same targets and KPIs.
Trust was particularly important when it came to instigating redundancies and negotiating with unions, Manner says.
"Certainly when we look at the things that we have needed to do – reduce people in the landside of operations, in headquarters, or negotiating savings packages with unions and so forth, all of these things have been testing the trust within the company," he says.
"At times you have been having fractures in the trust but when you now look at it in retrospect I think the trust has been holding in Finnair and keeping the company together."
With trust in place, "we have been able to adapt" to the external shocks, he states.
Beyond that adaptation, Manner describes Finnair today as "a faster company, more nimble, more focused, more agile and more entrepreneurial" than it was when he joined in 2019, adding: "Engaged people are the magic potion of Finnair."
STRATEGIC RETHINK
Crucially, therefore, Manner's CV does not just include the fire-fighting that meant Finnair made it to its 100th year; he has also brought the airline back to pre-Covid profitably levels, at least a year earlier than expected, through a strategic rethink.
"In September last year we introduced a new strategy with a single and clear focus of restoring Finnair to pre-Covid profitability, even if the Russian airspace were to remain closed for a very, very long time, even decades," he states.
With that strategy rolling out and demand for air travel elevated in the post-Covid boom, June brought a financial update: Finnair expected to achieve its 5% EBIT margin this year, not in 2024, as had previously been forecast.
"We have been reaching 'cruising altitude' just in time for the 100th birthday of Finnair," Manner says.
The new strategy involves a more diversified network, underpinned by closer relationships with several of the airline's Oneworld partners.
"We have been able to redirect our network successfully and profitably," he says. "We have been opening new destinations in the US, in India and the Middle East, [and] with that we have been finding new customers and traffic flows to support our intra-European network."
Finnair continues to operate to several destinations in Asia, even though flight times have increased by 30-40% amid the closure of Russian airspace, which has brought "a massive cost increase" when it comes to fuel, and crew and aircraft utilisation.
Today, Asia accounts for just above 30% of Finnair's revenues, Manner says, compared with around 50% pre-Covid.
Unusually in an era when the big airline alliances have increasingly taken a back-seat role in the industry narrative, Manner highlights Oneworld as central to Finnair's reimagined strategy.
"The Oneworld alliance has been moving to the fore of our strategy," he states, amid "deepening ties" with its co-members.
He gives the example of an "important commercial partnership" with Qatar Airways, which has seen Finnair add daily flights from Helsinki, Stockholm and Copenhagen to Doha, in a strategic pivot towards the Middle East.
Furthermore, it has added flights to the respective hubs of Oneworld partners American Airlines and Alaska Airlines, in Dallas and Seattle, widening its North American reach.
Finnair has also been wet-leasing aircraft to British Airways, with four of its Airbus A320s operating from Heathrow this summer.
Elsewhere, two of its A330s are soon to begin service for Qantas on a long-term wet-lease basis, operating from Sydney to Singapore and Bangkok. In what Manner describes as a "ground-breaking co-operation", Finnair crew will be based in the latter two cities, keeping busy two aircraft that no longer have the range to operate on the carrier's Asia routes.
Finnair also recently announced that it would be adopting Avios for its frequent-flyer programme – the loyalty currency used by BA, Iberia and Qatar Airways.
Alongside those closer partnerships with Oneworld carriers, Finnair has been overhauling the cabins across its A330 and A350-900 fleets since early 2022, aiming to maintain its reputation as a premium leisure brand. As of mid-September, some 20 of the airline's 25 widebodies have undergone a cabin refurbishment, with the remaining five expected to be completed in time for the peak summer season next year, Manner explains.
That overhaul includes the addition of a premium-economy cabin, a product that Manner says is performing well.
A long-discussed narrowbody order is still to come, "when the time is right", he says. For now, Finnair's fleet of A320-family aircraft have benefited from life-extension work during the pandemic, which has given them "a couple more years" by "combining the airframes and the engines in a little bit different way", Manner says, without elaborating.
He reiterates his relief that having older-generation narrowbodies and A330s means Finnair has avoided some of the reliability, MRO and parts challenges faced by operators of new-generation types around the world coming out of the Covid-19 crisis, with even its Rolls-Royce Trent XWB-powered A350-900s spared the worst of those issues.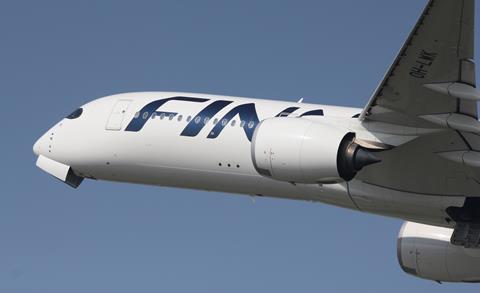 As the Covid-19 recovery continues, the Finnair chief expects the carrier's fleet of around 30 narrowbodies to be operating for the airline next year, including the four that were leased to BA this summer, leaving the two A330s as the only wet-leased-out aircraft.
Ergo, the wet-leasing of aircraft is not expected to be a major strategic pillar for Finnair in the coming years, Manner says.
On the industry's longer-term challenges, Manner describes net-zero targets – including Finnair's ambition to be carbon-neutral by 2045 – as a "tall order" but "achievable". He cites Finnair's adoption of science-based targets – which eschew activities such as offsetting in favour of emissions-reductions actions that are in the direct control of the business – as an example of the carrier leading the way globally.
In the nearer-term, the recent rise in oil prices is acknowledged by Manner as likely to affect airline profitably, particularly looking into next year, with fares likely needing to rise to offset the increases.
Someone else will eventually lead Finnair through those near- and long-term challenges. But wherever that leaves the airline, Manner will be remembered as playing a key role during some of its darkest days.
"'Never a dull day in aviation', that's what they said when I joined," he recalls. "Based on the experience of five years, I really can say that is true."