Drawing on almost four decades of experience with the business, Ethiopian Airlines chief executive Mesfin Tasew is guiding Africa's stand-out performer into its next growth phase
If experience counts when an airline is selecting its next chief executive, then Mesfin Tasew ticked a lot of boxes as he became group chief executive of Ethiopian Airlines in March last year.
In almost 40 years with the business, Tasew had most recently been leading Togo-based ASKY Airlines, which has become the benchmark airline for Ethiopian's nascent equity-partnership strategy. Prior to that, he had been Ethiopian Airlines' chief operating officer for more than a decade – and chair of its Covid-19 taskforce towards the end of that period – having previously worked as chief information officer and head of the group's maintenance and engineering unit.
"It's a big responsibility," he tells Airline Business of stepping up to lead the group as Tewolde Gebremariam's successor last year. "I have to learn but it's not a big jump.
"I am very familiar with the operation of Ethiopian Airlines."
Indeed, much of Ethiopian Airlines' growth strategy – codified in its Vision 2035 document – overlaps with Tasew's work history. Aside from the overriding aim to grow its core function of connecting the African continent with the rest of world via its Addis Ababa hub, key to its strategy is the expansion of its equity partnership strategy in other countries, investments in the latest technology – both fleet-wise and in terms of its key IT systems – and building the business's status as the biggest aviation group in Africa, through expansion of its maintenance and engineering functions in particular.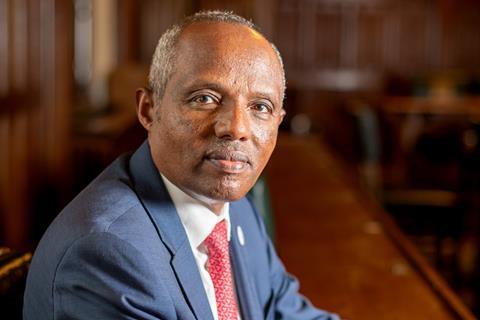 Airline success might be the exception rather than the rule on the African continent, but Tasew has plenty of reasons to believe he can deliver on that strategy – not least after Ethiopian achieved the goals of its Vision 2025 roadmap several years early, as it powered ahead of rivals to become the continent's stand-out success story in the decade leading up to Covid.
Another reason is the strength of the Star Alliance carrier's emergence from the pandemic.
"In the fiscal year that ended 30 June this year, we carried 13.8 million passengers, which is 14% higher than in the pre-Covid period," Tasew recounts. "In terms of revenue, we generated slightly more than $6 billion, which is about 50% more compared to pre-Covid.
"In terms of revenue passenger kilometres, we are right at the 2019 level and in terms of available seat kilometres we are 5% higher," he continues.
"So when you see all these things together, we can confidently say we have fully recovered from the impacts of Covid and in several parameters are even ahead of where we were pre-Covid."
As Tasew points out, those positive metrics have not happened by accident.
Looking back to his role chairing Ethiopian's Covid-19 response, he cites several important steps taken by the business, which created the foundations for where it is today.
They broadly fall under the categories of business diversification, keeping a cool head when the crisis hit, maintaining a unity of purpose among employees, and being as agile as possible with decision-making.
Diversification of the business was "very important", he recalls.
"Many airlines in Africa focus only on passenger operations, so that when the passenger operation stopped functioning, they became a victim," he says. "But since Ethiopian Airlines is doing passenger, cargo and MRO, it immediately switched to cargo, which was in big demand during the Covid period."
And crucially, unlike many peers, "we didn't panic when Covid came", Tasew says.
"They had to do downsizing of their fleet and downsizing of their workforce, but Ethiopian Airlines didn't do that. We maintained our fleet, by using some of the passenger aircraft for cargo, and we maintained our entire workforce.
"That helped us to quickly recover when the impact of Covid became less and less."
AGILE WORKING
Maintaining the workforce came alongside an effort to maintain the aforementioned unity of purpose. Tasew highlights the importance of employees changing roles and working extra hours at the height of the pandemic, giving the example of passenger agents moving to help out on cargo operations.
And when it came to agility, Tasew cites the speed of Ethiopian's response to the changing market.
"We didn't sit down, closing our offices," he says. "We just looked for opportunity. And we found cargo the good opportunity. And we quickly jumped into it, redirected our resources quickly, and we managed to make best use of that."
Today, cargo demand and yields have been on a downward trend from Covid-era highs around the world, but Tasew hopes yields will stabilise "after a while", noting that beyond Ethiopian's dedicated fleet of 15 cargo aircraft, "we have five 777 freighters aircraft on order" and that cargo remains a key part of the group's diversification strategy.
Nevertheless, freight fell to 30% of Ethiopian's revenues in the year to June, Tesew says, having peaked at around 50% during Covid. It had been at 15% going into the crisis.
Whatever comes next for freight, the segment's Covid-era performance enabled the business to be ready for the recovery in passenger demand, which has been roaring back over the past 18 months. Passenger numbers were up 10% on pre-Covid levels in the year to June, Tasew says.
And with passenger services on the up again, the Ethiopian chief has increasingly been able to focus on growth plans at the carrier's Bole International airport hub.
"Our strategic roadmap shows that Ethiopian Airlines would like to expand in all continents," he says, noting that the carrier serves, for example, 20 points in Europe already.
The African market is likely to see the biggest proportion of that growth, Tasew says, given "our core operation is to connect Africans together, and also Africans to the rest of the world".
Central to that African growth, beyond expanding the list of around 63 destinations served on the continent by Ethiopian, will be the equity partnerships that form a key part of the group's future strategy. Under that initiative, Ethiopian is working with local partners to launch new carriers.
"Ethiopian Airlines would like to expand its network in Africa, using equity partnerships in different countries," he explains. "The air transport industry in Africa is underdeveloped and the infrastructure is underdeveloped, but we see a big hope that there is a big opportunity to enhance the air transport service in Africa.
"So a core element of our strategy is to partner with smaller airlines in Africa."
Today, Ethiopian has equity investments in three operators, with more to follow.
"ASKY in Togo is doing extremely well – they have been profitable in 2021 and 2022," Tasew says of the carrier he led before taking the group chief executive role. "In 2023 they are growing fast, so we are very happy and proud of the performance of that airline."
Indeed, he describes ASKY as "probably the strongest regional airline in West Africa", serving 25 cities and providing a template for what other partnerships could become.
Elsewhere, Malawi Airlines "has been profitable for the past two years but it's smaller scale – it will have to expand", he says.
And Zambia Airlines is at a relatively early stage of its development. "It is not performing well but it is just at the beginning," Tasew states.
In terms of carriers yet to launch, Nigeria Air is due to begin commercial operations in October, he says. "The new Nigerian government has indicated its full support and we are in good shape," he states, while acknowledging that "there are a number of things to be done".
Ethiopian is also working on "another national carrier in Democratic Republic of Congo".
Regarding the health of African airlines in general, Tasew says Ethiopian sees little benefit from the under-par performance of many of the continent's other high-profile players, such as Kenya Airways and South African Airways – two airlines that are hoping to emulate Ethiopian's pan-African model with their own group structure but have faced their own financial challenges in recent years.
"I can't say we have benefited from the weakness of African airlines," he says. "71% of the African traffic is being served by non-African airlines and Ethiopian Airlines' share is only 15%."
GLOBAL COMPETITION
Big players on flights to and from the continent notably include Middle Eastern connectors Emirates and Qatar Airways, alongside Turkish Airlines and its hub in Istanbul, all of whom serve long lists of African destinations and have been adding capacity to the continent coming out of Covid. National flag carriers such as British Airways and Air France also fly significant capacity into the continent.
"So our competition is with major [global] carriers, not with African carriers, and I think the other non-African airlines have probably benefited more out of the weakness of the African aviation industry," he says.
Still, Tasew laments that African carriers have not recovered quickly enough from the pandemic downturn compared with peers elsewhere, noting that Ethiopian takes that "as a responsibility of a pan-African airline – to assist the African air transport industry to grow".
Helping it on that journey, a key part of Ethiopian's strategic roadmap is enhancing its business in technological terms. Tasew includes investment in the airline's fleet within that technology mission, noting that one priority is a fresh widebody order.
"By 2035 we are planning to have a total of 271 aircraft," he says. "Today we have 143, so we will be nearly doubling the fleet.
"And there is a roadmap that shows how many aircraft Ethiopian Airlines needs to operate every day during the coming 12 years. We are going to order the aircraft from the manufacturers to support our growth in line with our fleet plan."
That means Ethiopian needs many more aircraft than the 27 or so outstanding orders it has today, with those future jets an important part of the carrier's sustainability efforts, Tasew notes, as they deliver efficiency savings.
When it comes to technology, Tasew also cites an "immediate" focus on digitising customer-facing systems.
"As you know, the general trend is to transform customer services, using the latest information technology so that passengers will plan their journey based on the digital information they get, they will choose their carriers, they will do their own booking, they will buy their tickets, they will get all the information they need using online services," he says. "That is another area where Ethiopian Airlines has planned to focus, starting immediately."
He further highlights "operational excellence" as an area for technological investment in the coming years.
"To bring operational excellence we will continue to invest in new technologies to enhance the productivity of our staff, to improve the efficiency of our operation and also to reduce our costs," Tasew explains.
With grand plans for investment and expansion through to 2035, nearer-term challenges such as rising costs are being closely monitored, as are network opportunities.
The reopening at the turn of the year of China – a focus market for Ethiopian in pre-Covid years, not least because of the two country's long-standing closeness in political and economic terms – has been particularly important for the carrier's passenger and cargo markets in recent months.
"China is a very important market for Ethiopian Airlines," Tasew says. "Our network is designed in such a way that we connect Africans with the rest of the world and China is one of probably one of the biggest trading partners with Africa.
"Today, we fly to five cities for passenger operations including Hong Kong, and nine Chinese cities for cargo, with a total of 66 weekly flights to China."
Passenger capacity to China is expected to be fully restored to pre-Covid levels by November, Tasew states, while cargo capacity is already above 2019 levels.
As China services and others grow beyond pre-Covid levels, Tasew is philosophical when asked about the likely moderation of pent-up demand coming out of the crisis, and any potential challenges that might create given the impact of high cost inflation.
"The higher yield that we are getting today is helping us to cope up with the increased operational costs," he states. "But we hope that operating costs, particularly for aircraft parts, will decline, as manufacturers resume normal operation.
"Generally, fares will have to be adjusted in accordance with the operating costs like fuel price, so it will be a dynamic relationship and we are closely monitoring it."
Like peers, Ethiopian has seen operating costs increase "significantly", Tasew says, exacerbated by inflation that has been particularly high the airline's home country.
And when it comes to aircraft parts, the problems do not only relate to costs. "The parts shortage is a critical problem for the entire airline industry," Tasew says. "We use different techniques to mitigate the impact of parts shortages until the industry bounces back and starts providing the parts as it used to before Covid."
MITIGATING DELAYS
Amid a "struggle to get the parts and keep the aircraft flying", Ethiopian is yet to see aircraft grounded because of the shortages, he says, and has so far seen no need to extend the lease terms of older aircraft to mitigate the impact.
Tasew also says Ethiopian has not seen delays in the deliveries of new aircraft from Airbus, or with Boeing 787s. He does note, however, an "exception" with Boeing 737 Max deliveries, which are being delayed "by a few months".
That is a relatively minor concern as Tasew leads Ethiopian towards its 2035 goals, confident that they are achievable – and that the Ethiopian government sees the value the group brings to the country.
"The Ethiopian government considers Ethiopian Airlines as a strategic asset," he states. "Not as a business that generates revenue and profit but as a strategic asset for the economic development of the country and for the security of the country because we are landlocked."
Operating in Africa is likely to bring new challenges in the coming years. The absence of moves to create a sustainable aviation fuel industry in the region, for example, was the subject of much discussion at this year's IATA AGM.
But armed with nearly 40 years' experience with the business and a whole new set of learnings from the Covid-19 crisis, Tasew has the opportunity to maintain and potentially enhance Ethiopian's hard-earned status locally and in the global aviation sector.
IMPORTANCE OF THE UK
Part of Airline Business's interview with Mesfin Tasew – and the photography – was undertaken at the home of the UK government in London, the Palace of Westminter.
Tasew was in the country to celebrate 50 years of service to the UK.
Demonstrating its commitment to that market, Ethiopian has since announced the opening of flights to a third UK destination from winter 2024: London Gatwick services will complement its existing links with London Heathrow and Manchester.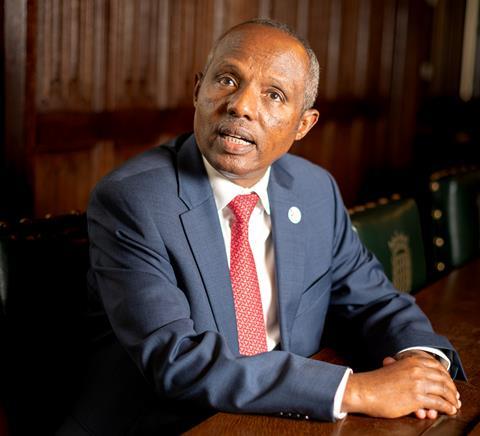 "After Covid is over, the demand is growing faster than expected," Tasew says of Ethiopian's UK services.
"Leisure is a big portion of it, but people travel for education – many Africans come to the UK for education – and UK investors travel to Africa for investment and Africans come here for trade," he explains, adding that "many Africans live in the UK".
But the airline's long history in the UK goes beyond air travel connectivity, Tasew states.
"We are working very closely with UK companies also to support our MRO operations," he says, citing GE Caledonian as an important partner as Ethiopian develops its engine repair capabilities in Addis Ababa.
"We also have a lot of strategic agreements with UK companies, primarily for the supply of aircraft parts and services," Tasew continues.
Furthermore, UK financial institutions play a key role in financing Ethiopian's aircraft, guaranteed by UK Export Finance. That financing has been worth more than $1.3 billion over the past 10 years or so, Tasew says.
"And also we get our insurance services for all of our fleet, all our operations, from UK insurance underwriters," he states.
AIRPORT AMBITIONS
Expansion works at Ethiopian Airlines' Bole International airport hub in Addis Ababa are bringing its annual capacity above 20 million passengers, but talk of a new 100 million-capacity facility has been ongoing for several years now.
The new airport is expected to be built at Bishoftu, to the southeast of Addis Ababa.
Crucially, however, obtaining the right to build on the proposed land is a sticking point.
"The land is already defined, but we still didn't secure it," Tasew says.
"We are still under discussion with the regional government on how to resettle the people who are using the land."
He is not, however, unduly worried about any delays.
"Ethiopian Airlines has been investing at the existing airport to have incremental expansions," he states, adding that those works mean the current facility will be able to accommodate the carrier's operations for at least another five years.
Still, the new airport is important to the expanding carrier.
"We are going to drive it and it will happen," Tasew says. "Hopefully we will secure the land before the end of the current fiscal year."