Delta Air Lines on Thursday set a positive tone for the upcoming third-quarter airline reporting season when it detailed a 59% jump in net profit to more than $1.1 billion.
The US carrier, the first major operator to report results for the three months ended 30 September, lifted revenues 11% to $15.5 billion. That was driven by a 14% increase in passenger revenues, as traffic rose 17% over the same period last year. Operating costs, on an unadjusted basis, increased 8% in the third quarter.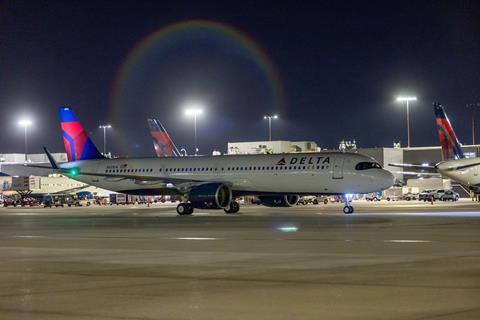 Delta is projecting fourth-quarter revenues will climb 9-12% and be 20% above 2022 for the full year. It has, though, narrowed the top-end of its full-year earnings-per-share guidance.
Higher fuel costs, together with continued supply chain challenges, have emerged as potential clouds on the horizon for airlines.
For example, fast-growing Mexican carrier Volaris has just lowered its full-year EBITDA guidance, citing higher fuel costs and the impact of accelerated inspections of the Pratt & Whitney geared turbofan engines which power its Airbus narrowbodies.
Despite these challenges – and other geopolitical concerns – the industry has been bullish around continued strong demand in the third quarter, helping withstand higher fuel costs.
Speaking to FlightGlobal at the IATA World Sustainability Symposium in Madrid on 3 October, IATA chief economist Marie Owens Thomsen cited a stronger-than-expected recovery in global airline traffic, saying that the "sweet spot" the industry was in earlier this year is "maybe even sweeter" today.
Key to this upbeat prognosis are continued high employment levels. "As long as people are earning an income, they can still fly," she says.
However, she flags that risks to the outlook "are still probably stacked on the downside", highlighting concerns about China's economy as an example and also citing how close the USA recently came to a government shutdown. Notably, she was speaking before the recent escalation of armed conflict between Israel and Palestinian groups, disrupting airline services in the region and prompting fears of a wider impact on Middle Eastern stability.
Delta's financial results are also noteworthy given that the group is the biggest airline in the world by revenue. FlightGlobal analysis of the top 100 airline groups by revenue in 2022 shows Delta led the pack – exceeding pre-pandemic levels by 8% and becoming the first group to top $50 billion turnover.
The analysis reveals collective revenues for the 100 biggest airline groups stood at around $750 billion – within sight of the near $800 billion the same groups posted in 2019. Notably it is a rise of more than 50% on the same carriers' performance in 2021.