While United Airlines' customers are able to engage across a range of platforms and timeframes, for the carrier's chief customer officer Linda Jojo many of the advances with airline apps centre around their ability to support 'day of travel' functionality.
Airline apps have become an increasingly prominent tool in helping passengers through airports, a development further accelerated by greater deployment of self-service functionality through the pandemic.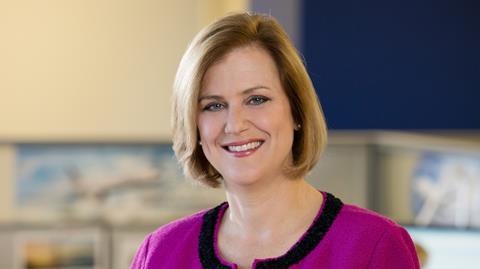 However, while app functionality is most evident in supporting day-of-travel functions like check-in, Jojo notes that for airlines it must address point of sale as well.
"Airlines are one of those unique places where you have to do both," Jojo told FlightGlobal during an interview at the World Aviation Festival in Lisbon in late September.
"When we first built the website, it was really about searching for and buying a ticket. And when we first built the app, it was about checking into your flight and day of travel.
"What we have realised is those lines are blurring, and we really want customers to be able to do everything, everywhere," she says. "[So] we are really thinking about how the customer can do everything in the end, from researching and booking their flight, through getting ready for their trip, checking in. But the real power comes on day of travel."
On the latter, Jojo says the airline has been working to ensure the app mirrors what a passenger sees while navigating their way through the airport. "So we use the same icons and colours on the signs at the airport as we do on the phone," she says.
Many airlines have found apps a particularly powerful tool for resolving issues for passegners when travel plans are disrupted, without requiring staff intervention. United in June rolled out a self-service tool within its app to automatically provide rebooking options, bag tracking information, as well as meal and hotel vouchers where necessary.
"We are not all the way there yet, but it's way over 85-90% of the things you can do in the app of all that you can do. So we are constantly looking at why people call our contact centre and say 'why can't they do that in the app'."
She notes that a natural advantage of the app over call centres is that the basic information is already there. "So we can personalise it a lot more, instead of a customer service agent asking 'what's your name, where are you going?' On your app we already know," she says.
PERSONALISING THE TRAVEL EXPERIENCE
"Technology allows you to do that, because once you log in to your app on the phone, we now know how you have interacted with us in the past, how much you use the app. So the more that happens, the more we know what your expectations are."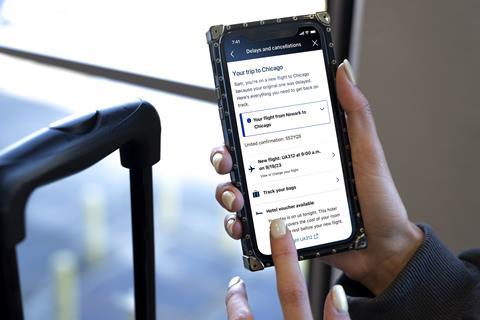 That personalisation is key given the different preferences and interactions of passengers.
"You don't want to think of our customers or society as one homogeneous group," Jojo says. "There are some customers that are maybe still concerned about privacy with their personal data… and really don't want to give us any more than they are required.
"But there are other customers, who tend to be a different generation to that group, that expect that we know everything about you and expect that we are looking at how you travelled with us last time and want you to make it a better experience as a result."
Meeting customer expectations across multiple smartphone platforms provides a further challenges for airlines. Jojo cites the example of Apple's Live Activities functionality, which is embedded in the iPhone's operating system and provides travel information – such as gate or boarding time details – within 3h or travel.
We really want customers to be able to do everything, everywhere
"It's really simple, you don't have to open the app or unlock your phone. And the customer response has been incredible," says Jojo. "This started as something we heard Apple was developing, and it's now hugely successful.
"But for customers with Android phones, they want it. So we are trying to figure out how we can build this idea into our app that works with Android phones so that all our customers can enjoy it and that's kind of how we evolve. Were customers asking for this? No. But once you've had it, how did we not have this forever."
A further challenge comes from customers that are not regular or exclusive United customers. "That's one of the biggest things that we want to do, is how do we get all of our customers understanding what they can do in the app on the day of the travel, because there is so much more [they can do]," she says.